Valvoline Instant Oil Change ~ made my day!
I have this thing called a car.
I know how to unlock it and turn it on.
I know how to drive it. (Actually, I'm a very good driver and a crazy-good parker – including parallel parking. Don't ask why. It's a gift, I guess.)
Anyway, MAINTENANCE of this car is right up there with "WHAT?" and that emoticon with the bug eyes…
Please don't make me do it.
But last week, with all the #snowpocalypse of #Juno, the #BlizzardOf2015 – knowing how important it is to have a MAINTAINED vehicle in weather "events" – I grit my teeth and drove into one of those Valvoline Instant Oil Change places…
I feel so inadequate at places like this.
Antifreeze. Air filter. Lubrication of chassis components. Serpentine belt. Transmission fluids.
These could be personal feminine products, for all I know.
Anyway, a very friendly young man carefully guided me into the safety and warmth of the work bay and I got to stay in my car – phew.
A friendly and very efficient young woman took all the information about my car – my new car that somehow or other had already accumulated 6,101 miles. How did that happen?
The process of my car maintenance was seamless. As seamless as a seamless shift gearbox. What did I just say?
And just about 15 minutes later, my Lubrication Points were sealed, Oil Service Indicator Light reset, Oil Drain Plug & Gasket checked OK, Brake Fluid Level checked OK, Windshield Wash Fluid added and so much more.
How do I know all of this?
I got a printout, a very easy-to-read printout of all the stuff I know nothing about, but love to know it all happened to my car…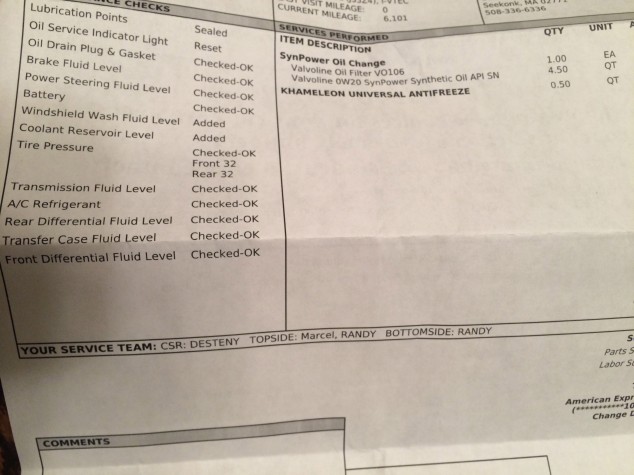 AND I got a $10.00 coupon for my next Full-Service Oil Change.
QUICK. EASY. TRUSTED.
I like these words.
I like Valvoline. I like their technicians. I really appreciated my "Service Team" and I like that I can drive away with a nice, safe, maintained car–feeling, looking like this…
Now, let's see if I can parallel park in a snow bank!
This post is 100% my own experience and opinions, not a sponsored ad.