Our beautiful granddaughter Maddie will always be our "Tiny Dancer"~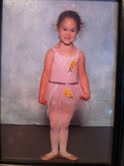 Maddie was our little ballerina.
Those little pink ballet slippers and tiny, sparkly pink leotard created some magic in Maddie's heart… magic that has twirled and swirled and allegro-ed and brise-ed Maddie to movement so lovely & majestic that its very essence captured the eye of renowned artist Julia O'Malley-Keyes…
This is Maddie, at age 10, a moment captured for eternity through the eyes of an artist… in all of Maddie's exquisite grace as a dancer, a Tiny Dancer, and always our little ballerina.
I am so proud, so honored, so in awe, so inspired, so in love with this gloriously beautiful little granddaughter of ours who danced into our lives 14 years ago today… and into our hearts the moment we discovered she was coming!
Today, we wish Maddie the Happiest 14th Birthday, and may she exquisitely dance, dance, dance into this most exciting year to come!

*Julia O'Malley-Keyes's series of paintings depict the emotion and dedication to dance. Julia was given exceptional access to three renowned ballet companies in the North East and completed this series of paintings during 2012 -2013.