Happy Wednesday everyone!
I'm partnering up with some of my favorite blogging ladies today to bring you – 11 Ways to Wear White Jeans! White Jeans are such a spring and summer staple item to have in your closet. You want to wear them and rock throughout these warm months and I'm excited to share with you so many different ways to do it!
First fashion rule of thumb, make sure you find a pair of white jeans that fits you perfectly. You don't want to find a pair that is too big, too tight, too long or too bunchy on you. You really want to find a pair that fit you like a glove.
Also, a little inside fashion tip… wear nude underwear with white jeans. Don't laugh, it's true… nude undies will always blend and you will never see an underwear line. Many times people want to wear white underwear thinking it's white on white… well, you can see the white undies like a neon sign! 😉
OK, so how did I style my white jeans?
I opted for my favorite white jean capris that I got at American Eagle and paired them with a lightweight, tighter, red/navy checked button-down from J.Crew. For my shoes I grabbed my navy wedges that I got a few weeks ago at Sears to complete the look. Since it was POURING in Rhode Island when my husband snapped these photos, I needed to stay indoors!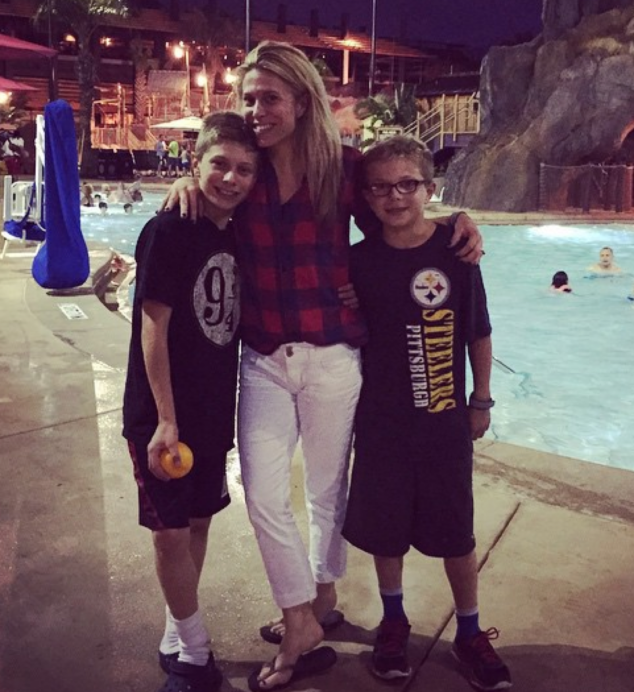 I really love how this outfit is fashionable, simple, classic and could really be worn anywhere. I was heading to a meeting and then off to Orlando yesterday when I wore this outfit… so it REALLY got some fashion use yesterday
And then of course – after we took these photos indoors in my kitchen, I realized how DIRTY the fridge was from little and big hands. Oh, my… my husband asked I wanted to reshoot everything – I said, "Hey, this is life and they'll just get THAT MUCH dirtier tomorrow!" So – here you go, my white jeans and dirty fridge! ;
For 10 more How to Style White Jeans… check out my blogging girls – Kristin at BonBonRoseGirls //  Andrea of Momma in Flip Flops //  Ellen of That Chic Mom //  Ashley at Messy Beautiful Life  // Carly of Thirty Something Fashion // Julie of Mom Fabulous //  Jo-Lynne at Jo-Lynne Shane // Felicia of Go Grow Go // Carylee of More Pieces of Me // Gladys of The Mother Overload
Enjoy!! 🙂