Are you ready for some pops of NEON today?
I've collaborated with 8 of my blogging friends to share with you all different ways and styles to wear neon. Since neon is a HUGE trend this summer, we wanted to give you some fashion-ideas to get you ready to rock and roll it throughout the months ahead!
I'm a lover of the color PINK. I have touches of pink throughout my house, so when it comes to fashion and really amping up some color, I always go for pink. I bought this really fun neon pink pullover this past February and I love wearing it because it genuinely makes me happy. I see it, I smile. To me, it's a happy wardrobe piece/staple.
I thought it would be fun to show a couple of different ways that I love to wear my neon pink pullover… I'm not kidding, this is that one piece I keep making sure my sister has stolen from my closet! 🙂
1st look… there's nothing that screams summer to me more than a pair of white jeans! I love my summer whites! What I love so much about wearing my neon pink with my white jeans is that my pink REALLY pops! It's an easy look, but it's a fashionable look that you could wear just about anywhere you're going during the day – meetings, work, lunch, school, etc! I paired with my new straw hat, my blue RayBans and my multi-colored new wedges!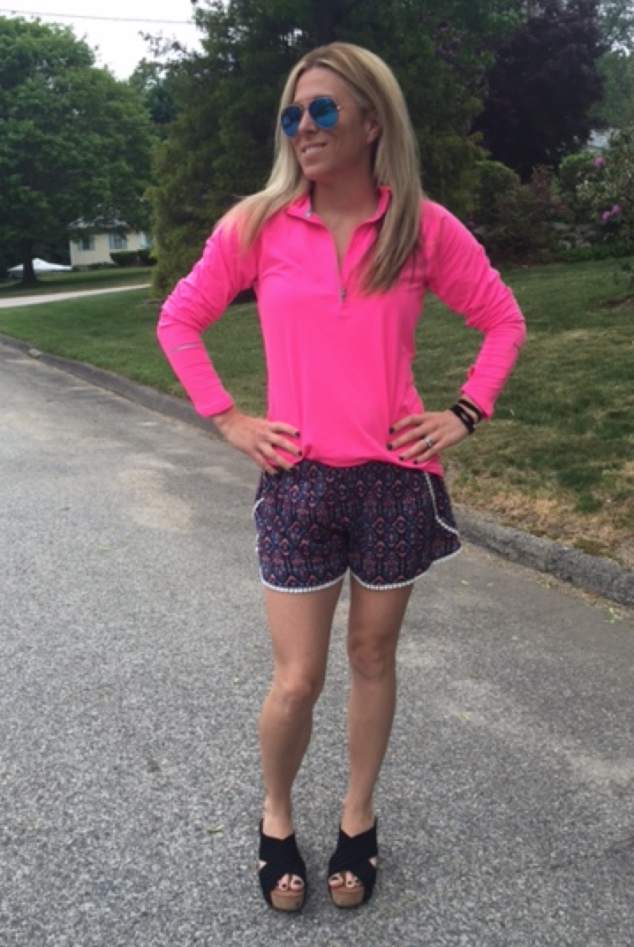 Full Look: Neon Pullover – Dick's Sporting Goods // White Jeans – Old Navy // Wedges – DSW // Sunglasses – RayBans // Hat – Target
2nd look… shorts! I just bought these shorts yesterday and I'm already in fashion love! I wanted an easy outfit for quick mornings! I loved pairing with a "fancier" pair of shoes rather than just my regular flip flops to give it a more "dressy" look and feel!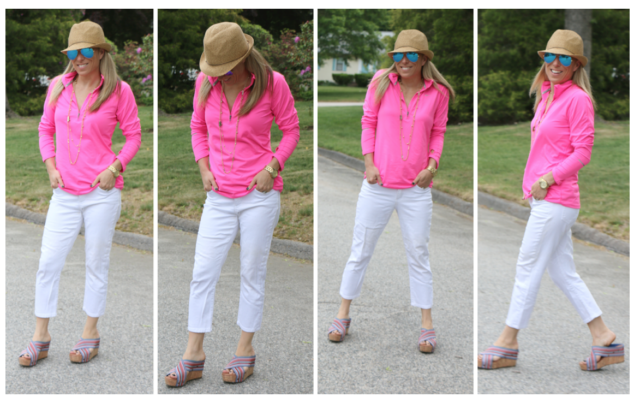 Full Look: Neon Pullover – Dick's Sporting Goods // Shoes – DSW // Shorts – Target // Sunglasses – RayBans
Now head over to see how my fashion blogging friends are rocking their NEON today!!
Kristin at BonBonRoseGirls // Andrea of Momma in Flip Flops // Ellen of That Chic Mom // Ashley at Messy Beautiful Life // Carly of Thirty Something Fashion // Julie of Mom Fabulous // Jo-Lynne at Jo-Lynne Shane // Carylee of More Pieces of Me