Grilled Halibut is such a yummy and simple dish to create for your family. I'm thankful that my friend  Sheri McShane – who is a contributor for MomGenerations.com and has her own blog: When the Kids Go to Bed. has shared her Grilled Halibut with us and it is absolutely exquisite and easy to make. I'm always trying to get more and more fish into my sons' diets. This recipe truly takes the cake for the top winner for me!
Grilled Halibut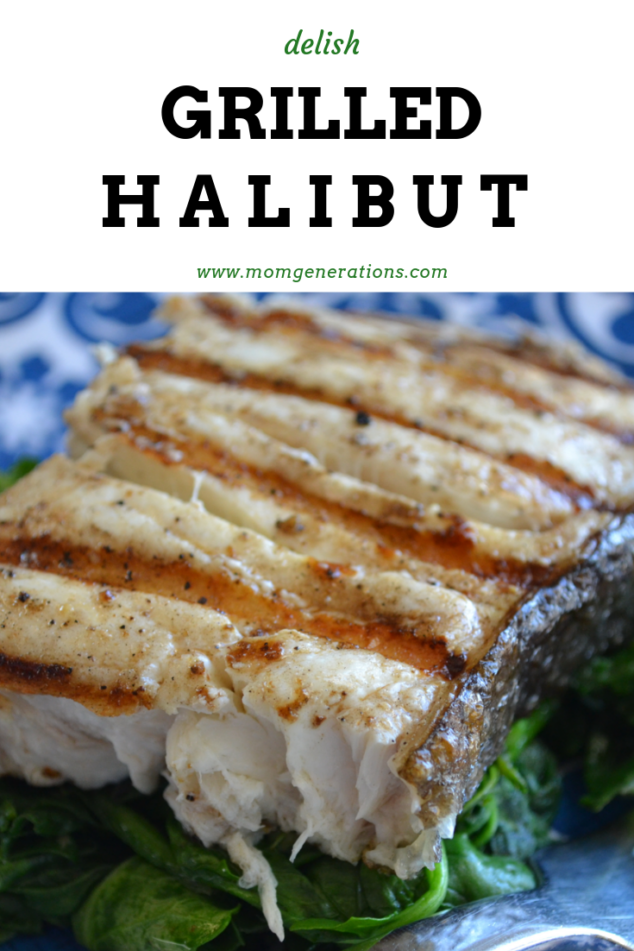 How good does this look? Delish, right?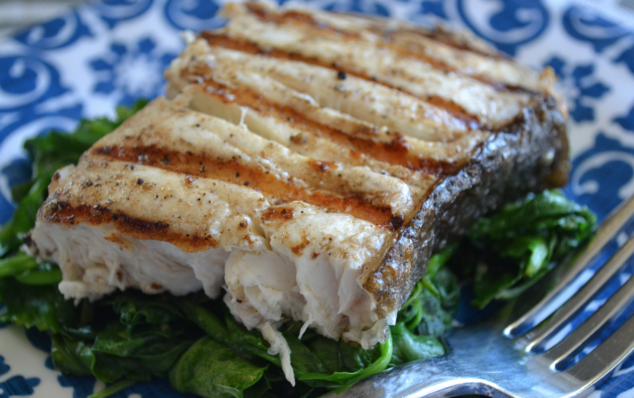 It's finally grilling season! Nothing beats the smell of the grill going on a warm night. I've been trying to get my husband to eat more fish lately. He's a steaky fish kind of guy. He's not a fan of salmon or your typical white flaky fish. I personally like it all. Seriously. All of it. Being a New Englander, seafood is in my blood. So many people steer clear of it because they don't know how or what to cook. I'm going to share with you my new favorite, Grilled Halibut.
Now I never had halibut growing up. I recently had it at a restaurant over a mound of delicious risotto and I was sold. I knew I had to have my husband try it. It has a dense, firm texture which makes it perfect for grilling.
How to make Grilled Halibut
Oil your grill grates with high heat non-stick spray or even olive oil and then preheat the grill to a medium heat.
Rub a little olive oil on the halibut fillets just to ensure they won't stick to the grill, and it helps hold the seasoning. Salt & pepper both sides of the fillet. You can add some lemon pepper if you like. It compliments well, but just salt & pepper is perfectly fine.
For 1.5 inch fillets I grill it 4 minutes on each side. Make sure to use a large spatula when flipping so it doesn't break apart.
Best Part about Grilled Halibut?
Dinner is done in 10 minutes. It's really that easy and so delicious.
Benefits of Serving Grilled Halibut:
Halibut contains a variety of nutrients that are good for your heart, such as omega-3 fatty acids, niacin, selenium and magnesium. … A half-filet of halibut provides about 1.1 grams of omega-3 fatty acids (1, 25, 26). Omega-3 fatty acids have numerous heart health benefits.
ABOUT SHERI MCSHANE: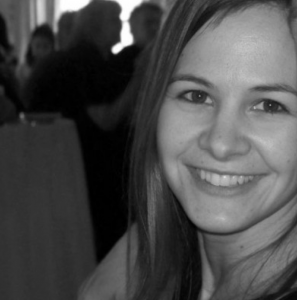 Hello All. My name is Sheri. I am a working mother of 3 pretty darn fabulous little boys. I'm trying very hard to handle the stresses of working, being a mother, being a wife, keeping house, and finding the time to just laugh and enjoy life. A few things you should know about me: I'm an iced-coffee addict, I love to organize, and I love my wine. I am also a master at fort-building and being the belly-eating monster. Fitness and healthy eating habits are important to me so you may hear a little about that too. Here you will read about my daily musings and of course my venting, wine glass in hand. Hope you find something you can relate to. Cheers. If you're a crafty kind of person, come visit me over at The Crafty Collaborative. Here you will find a group of us ladies reviewing and test driving all the fabulous recipes and DIYs we find on Pinterest. We'll let you know if they're worth diving into.