Happy Thursday!
I've teamed up with 10 of my fashion-blogging friends to share our summer fashion must-haves!  With summer officially just a couple of weeks away, it's exciting to finally be getting my closet ready for the warm weather!  I'm all about adding some new items into my fashion wardrobe in the summer, but I also love to stick to some true-fashion-summer-loves every year, too.
Hopefully you'll love my 3 fashion picks!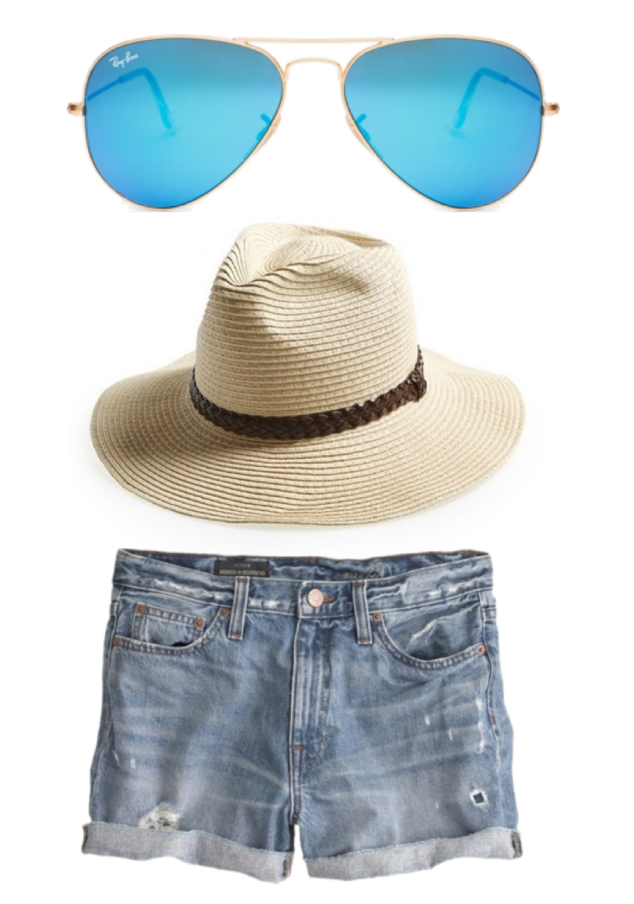 1st up! Sunglasses… but not just any sunglasses. This year I'm all about BLUE MIRROR RAY BANS. I'm actually a little obsessed! They're pricey (about $150), but I couldn't resist this season. I wear mine everywhere and I can't get enough!
Next up!? Panama Hat! I'm usually only about straw fedoras in the summer, but this year I'm loving a new hat – the Panama! It's super cool and helps block the harsh sun rays! I love a different spin on a summer hat and this one is just fashion-awesomeness!
And last pick? Boyfriend shorts! Hey – I knew I loved boyfriend jeans, so why wouldn't I love boyfriend shorts!? Relaxed fit and comfy look, these shorts are perfect for the summer. It's not always easy finding shorts that are fashionable AND appropriate! I was so glad to find these! I want to bend down without showing the world my booty! These work like magic!
Check out my friends and what their faves are for the summer!
Kristin at BonBonRoseGirls // Andrea of Momma in Flip Flops // Ellen of That Chic Mom // Ashley at Messy Beautiful Life // Carly of Thirty Something Fashion // Julie of Mom Fabulous // Jo-Lynne at Jo-Lynne Shane // Victoria of The Mummy Chronicles // Maria of Very Busy Mama // Felicia of Go Grow Go