I've always been a fan of Pantene.
I've been a loyal user for years. My hair love with them goes back to my teens! I'll never forget my mother buying Pantene for my sister and I when we were in high school – it was when Pantene had the gold caps. Remember those? Pantene has just always worked beautifully for my hair needs and it's something that I have treasured throughout the years.
I know I can always count on Pantene.
They care about hair – in every aspect. And I mean those words from the bottom of my heart.
Pantene has created something so incredible and so powerful with their Beautiful Lengths and I am honored to share information with my readers about what they're doing to help better lives.
Beautiful Lengths is a partnership between Pantene and the American Cancer Society, the largest nonprofit health organization committed to saving lives from every cancer and improving the quality of life for people facing the disease.
The role of Pantene with Beautiful Lengths is to help women grow long, strong, beautiful hair and to provide the funds to turn this hair into free, real-hair wigs for women with cancer. They have received more than 800,000 hair donations from generous men, women and children since July 2006! Amazing, right? And so far, Pantene has donated over 42,000 free real-hair wigs to the American Cancer Society's wig banks, which distribute wigs to cancer patients across the country.
It's just so incredible. I mean, truly… this is just an incredible thing that Pantene is doing through their Beautiful Lengths campaign. I'm truly left with goosebumps up and down my arms.
For women battling cancer and going through treatment, the loss of hair can be very difficult. Pantene wants to be there to help. They want to be there for women when looking good and feeling healthy is so important. As one breast-cancer survivor put it, "It was very hard when my hair started falling out. It really takes away who you are when you look in the mirror." Many of the women have said that putting on a wig makes them feel like themselves again. And when you donate your hair to the cause, you're helping make that happen.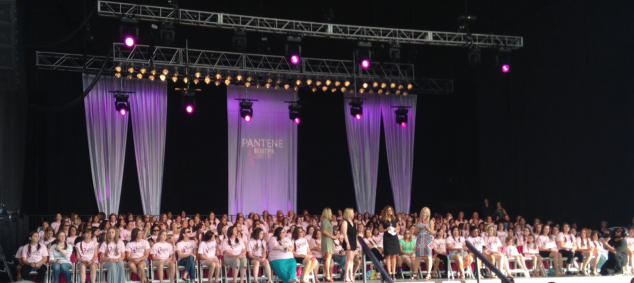 Each year, Pantene Beautiful Lengths hosts a donation event during Walmart's LPGA Tournament Week and this year it was Each year Pantene has their Beautiful Lengths event and this year it was held on Wednesday, June 24th at the Walmart AMP in Northwest Arkansas, hosted by P&G's Mindy Thompson-Sherwood and Walmart's Carmen Bouza with special guests, Olympic skier Lindsey Vonn and professional golfer Morgan Pressel. I think it's so special that these 2 incredible and powerful female athletes lent their voices to such an amazing program. It was even more meaningful for Morgan personally, too, "I watched my mom go through breast cancer, who passed away in 2003. That's why this event means so much to me. Thank you to all donating, and volunteering."
I had a chance to meet Lindsey Vonn at a P&G event a couple of years ago and she was beyond gracious and so kind. It was no surprise to me to see her being part of such an unbelievable event. As a matter of fact, something extra special, Lindsey helped cut the ponytails of some of the donors and shared, "I am honored to be here today. These young men and women in front of me today truly inspire me. These are the true heroes."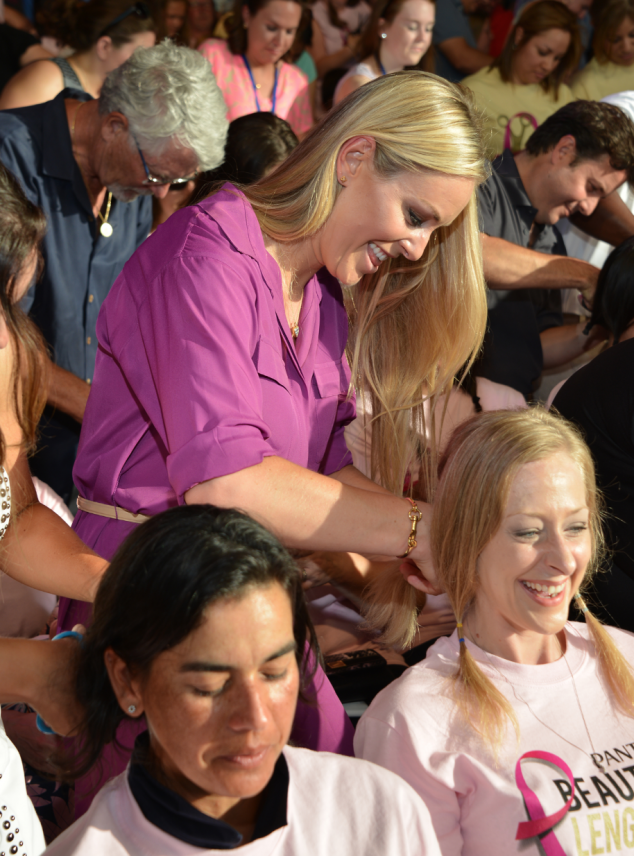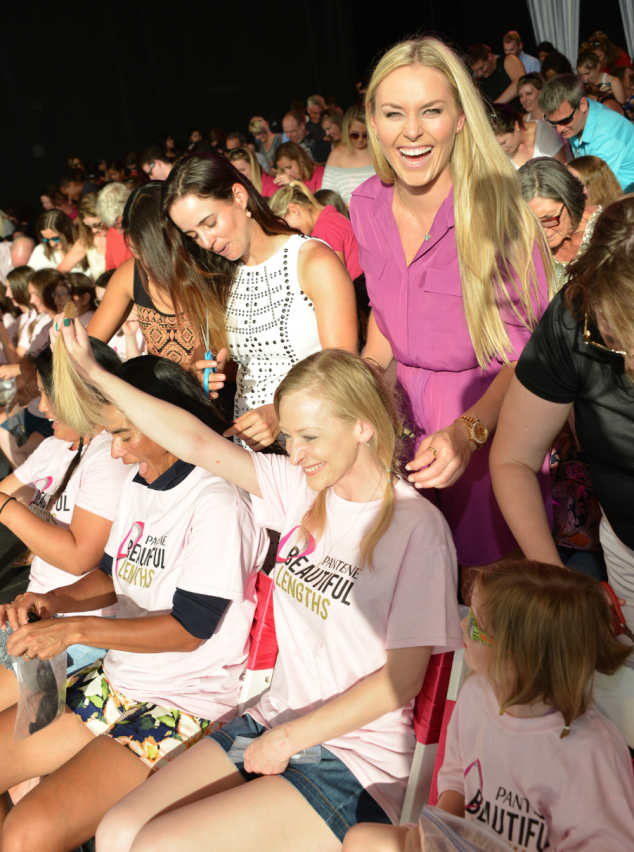 The true impact of this event is in the numbers of donors. It's just amazing to thing that this special event that started with just 10 donors 9 years ago has truly exploded into now being held in an outdoor amphitheater to accommodate all the amazing donors! That's what you call powerful. Pantene Beautiful Lengths donors from all over Northwest Arkansas attended the event; men, women and children, ranging in age from 3-50 signed up to donate their hair to the Pantene Beautiful Lengths program. Amazingly, more than 300 ponytails were collected from over 300 donors participated! Included – Important to note – in that count were two LPGA players—Jane Rah and Candy Hannemann – who donated their hair to the Pantene Beautiful Lengths program.
What is really incredible to me is the personal stories that Pantene has been able to share. One story that left me speechless was about a woman named Courtney, who was actually the very first donor to sign up for the event 9 years ago, is currently battling breast cancer. Before starting chemo, she decided to cut her hair and donate her ponytail to Pantene Beautiful Lengths. She recently received a Pantene Beautiful Lengths wig after losing her hair due to cancer treatments. My love goes out to all the amazing, brave and heroic women who are receiving the Beautiful Lengths wigs.
You can be part of this amazing Beautiful Lengths program, too. It's as simple as cutting your hair and donating it. If this is something you're interested in doing and being part of with Beautiful Lengths, here are the hair donation requirements:
• Donations must be at least 8 inches long
• Hair cannot be permanently dyed, bleached or chemically treated (semi-perm and vegetable dyes are fine)
• Hair cannot be more than 5% gray
The Pantene Beautiful Lengths Fund, in partnership with the Greater Cincinnati Foundation, also created a monetary donation component to the program. This allows everyone who wants to participate in the cause a way to show their support and the creation of more wigs than ever before; 100% of donations are used to make Pantene wigs. To make a monetary donation, click here.
I'm honored to be working with Pantene and being able to share all of this information about Beautiful Lengths with you!
Pantene couldn't say it any better, "To us, it's hair, but to women with cancer, it's hope."
For more information and where to donate, visit the Beautiful Lengths tab on Pantene.com