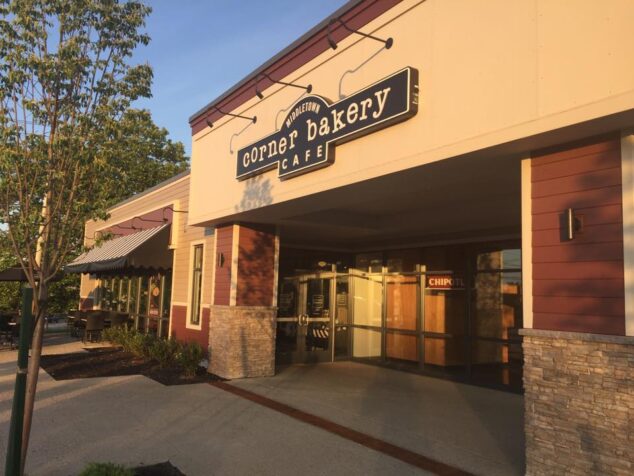 Do you have a Corner Bakery Cafe in your area? The first time I dined at one of these "fast-casual" cafes, I was pregnant with Brian Jr. and very hungry. I went to the one in Cranston, RI, near where I work, and I remember chowing down on a sandwich and soup combo – and sipping their old-fashioned lemonade – and thinking, "Where has this place been all my life!?"
Since then, I have been back a number of times and have never been disappointed. I've tried different soups, salads and sandwiches, as well as some hot beverages (try the Truffle Hot Chocolate, just trust me) and have always been very pleased with my meals, as well as the upscale yet friendly atmosphere of the cafe.
So I was excited when I recently had the chance to check out a new Corner Bakery Cafe location in Middletown, RI, the latest franchise location opened by the same folks who opened the one in Cranston (as well as Warwick, RI – and they will soon have one in nearby Seekonk, MA, too).
Along with some of my fellow Rhody bloggers, I had the chance to chat with the owner and manager of this Corner Bakery Cafe location, which gave me so much insight into the passion they have for offering fresh-to-order, high quality options to their guests.
The menu is seemingly endless, and filled with anything you might be craving – breakfast (served all day!), lunch, dinner, tasty sweets and tons of beverages. And they didn't forget about the kids – there is an extensive kids' menu, which worked out well, since I brought Brian Jr. with me, and he was very hungry!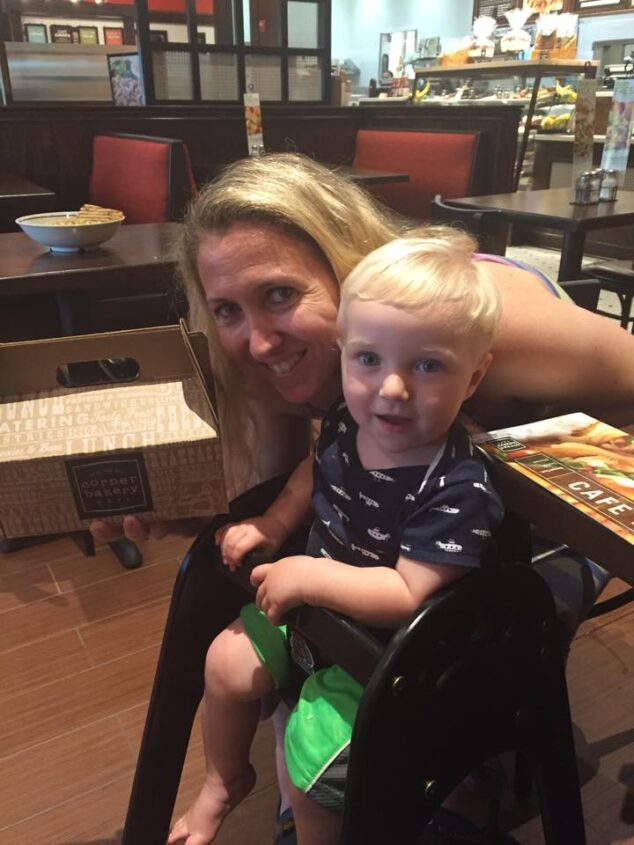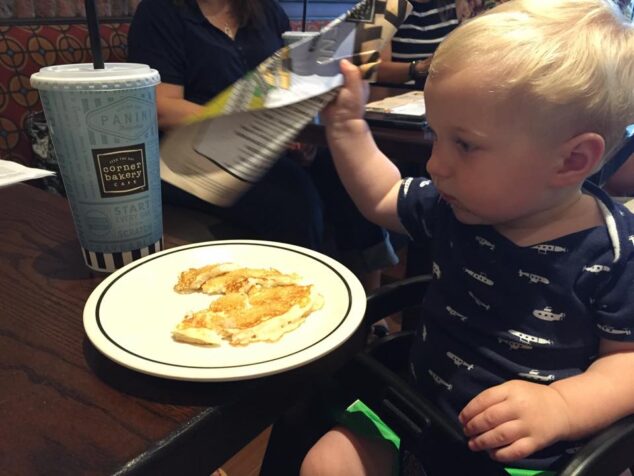 I had a chance to sample some of these popular and yummy menu items:
• Buttermilk Pancakes with bacon
• Spicy Asian Pork Toasted Sandwich
• A Trio including, the new Tabbouleh, D.C. Chicken Salad and Lemon Chicken Orzo Soup
• Pesto Cavatappi
None of these items had previously been on my go-to list of things to order at Corner Baker Cafe (because I had never tried them before!), but now they most definitely are. The pancakes melted in my mouth, the Spicy Asian Pork had just the right amount of kick to it, the Lemon Chicken Orzo Soup was incredible (and I'm a soup snob), and the Pesto Cavatappi was so hearty and delicious. I could go on and on about this food!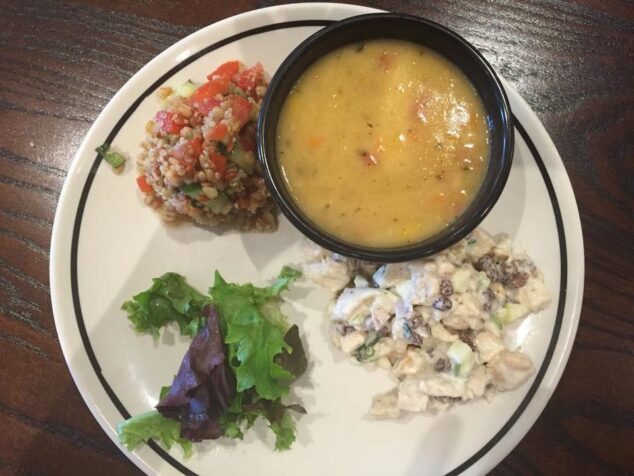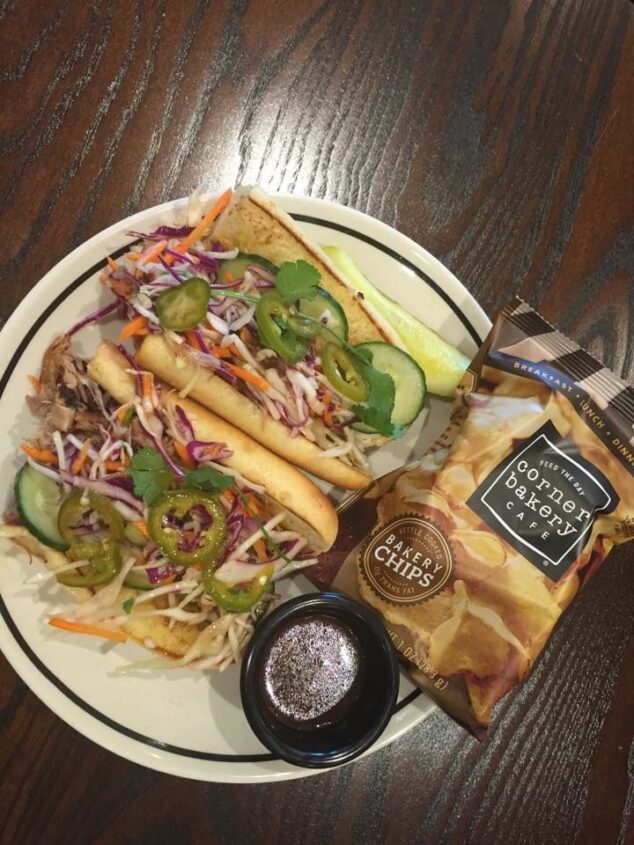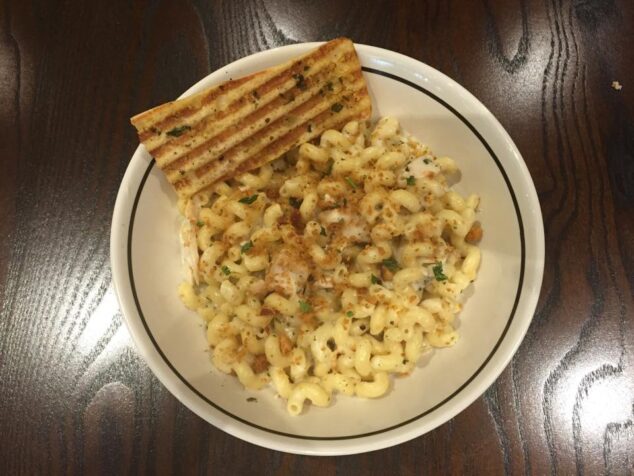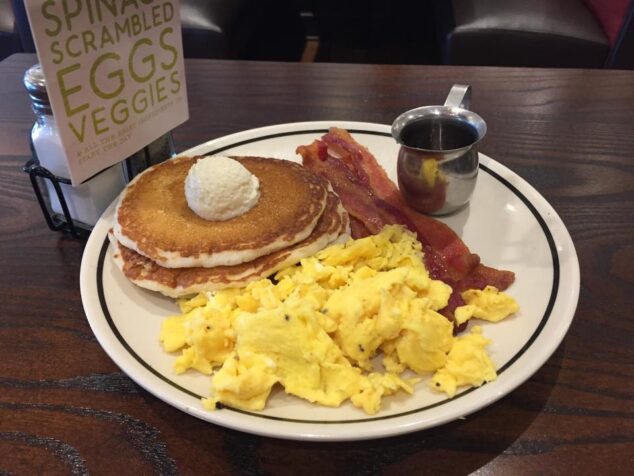 Whether its breakfast or dinner, indulgent or light, Corner Bakery Cafe has you covered. They make it SO easy on you – you just order at the counter, sit down and have your food brought to you. And they are incredibly accommodating with options, so if you don't see exactly what you'd like, just ask and they'll do everything they can to help. I'm already looking forward to my next outing there – the only hard part will be deciding what to order!
**GIVEAWAY!! If you haven't already tried Corner Bakery Cafe, here is your chance – I am giving away a $25 gift card! Just comment here and tell me which menu item is your favorite (if you've eaten there), or which one you'd like to try. I will randomly choose a winner on Monday, July 20th at 5PM. Open to US residents only.**
**UPDATED WITH WINNER: Congrats to alaina!! You're the winner and have been contacted! We will be sending the gift card to you upon receiving your address. THANK YOU!**
*I was invited as media to this blogger event and offered these menu items compliments of the Corner Bakery Cafe franchisee. All opinions, as always, are my own!