School starts for my boys on Monday, August 31st! I don't know if the boys are truly excited to head back to school, but they can't wait to see all of their friends. They're actually also anxious to see what teachers they have this year. We don't find out till the very first day of school.
This summer I partnered with Scholastic and the iconic Energizer Bunny to help get the boys reading even more this summer! In its 9th year, the Scholastic Summer Reading Challenge is a free online reading program dedicated to stopping the "summer slide" by encouraging kids to read throughout the summer months when school is out. It was really wonderful seeing them all take the time to read throughout the summer. It meant a great deal to me to make sure we carved out reading time and I'm so happy that we stayed on top of it.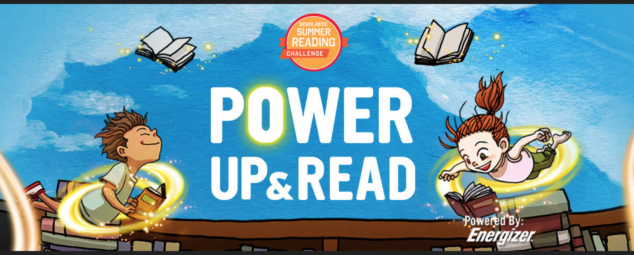 This year's Scholastic challenge theme was "Power Up & Read," powered by ENERGIZER®. Together they created the "Power Up & Read" Summer Reading Challenge! It's been so much fun partnering with them throughout this summe and I can't believe that it's almost over! Parents were able to sign up their kids beginning on May 4, 2015 and the program runs through September 4, 2015, so there's still a couple of weeks left!

This summer, 5 favorite reads stuck out for our family and we thought it would be fun to describe them in 5-words.
1. Harry Potter and the Sorcerer's Stone – Magical, Adventurous, Mythical, Fun and Exciting
2. Captain Underpants and the Sensational Saga of Sir Stinks-A-Lot – Silly, Funny, Cool, Smelly and Crazy
3. Pet Hotel – Adorable, Cute, Funny, Sweet and Special
4. Charlotte's Web – Special, Hopeful, Wishful, Great and Loving
5. Diary of a Wimpy Kid – Funny, Hilarious, Family, Extraordinary, Silly
As you can tell, we had some different kinds of reads this summer. It was really fun having the boys like to mix it up with different books. I just LOVED seeing all the selections they picked this summer!
But here's the thing… right now, with August almost over, the dog days of summer have begun! And with the "dog days of summer" comes "brain drain" season, which is when endless summer activities and distractions take the place of reading time. Scholastic's Maggie McGuire has 5 easy tips for making reading a priority for your child.
As you can see, setting weekly minutes goal, reserving special time to read together as a family, and celebrating reading accomplishments – it's all doable and all practical advice for families. It's not too late to get your kids reading!!
The beauty of the Scholastic Summer Reading Challenge is that Energizer® and Scholastic want to give moms the tools they need to unlock their child's talents, fuel their ambitions and set them up for future success. Parents can buy any specially marked pack of Energizer® brand batteries to scratch for a chance to win one of thousands of prizes that will power discovery and learning. Prizes include a family trip to New York City, a Scholastic Study Corner Makeover, a tablet with Scholastic apps, a library of Scholastic books and more!
Everyone who plays can also download free digital stories for their family.
It's REALLY amazing!!
And remember!! Even though it's the end of the summer, it's not too late to take part! Now through September 4th, visit Scholastic.com/Summer. Check out these amazing and totally fun resources you will be able to find with Scholastic:
• Unlock Original Short Stories from favorite Scholastic authors!
• Find Parenting Resources including Summer Reading printables, activity sheets, booklists and more!
• Play the Innovation Machine Game – a fun and creative writing game and contest!
• Visit "Videos in the Stacks" to receive reading tips for parents from Scholastic's Maggie McGuire!
All this for YOU and your family!!
Keep reading and have some fun soaking in the last days of summer!!
Sign up for the Scholastic Summer Reading Challenge
Learn more about the Energizer® Instant Win Game
Follow @Scholastic on Twitter
Like the Energizer® Bunny on Facebook
#SummerReading