COVERGIRL AND STARS WARS have come together for the COOLEST partnership ever!
If you're a STAR WARS fan you're doing to lose your mind on this one!
COVERGIRL announced yesterday a first-of-its-kind beauty collaboration with the upcoming blockbuster film, Star Wars: The Force Awakens.
Here's the thing… you know I'm a GINORMOUS BEAUTY NUT! COVERGIRL is one of my FAVORITE BRANDS to use for my makeup.
And I'm a HUGE STAR WARS FAN… with 4 sons, I have watched every STAR WARS anything imaginable and have about every single STAR WARS toy/puzzle/lego/stuff animal you can think of that's available!
This partnership is just too cool!!
COVERGIRL Global Creative Design Director Pat McGrath designed a series of six stunning beauty looks inspired by the film, its iconic characters and key themes, using new limited-edition SKUs from the COVERGIRL Star Wars Makeup Collection, as well as existing products. The looks were designed to enable the hundreds of millions of female Star Wars fans to celebrate their love of the movie, transform their look, and express multiple sides of their personalities. Of the six avant-garde looks representing the Light Side and Dark Side.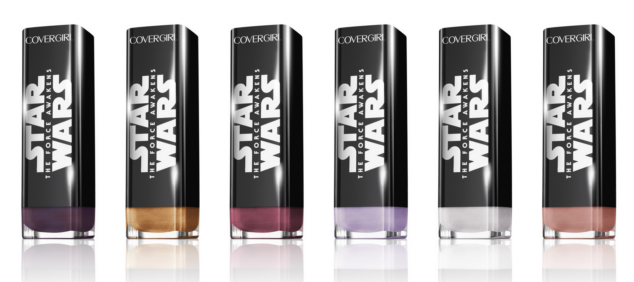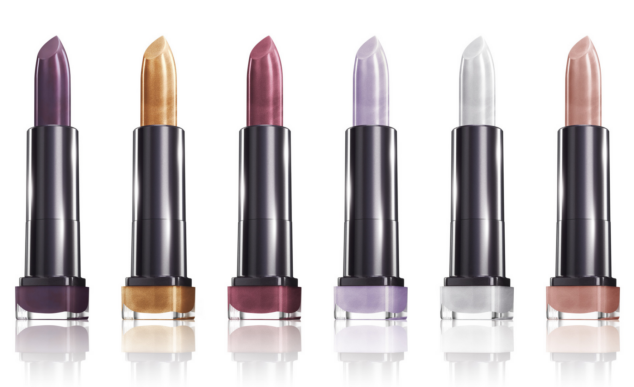 Two of the colors were revealed exclusively:
–          Droid features a luminous look that reflects the Light Side in "Star Wars: The Force Awakens." A swatch of golden eye shadow across lids and cheekbones sets the tone, with gold lipstick and gloss punctuating the lustrous palette. Droid is rocking a new metallic lip shade – COVERGIRL Star Wars Lipstick – Colorlicious in Gold #40.
–          Stormtrooper features a strong and graphic look to represent the power from the Dark Side. The eyes dominate with a black winged liner and white contrasts. Lips measure up in a deep, mysterious red. Stormtrooper's edgy look is topped off with a new lip shade – COVERGIRL Star Wars Lipstick – Colorlicious in Dark Purple #50.
But wait! There's more!
More products will be released, too!
10 Super Sizer by LashBlast Mascaras featuring iconic quotes from the Star Wars films. Discover 5 Light Side (waterproof) and 5 Dark Side (regular) SKUs when you shop our Star Wars Limited Edition Collection.



– "May The Force Be With You"
– "Do, Or Do Not, There Is No Try"
– "You're My Only Hope"
– "I Feel The Good In You"
– "Luminous Beings Are We"
– "I Will Finish What You Started"
– "There Has Been An Awakening"
– "Indeed You Are Powerful"
– "You Will Meet Your Destiny"
– "Immune To The Light"
6 new Colorlicious Lipsticks, one for each of the stunning campaign looks, in daring shades
Nude #70; Red #30; Dark Purple #50; Silver #10; Gold #40; Lilac #20
3 Outlast Stay Brilliant Nail Glosses
Light; Nemesis; Red Revenge
The COVERGIRL Star Wars Makeup Collection will be available online starting September 4th.
For more information and updates, head over to: COVERGIRL.com/StarWars.