Looking for high protein milk to serve to your family? I have discovered delicious milk that is higher in protein, lower in sugar and calories, and even has more calcium than traditional milk!
We're milk drinkers in the McClelland household. If you've been following me on social for the last 8 years, you know my sons like (love) to drink milk in our house. We literally go through 1 gallon and ½ a DAY! My sons and daughter are primarily milk drinkers straight from the cup. I use milk, but only in my smoothies, cereal, oatmeal and sometimes my coffee. I'm someone who really wants to drink more milk, but I'm not a fan of drinking whole milk because of the calorie intake and I'm not a fan of skim because it's too watery for me.
I need that next best thing and I honestly, I think I've found it.
Recently I was introduced to MilkWise and I'm really excited about it. MilkWise is a new, innovative high protein milk that was specifically designed for milk lovers who aren't getting what they desire from their current milk of beverage choice. MilkWise is a delicious, refreshing milk beverage with less sugar, fewer calories and more calcium than traditional milk.
As soon as I saw this about MilkWise, I was intrigued!
I had the chance to try out the 3 MilkWise products that are currently offered: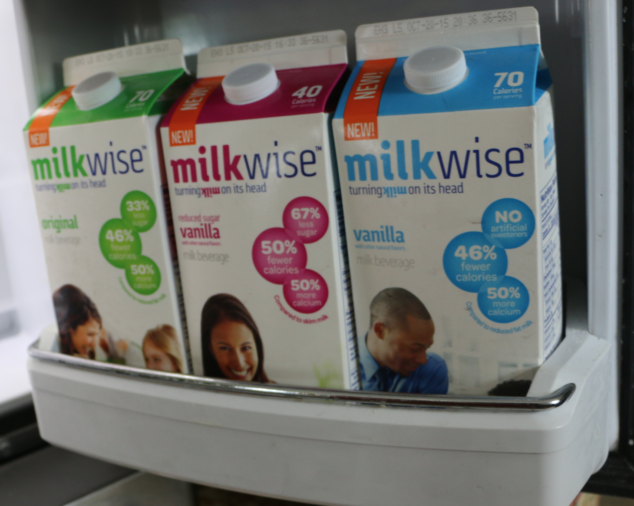 1. Original
2. Vanilla
3. Reduced Sugar Vanilla
My favorite was the Vanilla. It was out-of-this-world delish!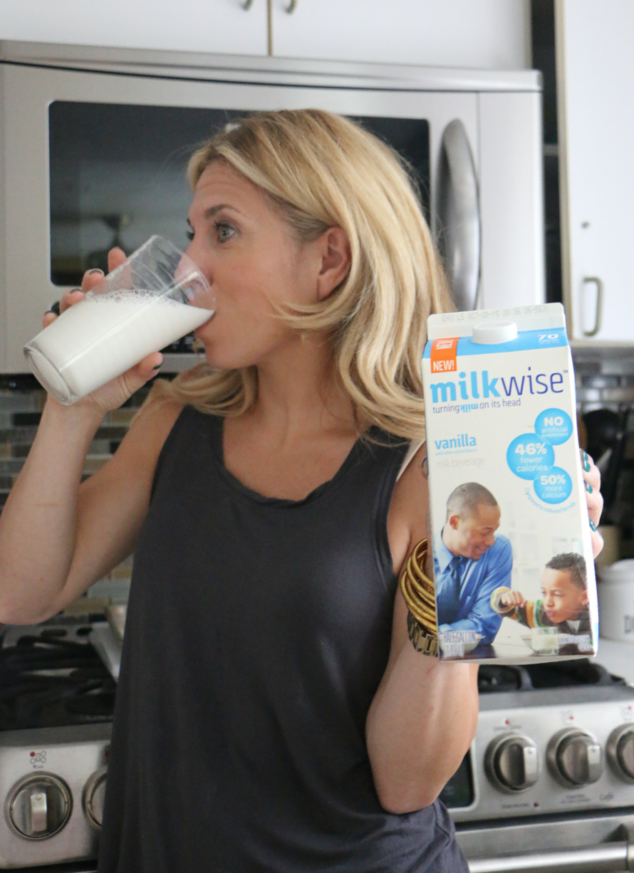 I already have started adding to my morning smoothies (for the kids, too!). The Original was creamy, too… which I loved. It's perfect for adding in my coffee and to my cereal. I definitely appreciate the Reduced Sugar Vanilla flavor. It was sweet and didn't taste (to me) like a reduced option, which I really loved.
MilkWise invited me to be part of their Google Hangout Tuesday night which was hosted by Lynne Bohan, spokesperson for the brand. I appreciated this Google Hangout because Lynne was able to answer questions and talk through the reasons for starting MilkWise and was able to convey beautifully the passion that has gone into the creation of it. Lynne explained that MilkWise is a proprietary blend of water, lowfat milk, sugar and other ingredients blended together to optimize taste while delivering lower sugar, fewer calories and more calcium than traditional milk. I was glad to see that in the Google Hangout, I wasn't the only one concerned with my own personal calcium intake, along with trying to make sure I'm making the best healthy choices for myself and my family.
Related Article: No Bake Protein Bites
One of the question that immediately came to mind for me was whether or not I could cook with MilkWise. I love to bake and many recipes I make for my family (mac & cheese, alfredo, lasagna) include milk. I was happy to hear that YES, I can indeed, cook with MilkWise!
I was also concerned whether my children could drink it, too.
YES! MilkWise high protein milk does not contain artificial sweeteners, and since it has 50 percent more calcium than traditional dairy milk, the whole family can enjoy!
I'm telling you, I really enjoyed the taste of MilkWise and I love the health benefits. I'm excited to see a product like this hitting my grocery shelves this September, with a New England role out first. MilkWise will bring the "Taste of MilkWise" Tour to Boston to kick off its New England tour in conjunction with entry into the regional market. The modern truck will offer samples of MilkWise on September 16th alongside one-of-a-kind treats from Boston's Flour Bakery! AND!! Huge news for MilkWise, actress Monica Potter will be joining the Taste of MilkWise Tour in Boston as a spokesperson!!
In addition to Boston, the truck will also make stops in the following cities:
§ Springfield, Massachusetts
§ Portland, Maine
§ Providence, Rhode Island
§ Hartford, Connecticut
§ Manchester, New Hampshire
I can't wait to have you try it, too! You're going to love it!