I've always loved Ocean Spray's Cranberry Juice, even as a little girl. I actually vividly remember my parents going grocery shopping with me and my sister every Sunday afternoon at a place called Heartland in Seekonk, MA and having my parents ALWAYS make sure to stock up on Cranberry Juice for me. It always was one of my fave juices to drink. It's funny – when I was little, I didn't know that cranberries were so good for you to consume. I just loved the taste… little did I truly know just HOW GOOD cranberries were for you!
Fast forward 35+ years. I'm a married, mom of 5 and and still love Ocean Spray's Cranberry Juice. So… when I was invited by Ocean Spray to head to NYC last week to try one of their newest products – PACt® Cranberry Extract Water – and meet/interview nutrition expert Keri Glassman, I JUMPED at the opportunity. I'm very big into taking care of my body, mind and soul, so for me – I was very excited to hear about the power/beauty/benefits of Ocean Spray's PACt® Cranberry Extract Water and also excited to chat with Keri Glassman.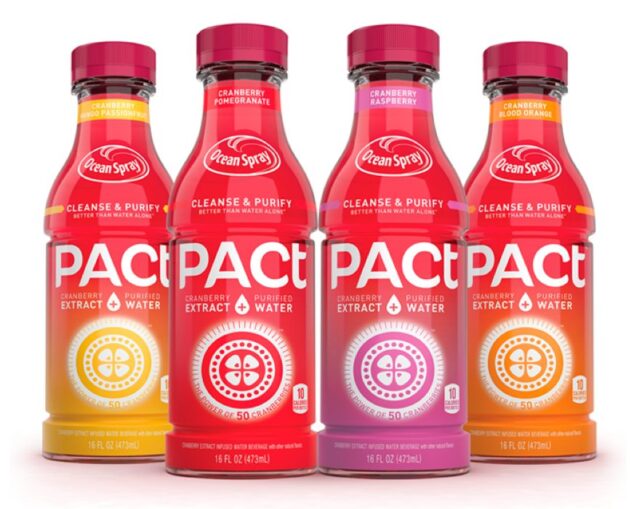 I don't know about you, but it's tough for me to drink a solid 8 glasses of water a day. There are days I just can't think of drinking plain water. There are days I just forget because I'm out and about all day. And to be honest, there are days where it just feels like a "job" to get my water in. Here's the thing – I need to stay and be HYDRATED. I know it's healthy and important to be hydrated. I just want to mix it up a bit… and I finally found a great way to do it!
This is the VERY reason why Ocean Spray created its cranberry extract water. It's a delicious, low-calorie way to not only hydrate, but to help cleanse and purify the body better than water alone. Ocean Spray® PACt® cranberry extract water contains PACs (80mg per 16 oz bottle/serving), or proanthocyanidins, powerful elements found deep inside cranberries, that when added to water help cleanse and purify your body better than water alone(PACs, found in cranberries, are not in water). Sweetened naturally and with the power of 50 cranberries, it's proof that water gets better when it's a little redder.
There are 4 amazing flavors:
1. Cranberry Raspberry
2. Cranberry Pomegranate
3. Cranberry Blood Orange
4. Cranberry Mango Passion Fruit
And the best part was chatting with nutrition expert, Keri Glassman about the product, too. Nationally recognized celebrity nutritionist, registered dietitian, healthy cooking expert and published author Keri Glassman is the founder and president of Keri Glassman, Nutritious Life, a nutrition practice and health and wellness brand, as well as The Nutrition School, a 12-week online course created to provide an unprecedented nutrition education and a springboard for building a successful career as a nutritionist. She launched Nutritious Life Magazine, a free health and wellness app that aims to take users' nutrition up a notch, and was also the first registered dietitian to create a real food based snack bar, KeriBar.
Check out my interview with Keri Glassman…
She was so sweet and so knowledgeable and really opened my eyes to why it's important to stay hydrated and the true important of cranberries. I love the partnership between her and Ocean Spray, it really makes sense and she's a true believer in the PACt Cranberry Extract Water!
Q : How did you get a line with Ocean Spray and their new — let me just show you the new product PACt.

KERI : I had been talking about antioxidants for years. I don't know if you remember when I wrote a book called the O2 Diet where I focused really heavily on antioxidants. So, cranberries have always been a huge food that I've just loved, because of, obviously, all the super power antioxidant and anti-inflammatory benefits. So, when I met up with Ocean Spray, I thought the product was really cool, because Drinking Up, obviously, is a big pillar of a Nutritious Life. And what's amazing about PACt is that it contains PACs that have been added to water. PACs are those compounds found deep inside the cranberry that helps to cleanse and purify the body, and they act as antioxidants and anti-inflammatory agents. So, I just thought it was a really interesting product with great antioxidant value and goes right along, again, with one of the Pillars of a Nutritious Life, Drinking Up. And so, there you have it.

Q : Why is it so important right now in the fall to stay hydrated?
KERI : Okay, so the reason — it's not that it's more important in the fall than it is in the summer. It's not more important at all. It's just that it's equally important. The reason we emphasize it more is because don't do it as much in the fall. Most people hydrate more in the summer and they're thinking about it more and it's sort of being jammed down into their heads. Drink, drink, drink. It's hot out. You're gonna have heat stroke, you know. People are talking about it more and we feel more thirsty. In the fall, when the temperature's dropping in the winter and you don't feel as thirsty (because you're not sitting there outside sweating). So, again, it's not that it's more important. It's that we don't do as good of a job at hydrating our self. So, we need to be reminded. The reason it's so important is being hydrated 365 days a year is important for everything from digestion to energy to metabolism to your skin health. It's important for all of these reasons, so we have to remember to do it all throughout the year.
Read full interview with Keri here.
Thank you so much to Ocean Spray for this incredible morning event. It was amazingly informative and I'm so excited to share my love for PACt Cranberry Extract Water with you, too! I feel in love with the Cranberry Raspberry!!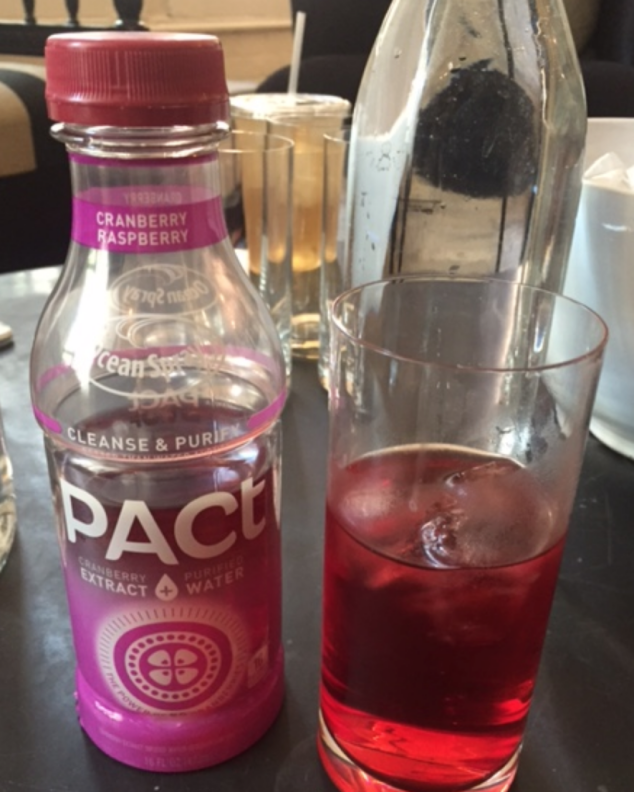 Yum! Yum! And I stayed hydrated with it throughout the day!
Disclosure: This was a sponsored posting with Ocean Spray. All opinions are 100% my own.