That time I skipped a high school English class and other badassary…
I was looking through a random, very large envelop of photographs and family documents that happened to show up while I was digging under a bed, looking for something important.
This morning.
I know I must have handled and opened this envelop before, but I didn't remember when, nor did I recognize the piles of photos.
There was this one…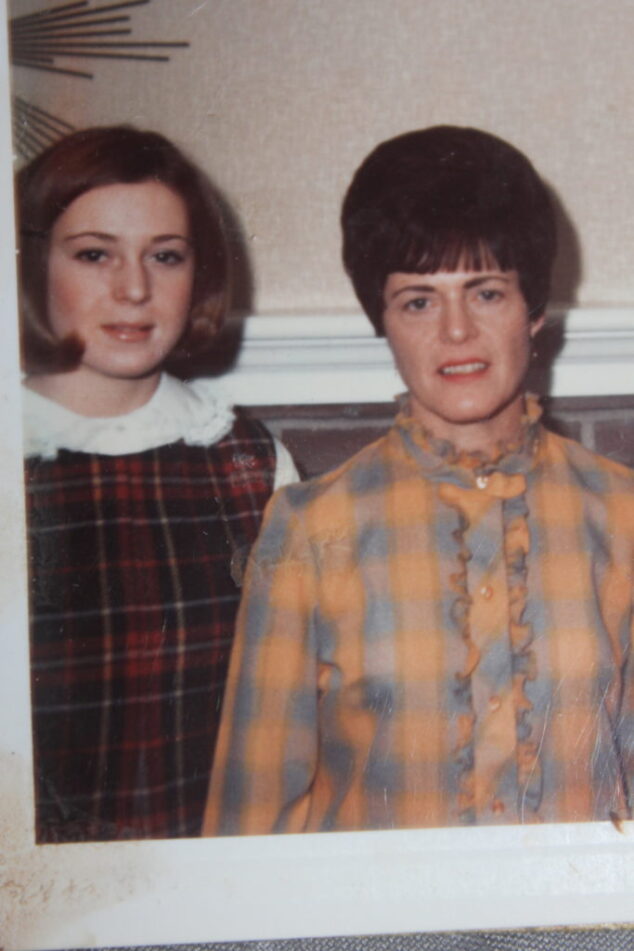 My Mom and me.
Circa 1967. Maybe 1968.
I recognized the jumper I'm wearing. I sewed most of my clothing back then and jumpers were in style. I could make that jumper in a couple of hours after school, and did so.
Often.
What I didn't recognize, at first glance, was my attitude what-the what LOL!

Then I remembered that I was probably 15 or so in the throws of adolescence and prob did have a 'tude.
Or two.
Sometimes I had a school 'tude. And, of course, that would be taken out on everyone in my general vicinity as well as the universe.
I often didn't like high school very much.
I disliked the politics of it. I disliked the society of it. I hated the 30 students per class sitting in straight lines – rows. My last name began with "K" (smack in the middle of the alphabet), and I was generally relegated to row 3, last seat. One could hide very nicely back there, but I agonized over the lack of creativity of it all. I had read somewhere that at some schools, students were actually seated in a circular pattern to bring everyone to "equal" — too novel for my city high school.

I disliked uninspiring homework assignments. Things I considered a massive waste of time.
I had left a junior high school in North Hampton, New Hampshire going into 8th grade in Warwick, RI due to a family move… but there back in NH was academic excitement! Oratorical contests. Science Fairs. Debates. Plays. Musicals. Interscholastic sports for boys AND girls. Way before Title IX. There were exciting reading assignments and lots of discussion and projects that I still remember to this very day. Teachers LOVED their jobs and parents were an important and vital part of the education equation.
But anyway.
I was vocal about my "high school" views at home. I was always vocal about everything. Still am.
Some unpleasant high school conversation may have happened just before that photo was taken, who knows??, and my deal at the time was to carry that unpleasant for quite some time. Maybe right into the next morning.
Good times.
Ah. Adolescence!
Which brings me to the day I decided to skip English class.
Why?
I hated that class and that teacher more than any other class or teacher. Ever.
Let me add here that up until junior year, English was my favorite subject, followed by History. My freshman year was incredibly dynamic. Sophomore year was forgettable – I don't even remember my teacher's name, but I don't remember hating it.
But junior year was hell.
Hello!
I had a male teacher. Let's call him Mr. G for anonymity; but the fact that I'm going to mention his Hockey Coach status might just give him away.
This instructor, from day one, didn't teach. He galvanized his hockey players, whom, by the way, were well represented in that class, with a coat of steel (or hockey padding) and discussed hockey maneuvers while drawing hockey diagrams on the board. I still remember those X's and O's.
The rest of us were instructed to read pages whatever-whatever in our text book and answer questions in writing.
Passed in.
Never corrected.
Our class had one test, one test, during the entire first quarter. I earned an A on that test.
Why didn't I go to my guidance counselor?
Most of the kids in that class neither read the assignments nor answered the questions. I did. I may have had utter disrespect for Mr. G, but I did the work. I just didn't want to start trouble. Telling on the teacher was taboo. The class was in-so-much as a study hall for some.
Then 1st semester grades came out.
Mr. G had given me C in English.
I had never, ever gotten less than a A in English. Ever. I had done the stupid work while he nibbled on the reputations of hockey boys.
I had done excellent work (in complete sentences!) just to pass the time.
My Mom and Dad and guidance counselor had to become involved in resolving this crazy. (I use the word "guidance" lightly, because Ms. I-cannot-even-remember-her-name neither guided nor counseled.)
My grade was swiftly changed to an A.
But my hatred for this class and this academic environment just spilled into my psyche like spilled milk. How could this guy remain teaching?
Hey. I was 15.
My parents had asked for a change of class.
Couldn't be done. You know, scheduling and all.
So one day I decided to skip English class. I enlisted a friend and we were giddy with excitement. Neither of us had ever done such a vile thing.
We didn't even know HOW to do it.
When the bell rang to be inside class, we were hiding in a girls' bathroom.
I don't know if either of us breathed that entire time.
The minutes ticked away like so many centuries.
I had never, ever done anything, thought of anything, so criminal.
I could see a future of labels – convict, villain, delinquent, malefactor, jailbird.
Then the bell rang again.
We had done the dirtiest deed.
Now we had remorse for all the trouble we would be facing.
My fear lasted through the afternoon, on the bus ride home, during dinner (should I tell my parents?), overnight, into the morning, on the bus ride to school and into homeroom.
THIS is when our names would be called over the PA system to report to the office for disciplinary action.
Detention.
Humiliation.
Something horrible.
Well, I waited.
And waited.
Sweat pouring. Head aching.
Our names were not called.
Seems Mr. G didn't even know we weren't in class.
Hmmmm.
The greatest humiliation.
Not being missed.
Well, I never did that again.
I never told my parents.
My friend – ditto.
A one-and-done crime sort of thing.
But man-oh-man did I disrespect that Guy even more.
Ironically, it was most probably Mr. G that convinced me to become an English teacher.
I had had the best.
I had had the worst.
Kids didn't deserve teachers like Mr. G – teachers hanging on for years and then decades – uninspiring, uninteresting, useless even.
Well, I did become an English teacher. I never put my students in alphabetical order. I never missed anyone being absent. I tried my hardest to pass along my love of language and literature.
I often thought of Mr. G and what he had missed in the faces and writing and voices of kids who loved something – even one thing – I had to teach.
It's so interesting and funny and miraculous and intriguing what one expression at one moment on one face in one photograph so very, very long ago can create in a heart and mind and memory storage bank.
Yes?
My adolescent 'tude didn't last all that long.
They rarely do.
But I had a good handle on things many years later when I stood before 30 kids in an English class in non-alphabetical order.
But let's head back to 1967 or '68 and some more badassary…
Like me trying to kill some girl in gym class.
And getting stabbed with a compass in the hallway by that girl I had tried to kill .
Yep.
Good times!
(And a shout-out to wonderful, patient parents!)