This post is sponsored by the maker of ARM & HAMMER™ Super Washing Soda. All opinions are 100% my own.
With the fall season in full swing, I usually take this time to clean and de-clutter the house. I know people like to spring clean, but I'm all about the fall cleaning! For me, the fall is my "new year" and it's the beginning of a new start for me and my family. There's just something in the air about the fall! It always inspires and motivates me to clean, organize and get my house in good shape for the cold months ahead!
One thing I did a couple of weeks ago was go-through all of the kids clothes from the spring and summer. I literally went slowly from drawer to drawer and made piles for donation. Anything that was too small. Anything that was too worn. Anything that just hadn't been worn and wouldn't be worn (the boys do this all the time to me!), gone! I had my husband deliver 8 bags of clothing to our local donation center and it felt really good to scale down and give back.
This past weekend I did (4) additional FALL CHORES that had been heavily weighing on my mind:
1. Clean the patio furniture and get it ready to store for the winter
2. Clean the garden tools
3. Clean the fridge (it needs a good scrubbing after this summer!)
4. Clean the microwave
Throughout the summer months we LIVE on our back deck. We grill almost every single night and it's our little oasis. The kids love eating outside on our deck and we invested in a beautiful set 2 years ago that we just love. I have never been one to clean patio furniture and give it much thought, but this set is just our favorite and we really wanted it to stay looking as good as new – the same goes for our gardening tools! We invest in these special items and we want them to last. Our fridge – I can't even! With 5 kids, there's always containers and drinks and fruits and veggies and cheeses being tossed inside! I just wanted to make sure I gave the fridge a thorough scrub after the summer! And then there's the microwave! Popcorn, pastas, lunch meals, mac & cheese, chicken nuggets… it's used every single day in our house! I always try to do a wash over with water, but it really needed a thorough scrub like my fridge!
For all of my fall cleaning chores I used ARM & HAMMER™ Super Washing Soda.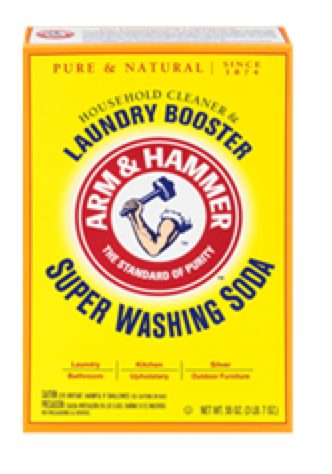 I know that most people think about using the ARM & HAMMER ™ Super Washing Soda as a laundry detergent booster, but I really love to use it as a household cleaner, adding extra cleaning and freshening power to various tough household jobs (ahem… patio furniture, fridge and micro!). I also love that it's all-natural and that I can use it in my fridge and micro – and I hadn't even thought about using it on my PATIO FURNITURE until I read that it worked extremely well cleaning outside furniture! Total bonus for me!
To clean my outdoor furniture, this is what ARM & HAMMER ™ Super Washing Soda recommended (and I did!):
When taking your furniture in or out of storage, clean wrought-iron furniture and plastic cushions with a solution of ½ cup Super Washing Soda dissolved in a gallon of warm water. For wrought iron, scrub with a stiff-bristled brush, hose off and dry in the sun. For plastic cushions, wipe down with a cloth or a sponge. Outdoor furniture should not be cleaned on wooden decks as Super Washing Soda can remove the finish. Do not use on aluminum outdoor furniture.
To clean the gardening tools, this is what ARM & HAMMER ™ Super Washing Soda recommended (and, again, I did!):
For easy maintenance of saws, hedge trimmers and clippers, scrub with Super Washing Soda on a moist, stiff-bristled brush. Hose off and let dry in the sun. Do not use on aluminum tools.
For my fridge and microwave, I used of ½ cup ARM & HAMMER™ Super Washing Soda dissolved in a gallon of warm water – it worked perfect!
It's amazing to think that ARM & HAMMER'S ™ Super Washing Soda was originally launched in 1874! Throughout the years it was used for natural/DIY laundry detergents as well as for cleaning exterior surfaces and furnishings. I really wanted to put the cleaning powers to the test and I was amazingly satisfied with the results!! Everything got clean, shiny and scrubbed for the fall season ahead!! It really held up the cleaning power to get out ground-in dirt and stain. I was happy to learn that you can also use on ovens, range tops, pots & pans, range hoods, plastic housewares and in the bathroom, too! In addition to being an effective cleaner, it is also 100% Fragrance & Phosphate Free. It helps neutralize and eliminate odors, not cover them up with perfumes.
Ahh… my checklist is done! Everything has been crossed off my list!
Tell me, what would YOU use the ARM & HAMMER ™ Super Washing Soda on?