The Stars of St. Nikolaus Eve ~ Part 3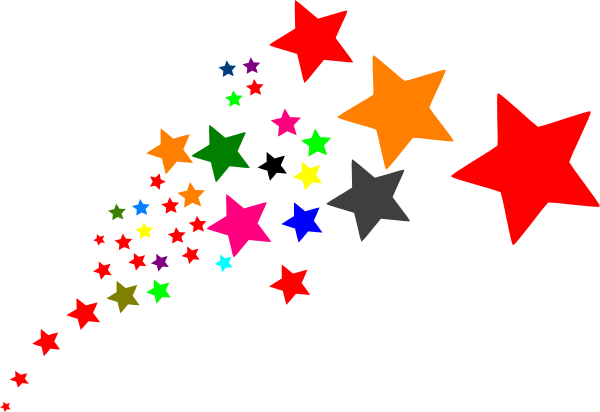 *******************************************************
~ The Stars of St. Nikolaus Eve ~

I recently re-discovered a children's Christmas Book manuscript that I wrote 22 years ago. My own 4 children were not nearly young enough for Santa Claus anymore and I quite missed those days of wide-eyed belief in the magic of "the man in red" — who could see you when you were sleeping, awake, bad or good and all that jazz.
Would Christmas ever be the same?
I was inspired to write my story when I read that in Northern Germany, there's a legend about Sankt Nikolaus, a Santa-type fellow who visits the homes of children on the night of December 5th ~ the Eve of December 6th ~ The Feast of Saint Nicholas, who is also known as Saint Nicholas of Winter. This feast focuses on the beginning of Advent, neighborly meals and celebration. St. Nicholas himself rides a fine horse and visits the homes of children with candies and goodies on the evening of December 5th, leaving such sweet treats in children's shoes or stockings.  Accompanying St. Nikolaus is Black Piet, a man or spirit, who leaves birch branch switches to children who are misbehaved.
Ah, ha!
Maybe my family could commence Christmas and Advent with a little fun involving a spunky little girl named Eve, a girl who lit up the sky on the Eve of December the 6th.
Well, my manuscript sat for 22 years. I think it's high-time I resurrect it for my 11, going on 12, grandkids. I've divided it into 6 parts, each one leading up to the Feast of St. Nikolaus on December 6th.
I posted Part 1 on December 1st —-  Part 2 on December 2nd. 
If you have the time, I'd love you to read it. I hope you like it.
Now, to find an illustrator!
***********************************************************
The Stars of St. Nikolaus Eve ~ Part 3
White Horse then whinnied,
He snorted and neighed,
As St. Nik grandly mounted
and clutched scarlet reins.
Eve ascended next,
with the help of Gold Smith –
Peter was third,
with his Lists upon Lists
Waving,
Unraveling
Smeared with ink –
with checks and notations,
each with distinct
instances and examples
of deeds bad or good —
And colors,
A multitude of colors,
to describe all the SHOULDS —
Green Ink – Should Be More Generous
Blue – Should Behave
Should Practice Patience in Purple
Yellow – Should Be More Brave
But written in Red ink,
with exclamations to exclaim –
Was the simplest of Shoulds —
Should Remain Quite the Same!
Then in a flurry of footsteps
and hooves fancy free,
The door whipped wide open
and instantly –
White Horse circled once,
and galloped gracefully away,
As St. Nik's apprentices
Joyously waved.
Snowflakes, snow fall,
Snow drifts abounded –
Like blankets
and blankets
Of softest swan's down.
And the tiniest tinkling of bells resounded
As White Horse neared
the edge of town,
Where cottages were aglow,
fires in place
And sheets of white cloth
Commonplace.
Here and there,
through a crack or a crevice,
Wafted sweetest aromas
Of warm sassafras –
And teas or orange,
lemon and mint,
And just for White Horse
Baskets of quince.
Noses to window panes,
Eyes as such –
All the town's children
Wonder-struck.
Watching White Horse, so stately –
his galloping hooves,
And St. Nik's Red Robe
as it so grandly moved.
Eve gently brushing
snow from her sleeves —
And Peter Pink Peter
so greatly aggrieved,
with his cap taking flight,
merely one slipper on —
His candy-cane britches
Woe-be-gone.
"Unlock the gate
to the first house,"
Peter soon said,
"I'll check my Lists
for the ink color with shed
Some inkling,
Some hint,
Some question,
Some truth –
Some useful information
concerning that youth."
For shadowed in shadows,
Dimmed in dim light –
Stood a child much like Eve,
A tiny boy in the night.
"A SWITCH!
a switch,
a switch from my quiver –
A SWITCH,
a switch,
a switch to deliver" –
shouted Peter Pink Peter
with great emphasis,
"For BLUE is this boy's name
on my Vexing Boy List."
Now Eve was in
and odd situation,
grasping Peter's switch
with terrible anticipation –
When inspiration
broke quite free –
A wrinkle
to wrinkle
This St. Nik's Eve –
As Eve opened her left hand,
feeling not the slightest gloom –
For one star she'd been hiding
was the Bluest of Blues —
And she tucked Peter's switch
Deeply inside her sleeve,
Whispering to the boy,
"If you please…
Spread this message,
Ride behind us tonight –
Switches will be switched with
starry illuminites.
ALL children receive candles,
the starriest lights —
Candles of colors,
Millions, all told,
Candles of stars
with secrets to unfold –
Green Ink – Should Be More Generous
Blue – Should Behave
Should Practice Patience in Purple
Yellow – Should Be More Brave
But a candle of Red,
is has been preordained,
Means the child to receive one,
Should Remain Quite the Same."
"Make haste," Eve whispered,
"This secret must soar,
through all towns and villages –
to valleys and shores.
Over mountains, to cities
to climates of sun –
Each child must know,
One by one.
So mount your Pack Pony now –
she looks awake and headstrong,
and neighs with excitement
at coming along!"
"But Pack Pony's shoes are thin,
her saddle in worn –
Her stirrups are threadbare,
and her blanket is torn,"
answered the boy.
"There is no time,"
whispered Eve,
"to worry, to fret,
Or Peter will get
the best of us yet.
Come! Come!
Now! Now!
Pack Pony must journey with us –
Somehow.
Mount in haste,
for Pack Pony there –
will follow White Horse
everywhere."
Then back to White Horse
Eve quickly raced,
While Peter Pink Peter
furiously paced –
Grumbling his grumbles,
griping his gripes,
Checking his Lists
by his lantern light.
**********************************************************
~See you tomorrow, December 4th, leading up to The Feast of St. Nikolaus on December the 6th!