It's the weekend and it's time to CHILL and RELAX! Thank goodness! I'm all about trying to find some weekend outfits that are going to be stylish and cute and flattering. We're always on the go, so I really love to find looks that I don't mind seeing people in! You get my drift, right? I'm excited to share these Weekend Outfits with you that are super easy to replicate and have some weekend fun in! I love me a good sweater for the fall!
Weekend Outfits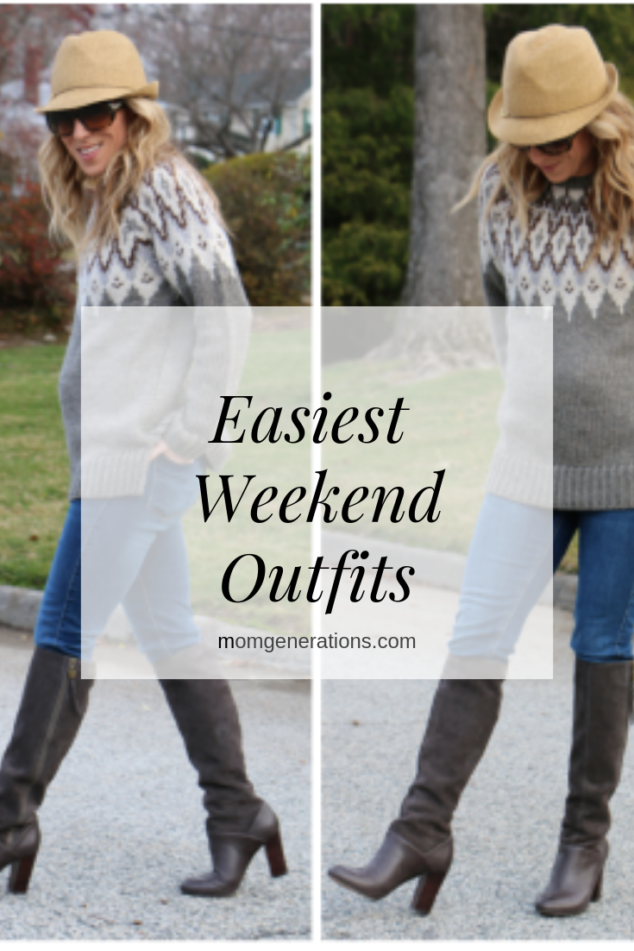 It's getting chilly, so it's time to layer on the clothes! I love winter clothing and weekend outfits because there's something about sinking into a warm, cozy sweater that just makes me so happy! As much as it's fun to pop on a warm cozy sweater with a pair of sweats… it's just as fun to pop on a pair of skinny jeans and high boots! Turn winter style up a notch!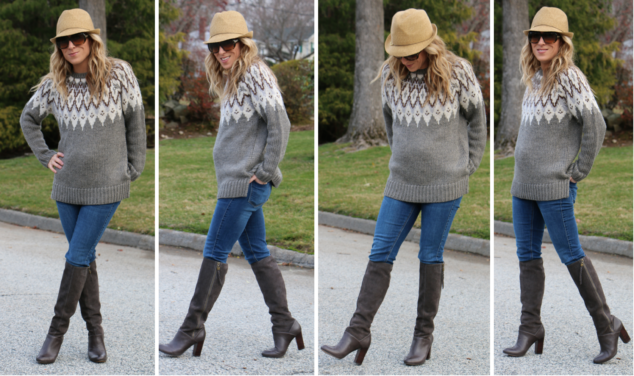 What Am I Loving for Weekend Outfits?
I'm obsessed with my new J.Jill sweater… it's super warm, super soft and super me. It's a simple crew-neck pullover sweater made from soft, thick yarns… and it's just the perfect addition to my winter wardrobe! I got it last week and I think I've already worn in 1/2 dozen times! I'm also in love with the Fair Isle yoke! But for me… the funnest part of fashion is dressing it up! I grabbed my new skinnies from Zara and my new boots from Shoebuy and my fave hat from T.J.Maxx and have myself a trendy afternoon look!
I'm telling you – when you find your favorite sweater – you don't let it go! You HANG on for dear life! This sweater I will live in every single winter! It's just such a classic and timeless looking sweater, too! It's everything that I want and need it to be (and more!).
Since the afternoons DO get extra chilly here, I've been wearing my cashmere wrap everywhere, too! I love the pop of color it adds to a look. Easy and fashionable! Everyone needs a cashmere wrap in their weekend outfits arsenal! It's something you can quickly toss on and go with for the day and into the night, too!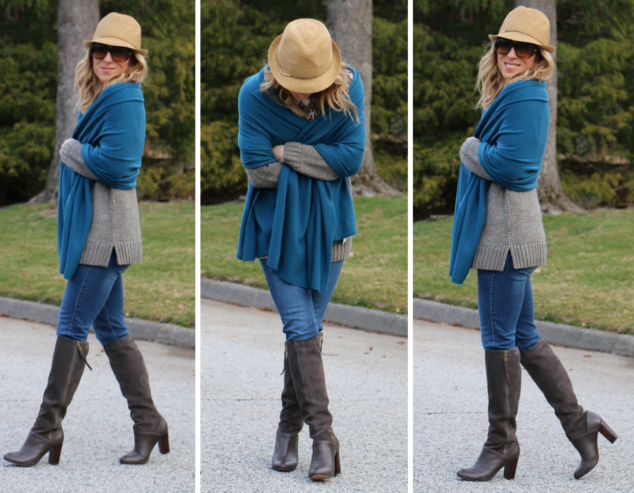 Breakdown of my Weekend Outfits:
Grab a winter sweater and add some skinnies and heels!
Breakdown:
Sweater: J.Jill
Cashmere Wrap: J.Jill
Skinny: ZARA
Hat: T.J.Maxx
Boots: Shoebuy
I blog about fashion all the time on my blog! Make sure you head to my fashion category to see what I've got cooking!