Flatbread Company Providence and Pizza Dough for the Kids…
Everyone is kneaded out of the same dough but not baked in the same oven.
–Yiddish Proverb
After a long morning of swimming multiple events at a swim meet at Brown University, there are no better words to 4 grandsons than, "Wanna have some pizza?"
And some pizza when at College Hill in Providence means Flatbread ~ All-natural, Wood-Fired, Clay Oven Pizza where the dough is made fresh daily from 100% organically grown wheat that is milled into white and flour and the wheat germ restored.

These italicized words are not my words, but Flatbread's words and promise, where the words become reality and the promise is gifted every single time.
But back to the 4 boys who were starving, and for whom the short walk from the pool to Flatbread in the icy air built appetites even more. Inside, the oven was fired and it warmed both body and soul. The aromas, mixed with sincere pleasantly, could fill a cathedral of humanity.
But back to the starving part. And, oh… 4 boys plus a little sister, a Mom, Dad, Pop-up and Grandma.
We were quickly seated, settled and because we know the menu rather well, selected our salads and pizza.
But the starving part while waiting for the pizza is ingeniously filled with dough, working that wonderful ball of floury mix with hands — rolling, shaping, pressing, stretching, spinning, flattening — while laughing, giggling, creating!
Becoming oh, so pretentiously fan-cy…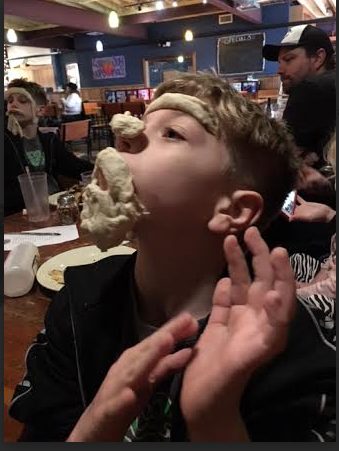 Contemplative and wise…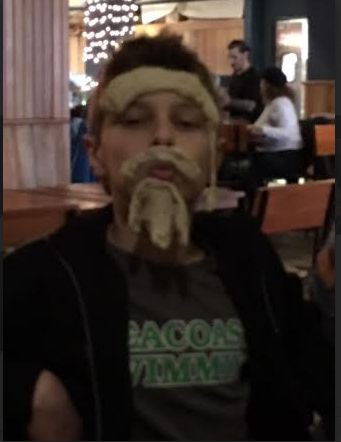 Or perhaps 1970's relevant…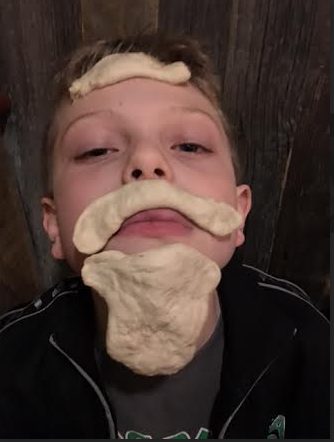 Accents, and all!
Kind of dough-playing role-playing until all-of-a-sudden the pizza arrives and the silence of just plain satiated perfection is all that's kneaded.
Ahhhhh.
Yum.