Kris Dunn, the Providence College elite college basketball player, inspires our very own grandkids on Instagram! Kris Dunn is a HERO to my kids!!  When you mention Men's College Basketball in my home, you'll discover the very definition of college basketball passion. You'll sense it. But if you mention Providence College Basketball, you'll feel it. The history, the culture, the magic and the madness.
Kris Dunn
My husband Barry grew up in East Providence, RI, a short drive to Alumni Hall, where the Providence College Friars called home. But Barry never got to a game as a kid, but rather listened to Chris Clark on his transistor radio as Clark would call out the names of Johnny Egan, Jim Hadnot, Lenny Wilkens, Ray Flynn and Vinnie Ernst.
Though his family didn't have the means to buy tickets and get Barry to any Friars games at Alumni Hall, when Barry wasn't listening to PC games on the radio, he was playing basketball in his driveway, for his CYO team or at the local recreational center. He didn't do much else, self-admittedly. His Mom was working hard at jobs at a mailing house and as a clerk at a cleaning company and his Dad washed bottles by day at the Narragansett Beer Brewery and played drums in a jazz band at night. There was a lot of love, but supervision? Not enough to drive home the need to study.
But Barry could rattle off the stats of every Friar basketball player.
By the time high school graduation rolled around in 1966, college was a very limited option. Barry had fooled more than schooled and even got himself in trouble with his high school basketball coach and was banned from playing. Barry is still grateful to Wentworth Institute of Technology for taking a chance on a kid who had not much of a transcript to offer, but saw (if I may say it, because I know my husband so well) his brilliant mind with great potential. He even played basketball for Wentworth…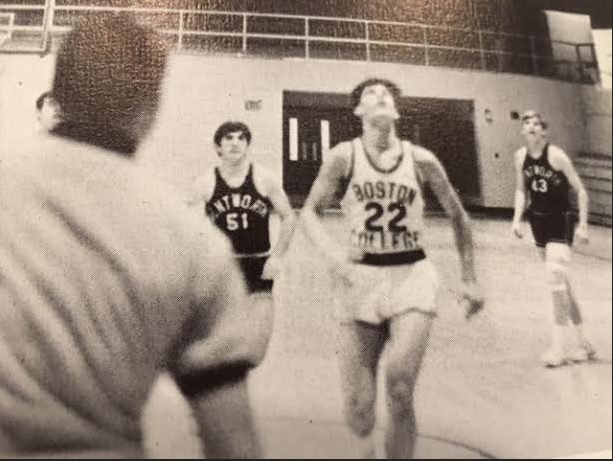 Barry would gravitate from Engineering to Teaching, perhaps because of his own personal history of school. Here, he would make one strong, vibrant mark on the world, teaching Math, coaching basketball and tennis to decades' worth of high school kids.
And somewhere in the middle of those years, Barry was accepted at his dream college, Providence College, and graduated with a Master's Degree in Guidance & Counseling.
Four kids would come along, too — 2 sons and 2 daughters — who would become the very center of Barry's universe. I remember every house we lived in, where the first thing that went up, before moving in one stick of furniture, was a basketball hoop.
And lights.
For playing outside at night.
The boys played basketball for their high school teams and the girls swam/ran cross country.
And again, somewhere in those years, Barry and I (also a teacher) opened a side-business with the intent of bringing in a little more money to help out our kids with activities, fun things and eventually college. We opened a print & copy shop with one employee with a little money we borrowed from my Mom. Today, that "shop" is now a viable company — Barrington Printing — that employs 30 and is managed by 3 of our children and 1 daughter-in-law.
This is a true American Dream of hard work and taking risks and never listening to naysayers. It is a dream that allowed Barry and I to send our sons to Providence College Basketball Camps during the Rick Pitino era and now our grandsons can take advantage of these wonderful opportunities, too.
But to be able to fulfill one of Barry's dreams… floor seats at the Friars home games at The Dunkin' Donuts Center in Providence is a true dream-come-true…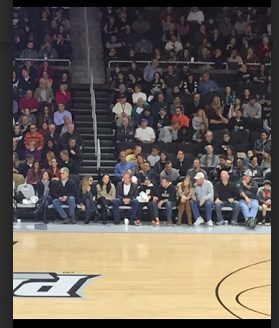 Why Kris Dunn Is a Hero
When the grandkids began to arrive, one-after-another, they became wrapped up in the Providence College Basketball history, culture, magic and madness, too.
Each of 8 grandsons, ages 2 – 13, love basketball. When we moved to our current home 4 years ago, the first thing we did, before a stick of furniture was moved into our home, was put up a basketball hoop. When the grandkids come to our home, all 11 of them (and another on-the-way!), including the 3 girls, head out to our driveway to play basketball, even like today, in the dead of winter…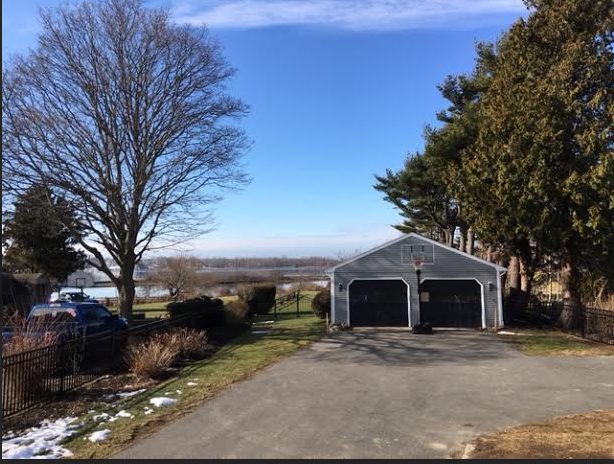 Barry now takes turns bringing the grandkids to Providence College Basketball games at The Dunk and telling and re-telling the stories of listening to PC games on his radio and of former Friar greats like Jimmy Walker, Kevin Stacom, Ernie DiGregorio, Marvin Barnes, Ryan Gomes and Bryce Cotton…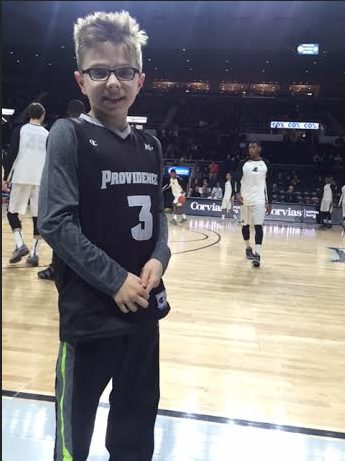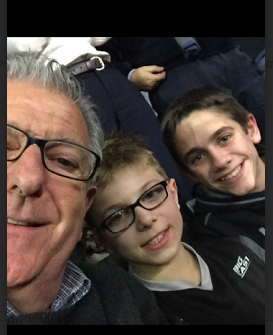 And now there's Kris Dunn, Providence College Friar All-American.
Kris Dunn, Providence College Friar All-American
This past Christmas, Barry bought each grandson a #3 shirt, the number worn by their hero, Kris Dunn. It was like they each struck gold… or, at least, black and white! Wearing #3 is like wearing Michael Jordan's #23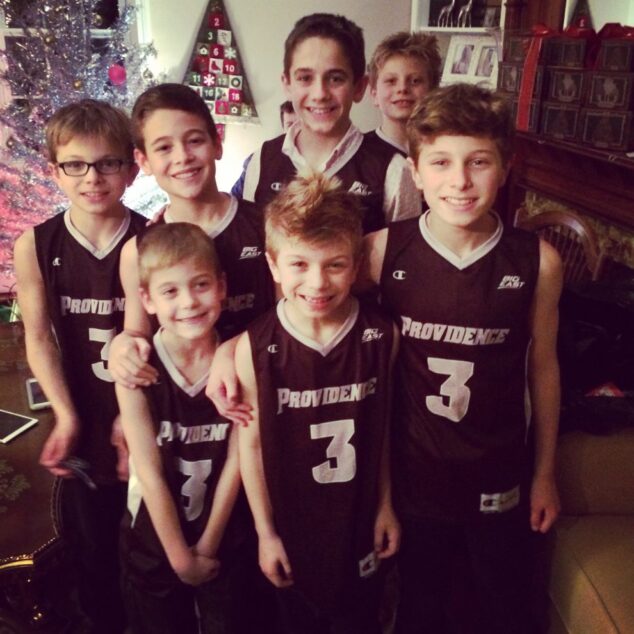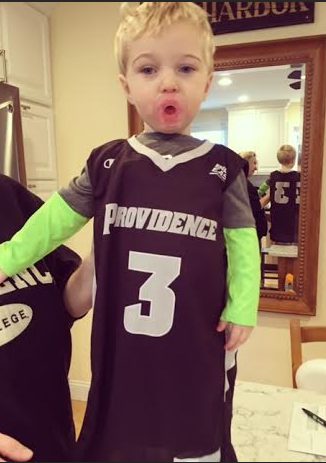 It's like getting a giant pat on the back from Kris Dunn himself.
Mesmerizing. Positive. Talented. Explosive. Dreams-Come-True. #3. Kris Dunn.
But the story doesn't end there. On New Year's Eve, Barry received a text message from one of our sons about this…
I had posted to Instagram a photo of our grandsons on Christmas Eve in their Kris Dunn jerseys –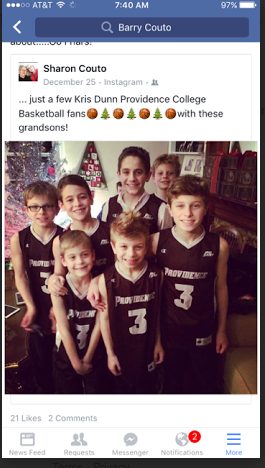 This elite college basketball phenom, the famous Kris Dunn, had taken the time and energy and care to post back on his Instagram account on New Year's Eve, after the nail-biting finish to PC's win over Butler…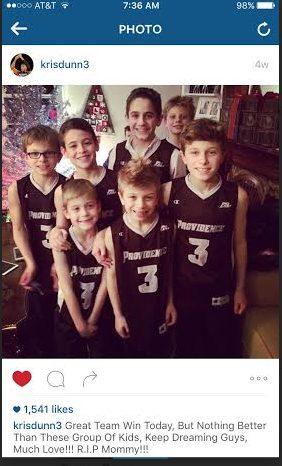 Now this is a young man driven by more than basketball. This is a young man driven by the kind of heart that instills hope in young people's minds and their own hearts to go out there and work hard, take risks and never listen to naysayers.
Kris Dunn took the time to believe in a bunch of kids on Instagram.
This is the world to me.
This is the world to Barry, a kid from East Providence who grew up playing the game he loves and now sharing it with a gaggle of grandkids.
You can only imagine the impact this message, kindness, this "Much Love" has had on our grandsons — a lifetime's worth.
The magic of basketball.
The history, the culture, and the madness, too!
Full circle…