After having 4 sons, you can only imagine how much fun having a little girl has been for me. Tutus… hair bows… pretty shoes… pigtails… big, bouncy dresses… dolls and tea parties. I've embraced motherhood of a little girl with my arms wide open! It's so different for me and it's truly been quite the treat!
One thing I LOVE to indulge in for myself are manicures. I love, love, love getting my nails done. Victoria LOVES when she sees my nails painted. She will always say to me, "Mama! Look at your pretty polish!"
Always make me smile.
Years ago I remember hearing about Piggy Paint, I just never had a need for it with 4 toddler boys at home. I actually think my sister-in-law first brought it to my attention for my nieces. I forget exactly when it was, but I do remember thinking how genius Piggy Paint was for a child.
Why so genius? Because it's a safe nail polish for your child.
It's Non-toxic.
It has Low Odor.
It's Water-based formula.
It's Hypoallergenic.
It's full of Fun, Vibrant colors.
It dries to a hard, durable finish.
It's Cruelty-free.
And! Safe for use during Pregnancy!
There are no toxic chemicals; it's free of formaldehyde, toluene, phthalates, Bisphenol A, ethyl acetate and acetone.
Amazing, right?
Well… here I am, a mom of a little girl now, and I finally get to stock my house with Piggy Paint! Victoria is such a little girly-girl, a true little version of me, so it's been so much fun painting her nails and really enjoying this special time with her. She asks for her "polish" to be done all the time now and seems to love pink and purple polish the best! Piggy Paint sent us a beautiful package the other day filled with some new colors for her!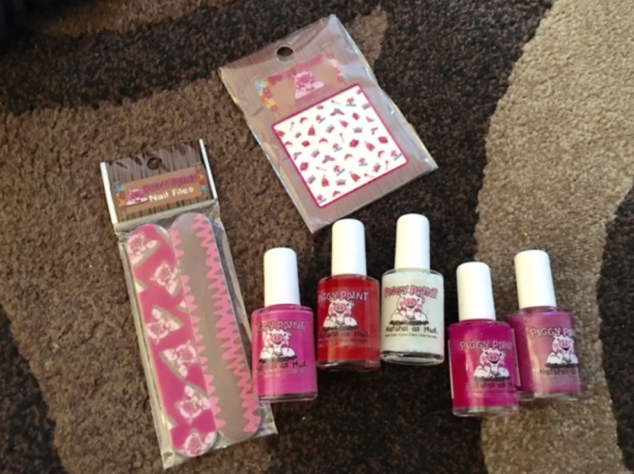 It had everything – nail files, paint and stickers for her nails, too!
(It was a big day for her dance class AND nail polish!!)

Not only did she get excited, her brother Henry did, too because she asked him to paint her nails. He had never done it before, but he obliged!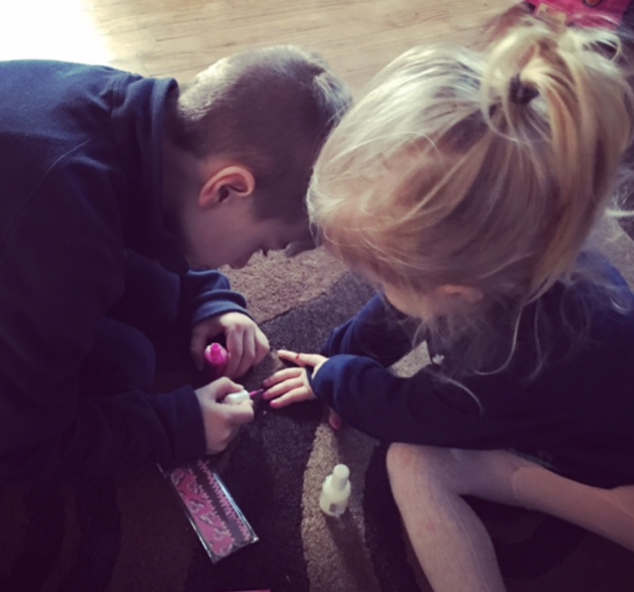 This melted my heart.
Henry took the job VERY seriously and Victoria sat still until all her nails were perfectly pink!
Piggy Paint is the way to go, I absolutely LOVE it!
Check out all the products they have here.
Disclosure: We were sent Piggy Paint to review.