Punnets of Strawberry Shortcake dolls ~
I love the word punnet. A punnet is a small container or basket for strawberries or other fruit.
I love Strawberries. Some of my most favorite and beloved memories from childhood  and life have strawberries as a major theme.
And when Strawberry Shortcake Dolls hit the scene back in the late 1970's, early 1980's, I was beyond excited to enter my then little-girl Audrey and baby-girl Jane into this lovely Strawberry world. Over years, Audrey and Jane would collect every Strawberry Shortcake Doll in the collection, to include each of her friends. Then there were the doll houses and pets and real-girl clothing and pajamas and bath towels and bedspreads and books and lunchboxes. All of it.
I saved all of this this Strawberry Shortcake world for Audrey & Jane, each shoe and bonnet and pet and house and all the stuff has carefully been wrapped and tucked away, waiting for the perfect time to bring out their punnets of Strawberry Shortcake Dolls.
Well, the time has come!
A couple of days ago, while shopping with Audrey at Target, Audrey's eyes lit up with this…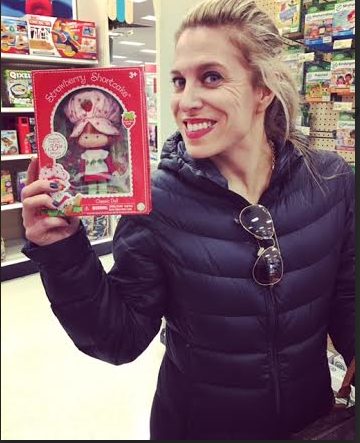 It was just like seeing my little girl open a gift of a Strawberry Shortcake Doll way back in her childhood. Memories of playing for hours upon hours with her sister and those dolls and their lovely things with such imagination and fun!
Sharing these beautiful memories and imagination and fun with her daughter, my granddaughter Victoria, can be seen in Audrey's smile. It warmed my heart all the way back to why I love punnets and strawberries so much in the first place.
And my Jane, too, is all grown-up and expecting a baby-girl, Eve, this coming May.
(Oh, maybe I should just pass along that Audrey is a Mom of 4 boys and Jane has a little boy, too. I think this makes the Strawberry Patch such a fun place to be, as well!)
I think it's time to take those boxes and boxes and punnets and punnets of carefully wrapped Strawberry treasures from storage. Don't you?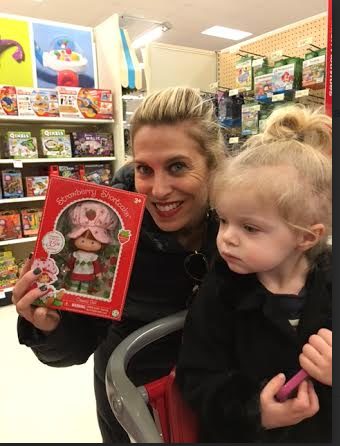 *******************************************
I wrote about my love of strawberries a few years back… about my Grandma and my strawberries tattoo…
My Grandma would die very young, at age 60.  I am past the age now, so my strawberries tattoo has come to mean even more to me than I ever imagined all those years ago as I sat watching a needle penetrating my wrist, at the bone…
My Grandma was born in Minnesota shortly after her parents arrived from Yugoslavia.  Her father, uncles and relatives were miners… and later the family headed toward Chicago for work, and that's where my Dad was born.  My Grandma was widowed young (my grandfather died of a WW I injury), with two small boys to raise. Grandma married the man I would know as my Grandpa, and they settled in Michigan, on a farm.  They had two girls.
My Dad would tell me later how hard his Mom and stepdad worked on that farm,  before dawn 'til after dusk, every day. My Dad didn't want to farm, and ran away from home at age 17 to join the Navy, nearly breaking his Mom's heart; but what I remember of my Grandma best are her gigantic hugs and beautiful, soft eyes.  Whenever we visited my Grandparents' farm, I remember the great love my Grandma had for my Dad, even with that heartbreak all those years before.

And I remember her strawberries.  As big as my hand!  As red and as ripe and as luscious as my Grandma's big heart.
I remember Grandma's hands, quick and nimble and tough.  I remember the bonnets she gave me to wear to protect me from the sun.  I remember the barn, the gravel drive, the farmhouse, the big kitchen, the delicious food. I remember the roadside fruit and vegetable stand, so cool under the shade trees, protecting it from the hot, summer Michigan sun. I remember my Grandma and me picking from acres and acres of strawberries and sitting up on big stool in that roadside stand, selling her luscious gifts.

I remember the strawberries, in punnets, for sale in that vegetable stand.

My Strawberry Tattoo is two strawberries — my Grandma and me.
My Strawberries represent hard work, great challenges, great dreams, great love, great freedoms, gifts from my great-grandparents who came from their homelands. For me.
My Strawberries are great lessons in reaching for the sun.  Sometimes tumbling back to earth.  But always reaching again.
As I set about my days, I often look at my Strawberry Tattoo and think of how far my ancestors have allowed me and my children to come.  To think.  To be.
To challenge myself, always with hard work at the core.
And this makes me realize how very blessed I am to feel life's great lessons every, single day.