Choosing to get contact lenses for teens is a big decision. Here is everything you need to know plus recommendations for the best contact lenses for teenagers.
My son Alexander has had glasses since he was 6 years old. He doesn't love wearing them, but he knows he has to wear them.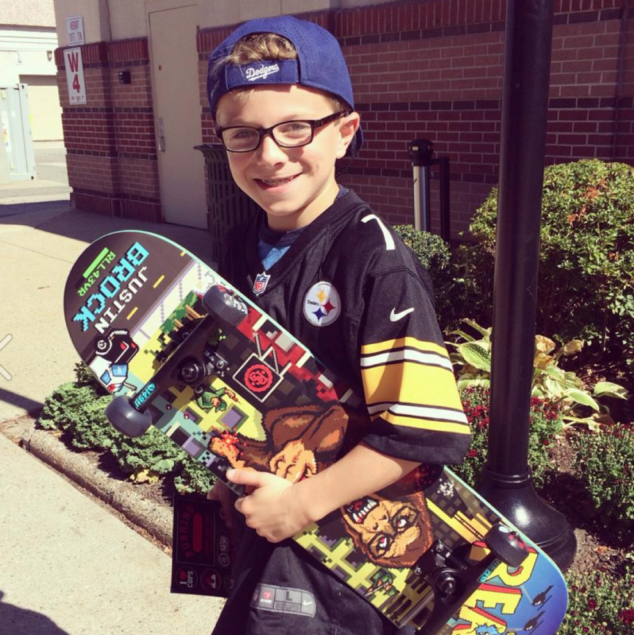 When he's playing baseball and swimming and football, his glasses become a problem for him. It's something that he's had to deal with for the last few years and he's just kind of gotten used to it. As he's gotten older, we've started having the contact lenses conversation. He would LOVE to be able to not worry about wearing his glasses every single day, but we're not there yet for Alex.
When he's a teen, we will definitely have the conversation about getting him contacts because I know he's really excited for them. I mean, let's face it… you can tell when teenagers are anti-glasses. They're frequently commenting on the difficulty they experience playing sports with them, they admit to feeling more confident without them… they just really want contact lenses. But here's the thing – they are an expensive purchase, especially right after the holidays.
But! I have some good news for moms and dads out there having this conversation NOW!! It's actually the perfect time to have the talk about contacts with teen(s) as the deadline for Flex Spending Account (FSA) is fast approaching on March 15, 2016!
Related Article: Why I Chose To Get Contacts For My 10 Year Old
What kinds of things could you be doing right now?
·         Do the homework. Encourage teens to ask friends or family members with contact lenses about their experience wearing them and have them jot down questions to ask an eye care professional to learn if and which contact lenses are right for them.
·         Be open to their speech. Getting contact lenses is right up there with a driver's license, that milestone moment to feeling more grown up. Hearing teen(s) out and paying attention to their desire for contact lenses and the benefits of having them – essential to PE class, allows for easier wear of ski goggles on the family trip– whatever the reason is,  parents will better appreciate how important that purchase is.
·         Seal the deal. Discuss the financial investment such a purchase will be so teens understand the other side of having contact lenses — and they'll better appreciate them. Talk to them about ways to save on such purchases and explore purchasing them and solution under FSA.
·         Demonstrate responsibility. Teens should keep up with responsibilities and chores around the house to demonstrate maturity and readiness to take on caring for contact lenses.

I had the awesome opportunity to chat with leading eye care professional Dr. Jason Compton in partnership with ACUVUE® Brand Contact Lenses about teens and contacts. I was anxious to see what his take was on teens and contacts and how parents can save on them bow with ACUVUE.
What age do you feel is the best to start the conversation about contact lenses?There isn't a specific age that's "right or wrong" for a child to start wearing contact lenses as the anatomy of the eye allows for lenses at any age. However, wearing contact lenses comes with a responsibility so when parents ask me this question, I typically cite a study called the Contact Lenses in Pediatrics (CLIP) study from 2008* that found children as young as 8 years old can wear contact lenses successfully, therefore that's a good age to start talking about them!
*The CLIP Study was conducted at The Ohio State University College of Optometry, Columbus, Ohio; New England College of Optometry, Boston, Mass.; and University of Houston School of Optometry, Houston, Texas.
When it comes to teens and contacts, how do you determine what contacts are the best for them?I apply the same approach to teens as I do with adults. First and foremost, it's important to take the size and shape of the eye into consideration as well as their prescription. After covering off on that, for a first-time contact lens wearer, comfort is a huge priority for me. Since this is a new experience for them, I want it to be enjoyable so I typically opt for a good one-day lens like the ACUVUE OASYS® Brand 1-DAY with HydraLuxe™ Technology as it's a very healthy option in my opinion. In fact, ACUVUE® Brand Contact Lenses is the only brand with UV protection‡in every lens so parents love to hear that, it's a healthy option, and as a doctor, it's important for me to give them that.Once I establish the comfort piece with my clients, then I can start looking at their lifestyle in terms of the best contact lenses for them. Some questions I ask are: is this someone who will wear contacts every day? Maybe they'll only want them for sports? Or wear them more for social occasions? Once I have that information, I can talk about one day or one to two week disposable lenses.

‡Helps protect against transmission of harmful UV radiation to the cornea and into the eye.
WARNING: UV-absorbing contact lenses are NOT substitutes for protective UV-absorbing eyewear such as UV-absorbing goggles or sunglasses because they do not completely cover the eye and surrounding area. You should continue to use UV-absorbing eyewear as directed. NOTE: Long-term exposure to UV radiation is one of the risk factors associated with cataracts. Exposure is based on a number of factors such as environmental conditions (altitude, geography, cloud cover) and personal factors (extent and nature of outdoor activities). UV-blocking contact lenses help provide protection against harmful UV radiation. However, clinical studies have not been done to demonstrate that wearing UV-blocking contact lenses reduces the risk of developing cataracts or other eye disorders. Consult your eye care practitioner for more information.
What are some of the benefits for a teen getting contacts (vs glasses)?Kids really do feel better wearing contacts. I've seen that many times with my clients. Beyond the idea that It's not always "cool" to wear glasses, the Adolescent Child Health Initiative to Encourage Vision Empowerment (ACHIEVE)** study examined how wearing contact lenses helped with overall positive self-perception for kids as it related to their athletic competence, physical appearance, scholastic competence and behavioral conduct. I mean, who doesn't want to instill confidence in their kids and it has a direct impact on their growth and how the child feels about themselves?!**Walline JJ1, Jones LA, Chitkara M, Coffey B, Jackson JM, Manny RE, Rah MJ, Prinstein MJ, Zadnik K.
Do you find many parents are open to the conversation?When the parents are apprehensive, it's usually because they feel their child is too young for them. Typically, it's because those parents are not aware contact lenses can be beneficial to their kids' everyday lifestyle. It comes down to letting them know that other kids are doing it safely and reinforcing the benefits I mentioned earlier.It is important that the parents are just as on board as their teen, this is a true team effort. On the flip side, sometimes you have parents that push their kids in to lenses, but you want to make sure the kids are ready for the care and routine of having contact lenses.
What's the best thing right now about the savings aspect?We appreciate that the contact lens purchase is an investment. While you don't want to rush in to the process of getting contact lenses, right now really is a good to talk about getting contact lenses and taking advantage of the upcoming Flex Spending deadline which is March 15th.