Fitness is part of my life. I run. I power walk. I do Pure Barre. I love to always keep myself moving and active. As you can imagine, I also love to keep my fitness apparel fun and fashionable, too! Honestly – for me, it makes working out even more fun when I have an outfit on that I love and feel good in.  Since fitting in my fitness is the toughest part of the day for me, I'm usually running and then (literally) running off to the grocery store, family errands or a lunch with some friends right after! What can I say… I'm a woman on a mission, trying to fit it all in!  Since this is my life and I'm used to constantly being on the go and making it work the best I can, I love being able to have fitness apparel that I can easily transition from the gym to lunch with the girls (or wherever else I'm heading!). I need (and want) my fitness apparel to work for me and my lifestyle. I love being able to easily transition looks from the gym into "real life" fashionable looks.
I partnered with Dick's Sporting Goods to have some fun with my fitness apparel. I found some fitness items that are fitness-fashionable, high-quality and (what I need) useful to workout in from Nike and Under Armour. I went for some bolder and fun colors for my tops and basic black workout pants (the only ones I will ever wear!). These are my fitness looks that I got at Dick's Sporting Goods… (L) NIKE Dri-Fit 1/2 Zip // Under Armour Tank // NIKE Dri-Fit Workout Pants (R) Under Armour Fitness Tank // NIKE Zip-up Hoodie
Here's how I took these 2 fitness looks and transitioned them into looks for my daily lifestyle:
Look #1 – Same Nike Dri-Fit 1/2 Zip and Under Armour Light Blue Tank – ADDED Skinny Jeans and 1/2 Booties to create an easy look to meet some of my friends out for lunch! Since I'm all about accessories, I added a bold necklace and sunglasses! Love how this look still has a fitness edge, but also really trendy and chic.
Look #2: Same Under Armour Tank and Nike Dri-Fit Workout Pants – ADDED light brown cashmere sweater wrap, leopard flats and statement necklace. It's an easy look, one that's perfect for running errands and school pick-up! It's a comfortable style, which I'm obsessed with and really love the easy fashion transition.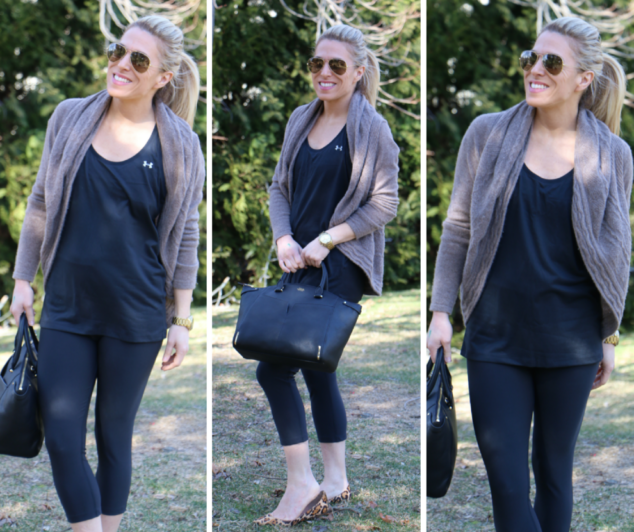 Look #3: Same NIKE hoodie and Under Armour Fitness Tank – ADDED my FAVE distressed boyfriend jeans and my FAVE Chuck's! This is a total relaxed, chic look. This is the kind of look that I would wear to the grocery store. I'm obsessed with this look! It's so cool and comfortable!
I love how easy it was to transition my fitness fashion. To be able to head from the gym to girls' lunch was amazing! So happy with my selections from Dick's Sporting Goods! I hope I've fashion inspired you a bit! ♥
GIVEAWAY: $50 Dick's Sporting Goods
a Rafflecopter giveaway

Disclosure: This was a sponsored posting with Dick's Sporting Goods.