Communal Tables. Are you in?
Do you enjoy a Communal Table (or, as I've heard it described, a "Community Table") at a restaurant?
I'm not talking a cafeteria table.
I'm talking a table at a restaurant where one person or more joins more people, most often strangers.  Many times, these tables are large or long enough to accommodate 6 or more people.
Unlike a cafeteria-style table, where diners generally sit, eat, mind their own affairs and leave, a Communal Table encourages conversation.
Are you in?
Does the idea of social-dining interest you, and is conversing with strangers expected?
This Communal Table experience happened to me yesterday morning, quite unexpectedly.
I had taken my 14-year old granddaughter Maddie to a favorite breakfast stop of mine, The Beehive, only to discover that a water pipe had burst in the dining area upstairs, and only one table, The Communal Table downstairs, had escaped the wrath of the pipe. I had been excited to take Maddie to this little gem of a restaurant with its upstairs dining area, lovely views and funky art pieces, and tables that encourage conversation over gourmet-style presentations and lingering over a cup 'o tea.
The counter-clerk was offering the news to each arriving person or party that this one Community Table, or take-out orders, were the only options.
My granddaughter and I met eyes, nodded in the affirmative and decided to stay and give the Communal Table a whirl. Why not? Hmmmmmm.
The table sits maybe 10 if very cramped, perhaps 8 comfortably and 5 people were already seated — 3 teenage girls, obviously together; and two older women, not together, one writing notes into a planner and the other using her iPhone. There was one bench as long as the table settled between a window and the table, and maybe an additional 5 chairs.
My granddaughter and I noted that a few individuals and parties of 2 or 3 ahead of us in line had declined the Communal Table for the extended wait, but we wondered whether it was really for the idea of the experience of communal dining.
Dining with strangers in an intimately small space. It's not for everyone.
Are there rules for this? Must you speak to your table-mates? Is it rude to indulge in your social media tools instead? Hmmmmmm.
Maddie and I ordered our breakfast selections, got our own little animal (a horse, this time) that designates to the server whom has which orders, and we waited. Soon enough, the woman with the iPhone got up to leave.
I think this is RULE #1 of a Communal Table: PEOPLE DON'T WANT TO WAIT FOR A SEAT. Communal Tables do not encourage lingering over your meal, conversation, books/newspapers or social media tools if people are waiting to sit.
Maddie and I kind of squeezed in, she at one end of the bench and me at the head of the table. It was OK. We talked quietly. The 3 teenage girls at the other end of the table hardly spoke to each other, never mind to us or to the woman with the planner. The girls were very engaged in taking photos of food (which Maddie and I totally get, as social media, Instagram, VSCO kinda gals ourselves!).
RULE #2 of Communal Table Dining: PHOTOS OF FOOD. You may just happen into a photo that happens into a few social media sites, so wink-wink, you may not want to be at the wrong table with the wrong person at the wrong time.
Hence! Maddie and I, too, had a little photo fun with our beverages. We call this "Horse at Trough"! You can see the perfect oak table, weathered with wear, and the "tools" and meals of our table-mates.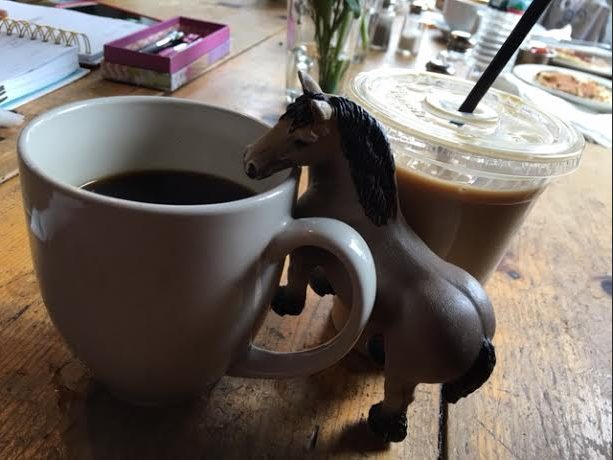 Soon enough though, the woman with the planner, Maddie and I began conversing — pleasant, small talk — mostly about the pipe problem and really, really how many seats would not be available to diners until the pipe was repaired.
Soon, our breakfasts arrived.
The food is delicious and the presentations are wonderful at The Beehive.
Hence! More photo-ops!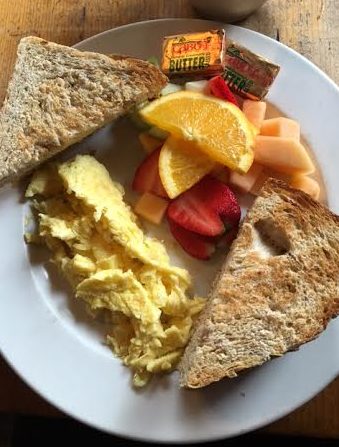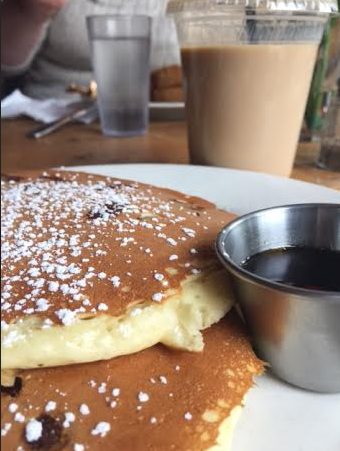 Maddie has an excellent eye for composition and snapped this lovely photo of the Communal idea of our table.
Soon, a man, seemingly a handyman whom had come to discuss handy kinds of things with the woman with the planner, arrived, ordered and took a seat at our table. We tried not to listen to the needed handy things, but hey, it's communal!
RULE #3: Although these two table-mates were talking handyman business, CONVERSATIONS DO NOT REMAIN PRIVATE at a Communal Table. NOTE: Should these conversations be private, WE CAN HEAR YOU!
For the duration of our breakfast, Maddie and I ate, talked, laughed, and that was it.
People were waiting for seats at the Communal Table.
RULE #4: (corresponds to Rule #1): IF PEOPLE ARE WAITING FOR THE COMMUNAL TABLE, CLEAR OUT WHEN FINISHED DINING. The table is not a personal workspace, desk, carrel or secretaire. Seriously!
So, this brings me back to my original question: Communal Tables. Are you in?