Disney Springs is one of my favorite places to unwind and just relax while visiting Disney World. I love the shops. I love the restaurants. I love the atmosphere. I love the live music. I love the different activities to do. I love the ambiance of it all.
Photo from: WDWNEWS
If you've never been to Disney Springs, next time your in Orlando – make sure it's on your itinerary! Inspired by Florida's waterfront towns and natural beauty, Disney Springs is a charming district filled with unique retailers and restaurants from award-winning chefs. It's a fabulous destination!! And the best part is, throughout the summer, new stores and restaurants will open as Disney Springs more than doubles the number of retail, dining and other venues for guests!!

Photo from: WDWNEWS
I had the chance to hear about all the new offerings coming to Disney Springs this summer and it got me VERY excited for my trip in November (because everything will be here!). As Disney Springs continues to expand and diversify its dining, shopping and entertainment, more exciting high-profile tenants are coming onboard, including Anthropologie, Under Armour, kate spade new york, Sephora and Lucky Brand, among others. Other new shops opening in 2016 include Zara, Tommy Bahama, Lilly Pulitzer, UNIQLO and PANDORA.
Photo from: WDWNEWS
How amazing is that!? More than 30 new tenants will be coming to Disney Springs this summer, including retail shops and dining venues.
And then there's the food. Oh, yes… the food. My husband is a total foodie, so when it comes to food – we're all over it! Home to world-class dining, Disney Springs is shaping up to be a culinary dream. With its chic style and Pan-Asian flavors, Morimoto Asia offers just a taste of what's to come as more new eateries are gearing up to open in the coming year, including Tablas Frontera by Chef Rick Bayless; Homecoming – Florida Kitchen and Shine Bar by Chef Art Smith; STK Orlando, a modern steakhouse with the ambience of a sleek lounge; Sprinkles, the world's first cupcake bakery; Blaze Fast-Fire'd Pizza, a modern-day "pizza joint" with artisanal pies; and the reimagined, Planet Hollywood Observatory with new outdoor terrace and live entertainment.
We dined at Morimoto Asia during our press trip and it was INCREDIBLE! I noshed on dumplings, chicken skewers, shrimp dishes and yummy sushi!
Celebrity Chef Rick Bayless and Chef Art Smith join master Chef Masaharu Morimoto in a growing collection of James Beard Award winning chefs at Disney Springs.
And entertainment!! There's bowling, live music, live dancing, hot air balloon rides, etc!!! And my personal fave – Cirque du Soleil's "La Nouba," the new B-Boys hip-hop, breakdancing threesome showcase a rare mix of rhythm, strength and "how-did-they-do-that?" moves.
Photo from: WDWNEWS
I got a chance to check it out up close and personal… all I can say is STUNNING. The show was STUNNING!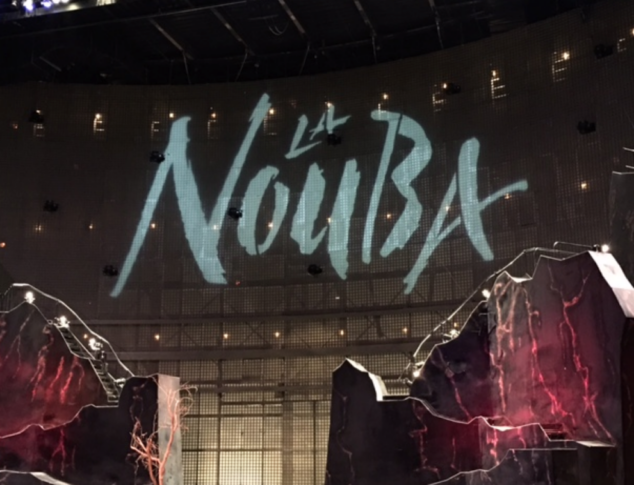 So much is coming this summer to Disney Springs, it really is a true evening destination on your Disney trips! Make sure you enjoy the shopping, dining and entertainment!
For more information, check out Disney Springs.