Enjoying Geraniums with your kids and hopefully your Mom today, too!
The Geranium ~  derived from the Greek word geranós, meaning crane, the Geranium's fruit capsule is thought to resemble a crane's bill.  It's also interesting that the Geranium's fruit is comprised of 5 grains and beaked.
The Geranium has lots of interesting nicknames, including Pinke Needle and Stork's Bill, along with the more common Crane's Bill.
For centuries, the *Geranium, with its reputed ability to balance hormones, has been regarded a charm of fertility and growth.  The Geranium is feminine, ruled by Venus, and brings luck in accordance with its colors – Red Geraniums strengthen health, Pink Geraniums are often used in love spells and White Geraniums increase fertility…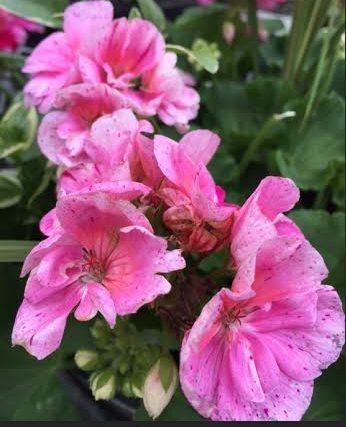 (But particular superstition/folklore warning is given to *pregnant women to avoid the Geranium due to hormonal changes during pregnancy.  Please note.)
Geranium flowers, carried as amulets, are said to attract abundance and prosperity.
The Geranium is also widely used in aromatherapy as a skin restorative and is especially known for its rejuvenating properties.
Wow.
The power of the the Geranium.  Let your kids in on the secrets of this lovely flower.  Tell of its crane's bill and its reputed charms (well, maybe the Red Geranium charm!).  Take this delightful flower and turn it into a delightful bloomin' learning experience!