Looking for cute casual Mommy and Me Shirts to match your little one? This set is perfect to show off your mini!
I have a confession.
I'm obsessed with ETSY.
Literally – I lose myself for hours. HOURS. I can't get over the cute tees, head wraps, signs, personalized jewelry, you name it!
I'm obsessed.
As you guys know, I love doing fashion posts with my mini me, Victoria. I'm always on the hunt for some adorable tees that we can wear together and matchy-match! I found the cutest MAMA and MINI tees a few weeks ago from on of my fave shops – Janenmethreads! The boutique is absolutely adorable and she sells the cutest items! Perfect for me and my girl!
My tees came in last week and we had a little mom and me fashion shoot this weekend! As you guys know, Victoria doesn't like to sit still for ANYONE… but we tried! We tried BIG TIME! ♥
Check out more Mommy and Me Clothes.
Mommy and Me Shirts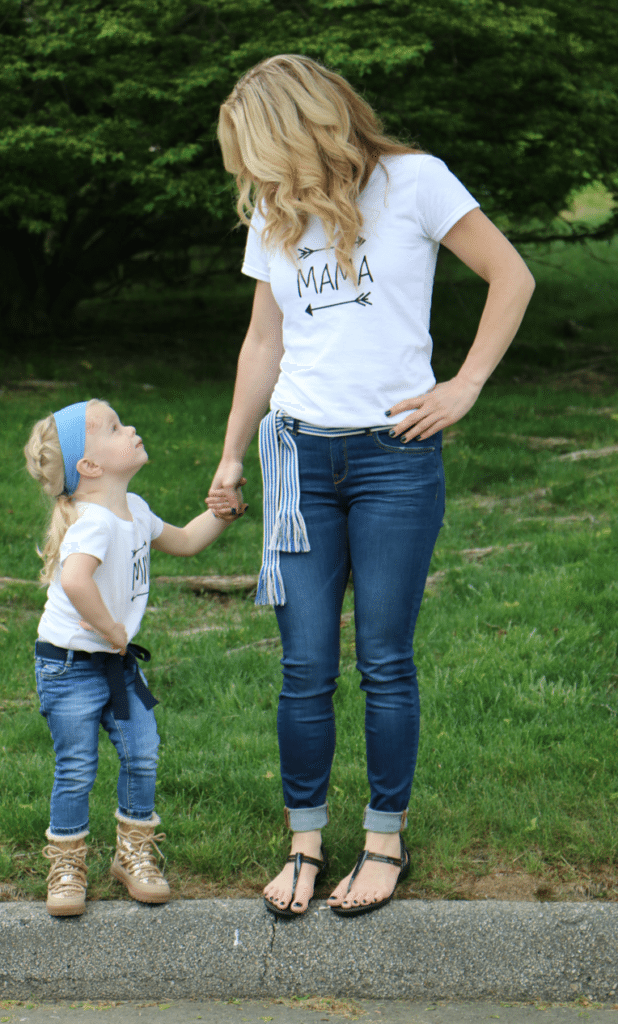 Totally worth the purchase!!
Adorable Mama & Mini boho set! They offer almost any font you can find, glitter or matte finish. You can even send a picture of what you want and they can design the perfect mama and me set for you and your little one!  Specify size, font style, and what you would like on your shirts at check out! Babies up to 12M will be printed on onesies. Children older than 12M can be printed on a tshirt to match the color you would like for the mama tshirt. You can convo me a picture after purchase too. I can send a proof within 1-3 business days!
She was cracking me up through the photos! She didn't want to stand still!
And then she wanted me to chase her!
Check out all the info on tees here!
And if you have some FAVE ETSY shops, share away!