As a female business owner, nothing gives me greater pleasure than being around like-minded women who are driven, dedicated, passionate and devoted to their own businesses. I strive off of energy like that and it fuels me to be better and more motivated to go after my dreams.
I have had the pleasure and great opportunity to work closely with cabi Clothing throughout the last 4 years as a blogger and I have loved every single second of it!
There are 3 things that really set cabi apart for me:
1. Their clothing is EXCEPTIONAL! Stylish. Incredible quality. On-trend.
2. The business opportunity of being a stylist and having your own cabi team. The support that you get from each other at cabi is just phenomenal.
3. The heart of cabi Foundation. Their mission is to encourage and empower women in need. They are extremely passionate about serving and investing in women across the globe.
These 3 pieces of cabi make me proud to be a blogger for this INCREDIBLE brand and company.
For the 3rd year in a row, I was invited by cabi to attend their (summer) Scoop Event for the debut of cabi's Fall 2016 collection! This year it was right in my own backyard of Boston, MA and I got to enjoy with my bestie and business partner Vera Sweeney!
AND! I got to see my friend Nicole Feliciano from MomTrends.com and meet a wonderful group of fashion/lifestyle bloggers all with the same cabi love!
What sets cabi apart is that they offer clothes for real women who live real lives and (believe me) their Fall 2016 Collection reflects this beautifully.
But it's more than just the clothing at Scoop. It's much, much more.
It's the coming together of women.
It's the support and the love you're getting from women doing the same thing as you.
It's the excitement.
It's the drive you get from being your own business owner and being inspired by others around you.
It's PURE FUN for women.
You see the confidence and beauty and true community that cabi has created and it's extraordinary.
As with every cabi Scoop, the fashion show is the MAIN EVENT! I've worked in the fashion industry for years and have spent many times "under the tents" in NYC during Mercedes-Benz Fashion Week… the cabi Fashion Show is BY FAR my favorite. The energy. The passion. The excitement during the show is absolutely, positively CONTAGIOUS!! Not to mention – the opening remarks from Kimberly Inskeep, President & Chief Culture Officer were just beyond incredible. There wasn't a dry eye in the house. She is one of the most profound, inspirational and motivating people I have ever seen speak. You can fell her passion and emotion and love for what she does and for every single person in that room. The theme of cabi's Scoop this year was "Elegantly Different," and watching Kimberly talk about being elegantly different tying it to everything – herself, cabi and this world – was just incredible.
Kimberly shared an example in her own life and how she wanted to do something elegantly different and how she didn't let her resistance stop her. Aerial Aerobatics was what she tackled. She demonstrated what she did for 10 weeks, 3 days a week… and finally – after going past her resistance – nailed it.
I sat there watching in awe.
She crushed it.
Every woman in that room sat there watching and cheering.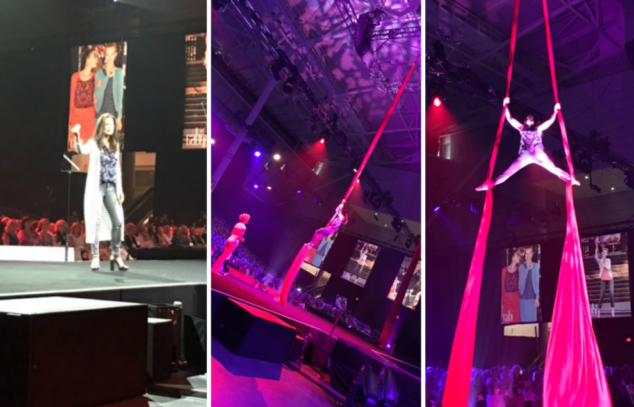 And then after getting filled from the heart and soul from Kimberly – it was time for some fashion fun!
Fall 2016 was ELECTRIC! It is my favorite cabi Collection to date! Every single piece that strutted down the runway, I want and need and must own! The clothing was perfect for work, date nights, family weekends, girlfriend outings, errands around town… you name it, cabi has clothing that will work stylishly and seamlessly into your life.
The different sections of the Fall 2016 Collection are just fabulous. There's a fashion style and item in there for everyone. For me personally, I'm ALL ABOUT bringing bold colors into my Fall wardrobe, so I fell in love with each section – hard! Sakura Red… Tea Lounge… Kyoto Blossom… Calligraphy Brush… Pacific Blue… Osaka Nights… Bamboo Forest… I heart you!
Rich autumn hues, deep florals, and bold graphic prints—get ready to fall in love with this season's explore-the-world ensembles, office-ready separates, and chic loungewear.
(*you must click on the image, it will bring you to the cabi show page where once you quickly register, you'll be all set to view!)
Some of my faves from the show? I was taking photos like a fashion-addict!
I'm not kidding. I want every single item. Every. Single. One.
But for me – one of the best parts was watching the cabi executive team at the end. They were all standing and clapping. It was VERY cool!
I can't say enough! It was off the hook INCREDIBLE!
HUGE STANDING OVATION! Incredible!
For all things cabi, make sure you check out the site and find a stylist near you (or find out how to become one!).
Disclosure: This was a compensated partnership. All opinions are 100% my own.