The Little Things our Grandkids May Not Know About Us –
Pop-up and I have 12 grandkids, 12 beautiful, precious beings who are alike in so many ways and yet uniquely different in just as many…
These kids are involved in an array of activities and sports that keep Pops and me moving. You know the lyrics to that  song, with a little poetic license:
We like to move it, move it
We like to move it, move it
We like to move it, move it
We like to move it!
I like to move it, move it
She like to move it, He like move it
We like to move it, move it
We like to move it!
As in moving from activity to activity!
This past Sunday, Pop-up and I were watching our 8-year old grandson Dylan's basketball game — watching him hustle, rebound, dribble, pass and shoot with greatest concentration and determination. He was mesmerizing in speed and focus and energy and knowledge of the game.
Just take a peek at Dylan's (white "0") offensive threat…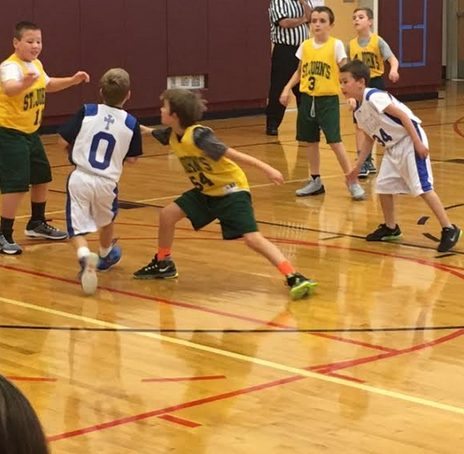 His penetration into the paint as his face tells so much of his story… 
Airborne!
And he scores!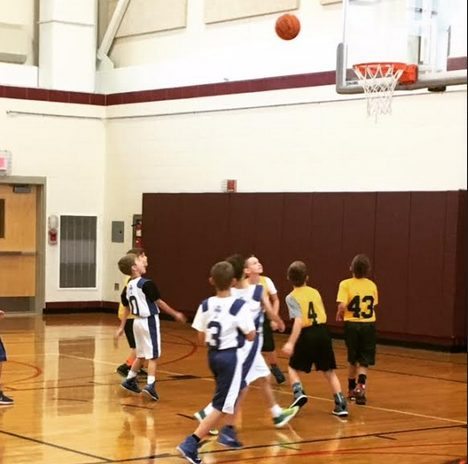 I could watch Dylan all day long. He likes to move it, move it!
His grandfather Barry plays basketball. His Dad and Uncle Keith play basketball. His older brother and his cousins play basketball. The first thing Barry and I have done, any place we've lived, is put up a basketball hoop. FIRST THING.
The first thing our grandsons do when they visit is open the garage doors, grab one of maybe a half dozen basketballs, and PLAY (even in matching pajamas on our family Christmas photo day in the still of winter!)…
I love the game of basketball. I love that it can be played anywhere there's a hoop and a ball. I love its worldwide appeal and how it shatters boundaries of age, culture, gender. And for all of the  wealth and celebrity that now envelops it, it's still a game that anyone can play.
I picked up my first basketball when I was 8 years old, Dylan's age now. It was late August and I had just moved to New Hampshire from California with my family. It was hard being "new" to a neighborhood and soon new school, all the way across the country, at 8 years old.
There was a large rudimentary baseball field across the street from our new home, behind a row of ranch houses, adjacent to a small corral, behind a very beautiful old homestead, a home like I had never seen in California. It was so New England. But what I remember most about that big old house is that it had a small, fenced-in cement (or maybe asphalt — I don't remember) surface with a pole and basketball hoop, in the yard a bit from the house.
The neighborhood kids played basketball in that area.
I don't think I've ever told my grandkids about this discovery — you know, the little things our grandkids may not know about us.
I learned how to play basketball on that little surface in that fence on the grounds of that lovely home. I don't remember ever meeting the people who lived there, but I do remember that us kids had to pay a quarter each time we opened its gate. Yes, 25 cents. Some of the kids rang the bell to the house where an older couple lived and left their quarters. Others sneaked on the little court (as if the owners couldn't hear them… or even me, a couple or maybe even more than a few times!).
I don't think I've ever told my grandkids about the "play for quarters," but I always wondered what the people did with the quarters.
I was 8 years old, just like Dylan.
I didn't have supervised instruction or coaching. None of us did. We just played basketball with one ball and one hoop inside that little fence. I learned the game of H-O-R-S-E during those last lazy last days of August. I made friends on that basketball court-of-sorts. It made all the difference when I began 4th grade at my new school.
I don't have any idea how many hours upon hours I played basketball at that little court. I don't know how many quarters I asked my parents to give me. But I do know that my love of basketball was born right there.
I would go on to play basketball for my junior high school team in my little town in New Hampshire. We were a traveling team, our opponents being several surrounding towns. I was a guard. I never had the opportunity to be an offensive threat or to penetrate the paint and score like Dylan does so skillfully because girls' basketball rules were interesting back in the 1960's. We were restricted to a 3-bounce dribble and not allowed to play full court.
Hmmmm. I don't think I've ever told my grandkids about my basketball days and about those rules of the game, back when I was a kid. Now that's a great conversation, don't you think?
If I close my eyes, I can still see that little basketball court and the quarter in my little 8-year old girl's hand. This memory means everything.
You know what? I think those little things that our grandkids may not know about us are really the big, important things.