The holidays are all about family for me. It's a time to celebrate. It's a time to relax and rest together. It's a time to laugh and play and stay up late. Mostly… it's the perfect time to just be together and enjoy the moments. There are so many special moments for me during the holidays that will forever be imprinted on my heart.
It's the beauty of seeing our Christmas tree on Christmas morning after "Santa" has arrived!
It's the magic of seeing your daughter's eyes when "Santa" delivered her Princess Bike!
It's the fun in seeing my sons trying to guess their BIG Christmas surprise (Disney Cruise!)!
It's watching my daughter and nephew bond and laugh and play and tell secrets!
It's meeting with Santa… even though Victoria still needs me to head up with her (which I secretly love because I think next year she'll be Miss Independent!)…
It's laughing (hysterically) as I watch my husband try and get ONE perfect family photo!
It's all the moments wrapped up together that make the holidays for me, the most perfect time of year. It's that quality time together that really makes the holidays so magical. Throughout the year we're always on the go – always busy – hectic with schedules/appointments/work/school – during the holidays, it's our family time to take a deep breath and just "be."
This holiday season Q&Q SmileSolar watches are giving the gift of time with their gorgeous new Holiday Collection.
There's truly no better way to underscore the importance of "time well spent" than with a fabulous new watch. I'm head over heels in love with the classic styles that Q&Q SmileSolar watches offer this season. There's truly something for every style and personality.
Made by Citizen Japan, Q&Q SmileSolar watches are solar powered (no battery needed), water resistant, ecofriendly, lightweight, and affordable. Each watch is crafted from both virgin and recycled materials that features a waterproof casing and a solar-powered system. Believe it or not, a single charge in the sun keeps these watches operational for up to 3.5 months!
So when it comes to TIME WELL SPENT during the holidays, what do I have in mind with my crew?
How is Q&Q SmileSolar watches inspiring me?
Easy! It's all about my family!
We love to bake! Taking the time to bake some yummy treats during the holidays is always a ton of fun! it's time together as we prep and mix and bake! These guys are getting big, so it's always wonderful to spend some extra special time with them.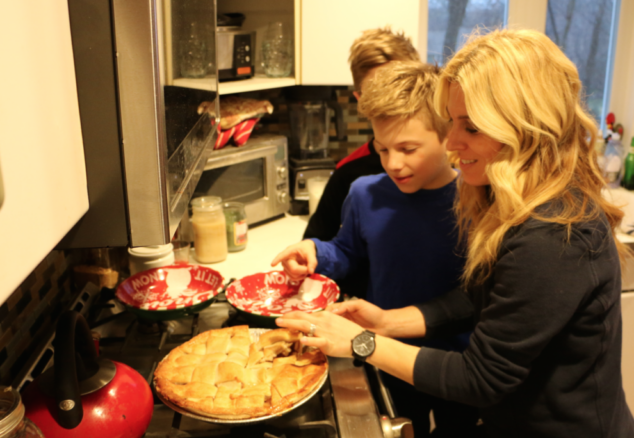 Movie nights! They are the BEST during the holidays! We stay up late! We cuddle! We stay cozy! We just catch up on all the movies we missed throughout the year! My favorite – of course – are the holiday ones!
And probably my most favorite holiday time well spent? Princess dress up time! This is the FIRST time ever I've been able to do this with my daughter! Santa brought every princess costume you can imagine, so we were both in princess heaven!!!
As you can see, my Q&Q SmileSolar watches were right there with me!
GIVEAWAY:
I've got a SURPRISE FOR YOU, too!
I'm giving one away!
You can win a watch from the Holiday Collection!
I will choose a winner on January 5th!!
GOOD LUCK!!!!!!
Disclosure: This is a sponsored post and giveaway! All opinions are 100% my own.
GSave