It's "the little things" on Valentine's Day, like the perfect Butter Dish ~
When you've been married for 40+ years, Valentine's Day remains a very special calendar day for extra fun, but what special I Love You can bring a great big smile to your guy of so many decades?
In the case of my guy, it was just a matter of listening.
Barry is a butter guy. It's his comfort food. It reminds him, I'm sure, of his Mom's kitchen and her great cooking, always filled with love beyond love for her boys.
Barry doesn't spread butter like wildfire on everything he eats, and he's for years been brought over to olive oil. He doesn't like butter substitutes or butter spreads. He doesn't like whipped butter.
He loves butter.
Since we remodeled our kitchen (going on year 2), replaced an old refrigerator and settled into our great new space for cooking, entertaining and eating, Barry has mentioned needing a butter dish… you know the ones. Specifically for butter. With a cover. To be stored inside the butter tray, inside the refrigerator. A butter dish like his Mom used…
I know what Barry means.
My Mom always had a butter dish. My Nana had a butter dish.
But in all of our decades of love & marriage, Barry and I have always used a grab-as-you-go butter dish.
Why?
I can't answer this.
It just seemed to work. Grab a stick of butter. Put it on a small, clean dish. Use butter. Wash dish. Grab that dish or another dish. Repeat.
The invent of butter tubs worked for me, too.
But, the point of this post is that I listened to my Valentine's guy — about a butter dish.
It was just a matter of listening!
Now to dish out the goods.
Last week, I hopped on Amazon Prime to find a butter dish. Well, little did I know that there are 3 million butter dish choices. Because Barry and I love interesting vintage/retro things, too, I clicked over to eBay. Hundreds more butter dish choices awaited me. Then Etsy. More of the same.
Every butter dish Size. Shape. Design. Price.
I wanted a butter dish for Barry (sounds like the title of a children's book – A Butter Dish for Barry – !) to arrive for Valentine's Day, so my best bet was to head on back to Amazon Prime.
I honed down to a few choices and then began reading the details and reviews. Holy Buttah. People get very involved in butter dish choices. Very passionate. Little did I know that there are multiple dimensions of butter dishes – length, height, width, depth.
Or things called  "East Coast" and "West Coast" butter packaging, which is wildly important in butter dish selection. The history, the manufacturing, the machinery, the production of butter is a grand, fun story in itself, mostly about availability of milk and Elgin-style machines that were no longer available at one point in history.
East Coast butter (long, thin sticks) are called East Coast Elgins. West Coast butter (short, fat sticks) are called Western Stubbies.
Wow.
But my need to get a Butter Dish for Barry couldn't be held up by my getting all caught up in the rich history of butter and butter manufacturing.
I needed, I discovered, an East Coast Butter Dish.
And even armed with my newfound butter knowledge, I realized that butter dishes can be as unique and personal as people themselves.
I kept thinking 1950s and 60s. Flo in her kitchen. Barry sitting at the kitchen table. East Coast Engins and something in which to put it. Something easy. Unbreakable, if possible (you cannot imagine the vast selection of glass/porcelain/ceramic butter dishes – oh, my – not with 12 grandkids!).
I settled, very happily I may add, on a OXO GOOD GRIPS Stainless Steel Butter Dish. The reviews were great, I loved that the base is stainless steel, I loved the plastic cover (for those grandkids' hands!)… and it wasn't lost on me, a romantic in heart and brain, that an OXO brand was perfect for a Valentine's Day Gift. AND it looked kind of retro…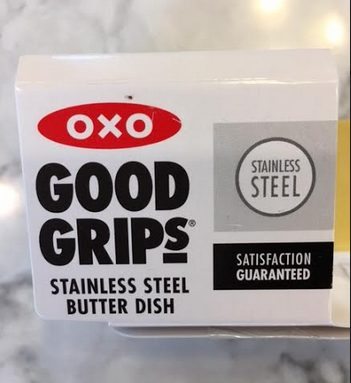 This butter dish called Barry's name. I ordered not one, but two — one for each end of our breakfast, lunch, dinner table setting.
The Amazon package arrived 2 days later. I hid the package in a coat closet.
But I just couldn't wait 'til Valentine's Day.
SO, Saturday night, I tiptoed downstairs to our kitchen, set up the little Butter Dish for Barry surprise…
And waited 'til he reached for butter the next morning to spread on a couple of pieces of toast.
I was too caught up in the fun of the moment to catch a photo or two, but the happy on Barry's surprised face was priceless. (I do have the moment locked in my memory of great gifts, though!)
Barry loves his butter dishes — every detail, the ease of use and every bit of nostalgia!
Times 2!
It's the little things, like really, really listening!
And A Butter Dish for Barry — OXO!
Happy Valentine's Day, everyone!