There's nothing like SPRING FASHION! It's fabulous. It's beautiful. It's perfect on every level.
The best part for me is that after a long, cold winter I can peel off the layers! It's a very OPEN and WELCOMING feeling! I just scooped some great finds at ZARA this past weekend and I couldn't wait to wear them! I have a business meeting next week that I want to look stylish, yet professional for, so I was keen on finding a fun top that I can wear with a pencil skirt and heels.
ZARA is my fashion mecca and – of course – I found the PERFECT top.
Say hello to ZARA's Gingham Check Top! It's everything! Even my kids loved it, which a BIG DEAL to hear from 4 boys!
What I love the best is that it's a soft top, it's not heavy. Usually, when you see a tiered sleeve like this on a blouse it's heavy and bulky. Not. The. Case. It's a soft cotton material, so it's lightweight and very fun to wear!
As you can tell, I paired with my navy pencil skirt and high strappy heels! BOOM!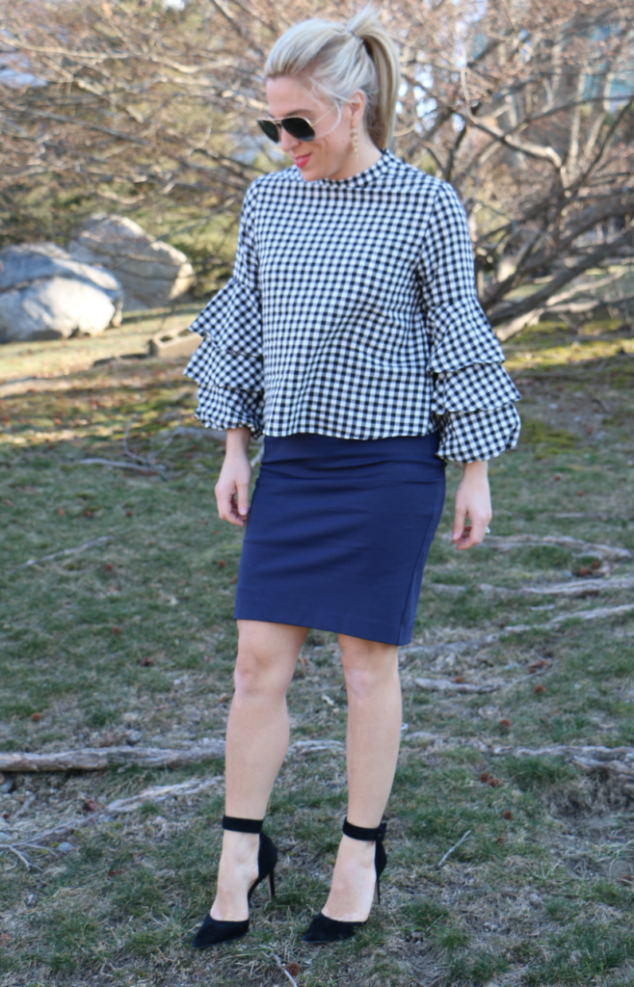 I also love the length of the blouse because it hits right at the sweet spot. It's not a crop, but it's not a flowy blouse either. It's perfect (for me).
If you're looking for a stylish work outfit, check out ZARA's Spring Collection! They have tops with fun sleeves, adorable hems and fabulous prints! They always score big in my book for the Spring and Summer months! And the best part, even a woman in her (late 30's) can wear them!
Happy Spring Shopping!