It's official! SPRING IS HERE! You know what that means, GRAB THOSE THOSE WHITE JEANS! I'm obsessed with wearing white jeans year round, but I know most people love to save them for the spring and summer months! Since today is the VERY 1st day of spring, I thought it would be fun to show off a fave spring look of mine! White jeans with a whimsical top! I love layering light colors together because I think it's such a beautiful and soft look. I love mixing elegance with a little edge!
My blouse is my favorite! I'm literally obsessed with this blouse and it can be worn with so many different items… skirts, trousers, denim, dressy shorts! It's the perfect go-to in my closet for the Spring! I just love it! It's a Lands' End Canvas blouse and it's everything! It has an elastic bottom that creates a blouson silhouette. You look tucked, but you aren't. So much more comfortable (thank you for this from a MOM!). And perfect with a pencil skirt or slim pants.
But let's talk WHITE JEANS because this is the focus of this post! White jeans are a staple to have in your closet. You need them, it's that simple. The ones I'm wearing are also Lands' End Women's Not-Too-Low Rise Slim Jeans – Stain Repellent. If you're going to get a pair. GET THESE!
Why do I love these jeans?
Easy.
Even women who thought they couldn't wear slim jeans are bowled over by these. They skim your curves without feeling tight. The waistband hugs gently without a gap in back. And no color is brighter or more summery than pure white. They'll stay white too. Even if a few drops of coffee or cola find their way onto your jeans (because white jeans are spill magnets), there is no need to panic. Simply brush or blot the drops away and go on with your day – because these have a stain-repellent finish that keeps water-based liquids beaded up for 10 luxurious seconds.
Literally, they're everything.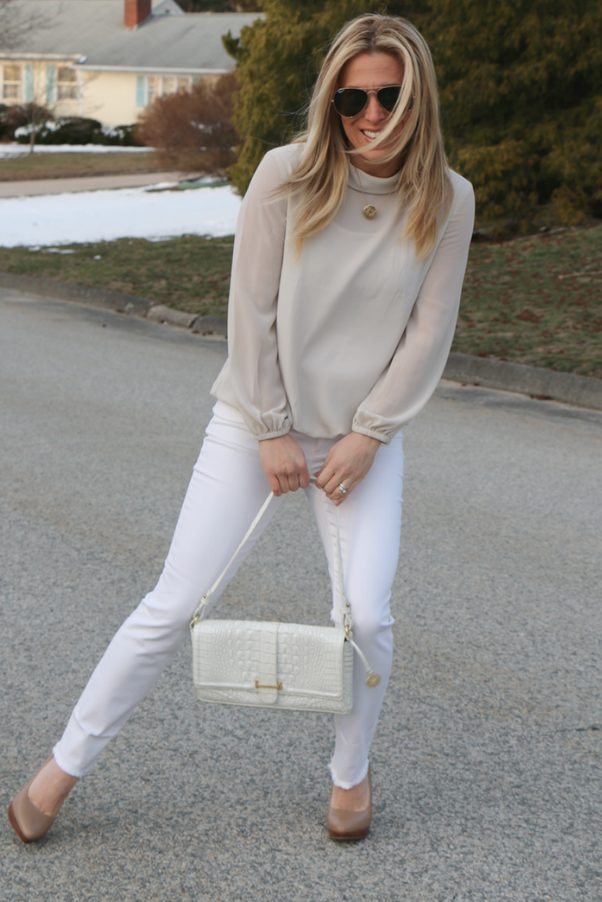 Happy Spring everyone! And see below for some additional white jeans that you can look into, too!
Can you wear white jeans in the winter?