Emma Watson as "Belle" and Dan Stevens as "The Beast/Prince Adam" were perfection in Disney's live-action Beauty and the Beast.
It's as if they were truly born to play these iconic roles, that's how extraordinary they are. They held my attention from beginning to end, making me feel different emotions throughout – happiness, anger, sadness and delight. I cried. I laughed. I gasped. I jumped. I smiled. I felt it all throughout Beauty and the Beast and I loved every single second of it.
I have been a fan of Emma Watson since Harry Potter. She's an incredible actress and really embraces each role she takes on with such care and such precision and such talent. I've followed her career throughout the years, but truly became a BIG Emma Watson fan when she entered Brown University, my alma mater. There's something very special about a woman who values education and inspires a young generation to do the same. As busy as she was, Emma continued her studies and made sure to get her degree, I love that about her and really feel that she's such an incredible role model for so many young men and women.
And Dan Stevens, well… let's just put it this way. I was a Downton Abbey fan where he played the role as Matthew Reginald Crawley. He was my favorite on the show and I was devastated when his character died. I actually stopped watching the show after his character was killed in season 3. I have continued to follow his career since because I really am a fan and thought he was a fabulous actor.
So… having these 2 come together to bring us the story of Beauty and the Beast, it was extraordinary. We were to interview Emma and Dan together, which was wonderful because they have a fantastic chemistry between them. It's almost like a brother-sister relationship. Every time one of them was speaking, the other was smiling and taking everything in, too. It was adorable to see the respect and true admiration between the two of them. It really made the interview that much sweeter and memorable.
Our interview kicked off with us wondering about the audition process. After seeing the movie, it was obvious that the roles of Belle and The Beast/Prince Adam required singing, dancing, emotion and lots of physicality. The audition process always intrigues me. Is it stressful? Is it hard? Is it a positive experience? What goes into auditioning for a major Disney movie like this? Emma started first, "I think with Disney, it was about wanting to explore whether or not I could sing. I think, really, that was the major question mark, so I was to put out an audition tape. And I went away and then kind of did that classic thing of waiting on to get the call, and to hear whether or not it was up to standard. And it- thankfully it was, so I got offered the role which was just very, very exciting, really." And funny, Dan said the same thing – "And yes, for me, I put a song on tape for Bill Condon [Director] and I sang the Beast song from the Broadway musical which we ended up not using in the movie… fortunately he liked it." It was interesting to hear that they had to audition! They were such naturals at their roles, I felt like they were just asked to be part of the film. It was pretty amazing to hear that these 2 big stars put together audition tapes and were worried about waiting to hear! Made it very sweet to hear that they truly wanted these roles and were willing to go the extra mile in perfecting their singing voices.
I just really loved the chemistry between the two of them, I can't stress this enough. It was obvious to each of us in the room and it was cute hearing from the two of them how they were able to build such a beautiful relationship. Emma told us, "I mean, I think, honestly, the dance scenes are very bonding because, you know, when you're this close away from somebody else's face and it's kind of awkward and, you're trying- it feels very intimate, and you don't really know that person, it kind of forces you to break down a certain number of barriers that would be there without that. I think also Dan is a feminist in his own right… I think all of those shared interests- books; our conversations about feminism were just like- he was a dream collaborator, really." The best was Dan smiling as she said this and responding, "Thanks Em." SO SWEET!
What was interesting to see up close and personal about Emma and Dan is that you could tell that they both fell in love with their characters – flaws and all. They definitely seemed to embrace and love who they were and who they turned out to be at the end of the movie. This is such an iconic Disney story, so in order to create it in live action – you really do need the actors to be totally and 100% committed. They need to be all in. You could tell absolutely without a doubt that this was how Emma and Dan both were with their characters. And well… we needed to ask about wardrobe. Especially in Beauty and the Beast… the clothing makes the character.
Emma smiled and jumped right in when asked about what it felt like to be in Belle's wardrobe, "It was kind of amazing, [LAUGHS]. I think because Belle – it's a fairytale – I play kind of an architype, really. She's more of a symbol. Like the way that I got into character, I sort of started to feel like I was understanding her really well, was through her costume. It was working on putting together the boots that she wore and she had kind of these slightly scruffy socks and bloomers underneath her skirt, which meant that she could swing her leg over a horse."
And then we had to talk about THE dress. You know what I mean… the BELLE DRESS. The dress that my daughter wears and twirls around in, feeling that she's most beautiful girl in the world. We needed to know about that dress!! "I was very heavily involved in the dress. Trying to get the dress right was really difficult because we needed to dress her to serve a number of different purposes and functions. So it needed to be of the period, so originally we had started off with a seventeenth century traditional dress, but then realized that it didn't do the really cute twirly thing that it does in the animation… We were like, okay, back to the drawing board. It's gotta twirl. All right, so it's gotta be seventeenth century, but the bottom's gotta be different. It was lightness, so we made it out of chiffon, and then we were like, she's also gotta ride a horse in it, and she's gotta be able to kind of go into the third part of the movie which is where she goes back to see her father. So it also needs to feel like an action hero dress which is why the front of the dress looks a bit like a coat of armor. It's got gold flecks in it, and it kind of had that warrior element to it, as well. So, yeah, we kind of created a warrior, modern seventeenth century twisty, twirly dress hybrid." And it is PERFECTION.
What really struck me was hearing Dan explain how he got "ready" to play Beast. "I didn't really have a costume. Well, I did have a costume… they made costumes for the Beast and they were really giant coats that 'he' wore, and this massive shredded cloak, but I never actually got to put it on.  I spent the whole time, as the Beast, in a forty pound muscle suit on stilts covered in gray lycra. So I looked pretty odd, but nothing like the Beast that you see in the movie." This answered a ton of questions for me because I was having a difficult time trying to figure out how "Dan" played "Beast." I cannot believe they had him on stilts! That takes his performance to a while new level for me! But he went on because we were all curious as to how Beast came together… "It's all me, kind of, [LAUGHS]. It was motion capture puppeteering of the suit. I'm inside a giant muscle suit on stilts, so the Beast's body was me moving inside there. The facial capture was done separately, and every two weeks, I'd go into this booth, and ten thousand UV dots would be sprayed on my face, and twenty seven little cameras would capture everything I've been doing for the past two weeks just with my face. So it was my face driving that Beast's face and they turned that information digitally into the Beast's face and mapped it onto the body that I'd been working on the set. It was lots of CGI and it is me driving it all. It's an amazing new technology that's never been used this extensively before, and it's very, very exciting." Just awesome!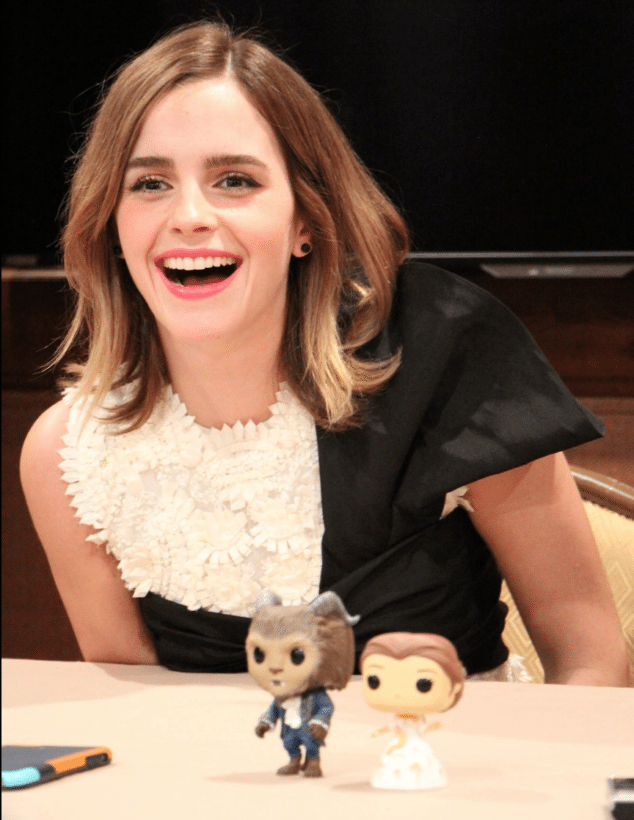 Emma was truly incredible to listen to and she was so passionate about playing Belle's character as precise as she could. Even just listening to her speak, she's truly a role model for young men and women. I LOVED hearing her take on Belle when we were talking about her playing such an iconic role. "She's actually one of the few in Disney [movies] of young women who actually isn't a princess. She's an ordinary girl from an ordinary village and I actually think that's very important about her. She has no aspirations to be a princess. She has no aspirations to marry a prince. And so there was a line in the movie, originally, about Audra, the chest of drawers says to me, 'oh you know, we'll make you a gown fit for a princess,' and I asked Bill [Director] if I could actually say, 'I'm not a princess.' And he was like, yeah, sure. So just little things like that where I just felt like I was protecting and defending Belle's sort of original DNA and just making sure that we stay truthful and faithful to this very independent young woman." Can you see why Emma is one of my favorites? How incredible is all of that?
My question ended our interview session with them. After listening to them each speak for 20 minutes, I was very curious about what message they wanted people to get from Beauty and the Beast. Many of us have children that will grow up knowing this particular version of Beauty and the Beast. Victoria is 3 years old, so this will be the one she knows and watches the most.  I really wanted to know what is important for them – for both girls and boys – to take away from this movie, because on both sides, there's such great messages for boys and girls to learn.
Dan's answer really touched me, "I actually have a great friend of mine who's now in his mid-thirties. He grew up in the west of England in the countryside, who for him, Belle was his greatest hero, and he used to go into the fields of Somerset and sing. There's something about the spirit of Belle that is to be championed in, in all of us. I think that curiosity, that imagination, that ability to see beneath the surface deep, but also to see beyond your immediate surroundings. And she has tremendous vision in all ways, and I think that's something to be applauded."
And Emma's answer was just as touching, "I think as a child, I had a very hard time working out sometimes to why people weren't kind to other people, and trying to kind of understand. I think what is so beautiful about Belle is that she's so nonjudgmental. It's her ability to see beyond the surface of things to understand that everyone has a story, and you don't always know what that story is, and to look deeper into things before you make a judgement. And, so there's a kind of compassion and empathy there which I think is kind of a relief because I don't think anyone is inherently evil. I think there's light and dark in everyone, and I think that she kind symbolizes that very well."
I was just completely in awe of Emma and Dan. They were absolutely gracious and kind and wonderful!
I strongly recommend that you check out Beauty and the Beast on March 17th! You're going to fall in love… and hopefully after reading this, you'll have a deeper love and appreciation for Emma and Dan as actors, too!
Disclosure: Disney Press Trip. All travel was covered.