Sponsored partnership with Lands' End.
Being a mom to William, Alexander, Benjamin, Henry and Victoria is the greatest blessing in the world to me. They are my heart. They are my inspiration. They are my motivation for everything I do. They are my wings. They are – simply put – my world.
I've said to before and I'll say it to the end of time… I always wanted to be a mother. I remember being a little girl and lining all my baby dolls up on the stairs, naming each and every one of them. I would tell my mom and dad that someday I was going to have 10 kids! OK, I didn't have 10, but I think 5 is a pretty big brood! Throughout my entire life, being a mom… it's all I've ever wanted to be. I even created a career for myself out of being a mom. For me – it's just everything and beyond.
I was honored when Lands' End asked me to be part of their special #DearMom video campaign. Not only is Lands' End a brand that I love and user regularly, but I adore the #DearMom campaign because it's a wonderful way to celebrate and honors the moms in our lives. Motherhood is an adventure and a journey… and it's different for each mom. I was just so touched that Lands' End thought of me to be showcased in their #DearMom video. Believe me, there wasn't a dry eye in the house with the ladies who filmed! I kept asking if the mascara was waterproof!
Check out this wonderful and beautiful video celebrating motherhood, featuring special guest and mom of 7(!) Joan Lunden…
Pretty amazing, right? I love how our children are the anchor for all of us. They are our reason for being.
It's a beautiful thing.
Lands' End is giving YOU the chance to celebrate and honor your mom this Mother's Day, too with their #DearMom campaign.
How can you celebrate and honor your mom?
Easy.
Lands' End is offering a couple different ways to shower your mom with some love and attention and goodies!
You can win her $100 Gift Card to Lands' End —
Share your Mother's Day Memories and Moments – From (today) April 24 until May 10, the socially savvy can follow daily prompts to share a Mother's Day message, motherhood moments, photos or videos on Instagram and/or Twitter using #DearMom, #sweepstakes and #mylandsend for a daily chance to win a $100 Lands' End gift card. Winners will be chosen at random and participants are encouraged to enter daily, because Mom can never hear enough how much she's adored.
You can win her a "Mom and Me" TRIP —
Win a Trip with Mom – A Lands' End survey found 86 percent of mom respondents would like to spend more quality time with their children. As a result, Lands' End is offering one lucky winner the chance to win a trip with Mom through the #DearMom sweepstakes. From now through May 10, 2017, everyone can enter for a chance to win a four-day trip for two to America's favorite modern classic destination, Hilton Head Island. This "mom and me" trip includes a stay at the Westin Hilton Head Island Resort & Spa, luxurious treatments at the Westin Heavenly Spa, and three days of private poolside cabana access.  To enter daily, fill out the form at https://www.landsend.com/dearmom/
I know I would love to win one of these for my mom! My mom is my anchor and is my hero.
She is the ONE who made me want to be a mom. She is the ONE who I emulate as a mom. She is the ONE who made motherhood look easy, even when I (now know) it wasn't always a cakewalk! Simply out… my mom has just always been there with love, happiness, acceptance and support. That's all a child wants. Truly… my mom is my hero. She always has been and always will be. ♥
Lands' End is also featuring a beautiful and meaningful way to give back this Mother's Day. This warms my heart and is something that I think is just extraordinary. This Mother's Day, give mom a gift that gives back to the Breast Cancer Research Foundation (BCRF). From now through May 14, 2017, add a select Mother's Day or Pink Ribbon Embroidery to a Lands' End item from totes to towels and the company will donate $4.50 of the $6.00 embroidery fee to BCRF to further support the organization's mission to be the end of breast cancer by advancing the world's most promising research.  Find gift suggestions at https://www.landsend.com/dearmom/
Being a mother is one of the greatest gifts in the world.
I'm going to end this post advice that my mother gave me when I first became a mom and it's ALWAYS stuck with me.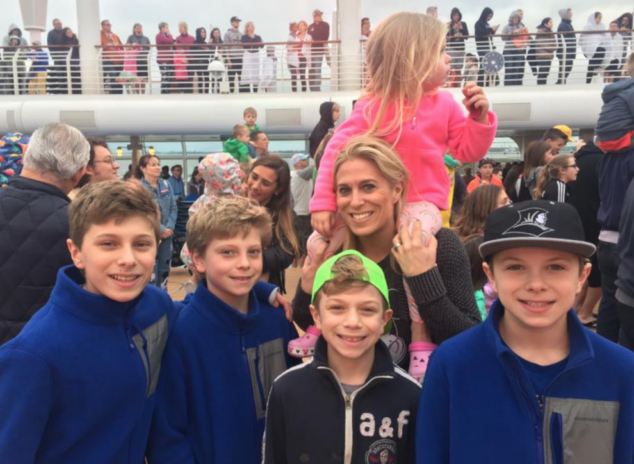 Embrace the ordinary moments of life with your kids.
Those Tuesday afternoons of doing homework on the counter.
Those carpool drives to the swimming pool or baseball field.
Those morning walks to the bus stop.
Those Saturday morning pancakes.
Embrace THOSE moments.
THOSE moments will be the ones you will always hold tight onto.
Happy Mother's Day to ALL the moms out there.
May you be loved, showered and honored by the ones you love on Mother's Day.
Save