Seasoned Grandma Tip #5 ~ "Chase Rainbows" ~
Pop-up and I are rainbow chasers.
At certain times of day, depending upon seasons and angles of the sun, our home is painted in rainbows.
We love rainbows and so keep fun little crystals, a lovely antique dining room chandelier and even completely outside-the-box for us crystal lamps (thrift store finds literally pushed upon us by clerk who insisted that we MUST have these AND that have come to be magnificent rainbow catchers- who knew?)… all of which invite rainbows into our home.
We know that Barry's Mom, Nana Flo, comes to us in rainbows that appear in the most glorious prism of colors at the very most perfect moment of sometimes the most trying days.
Our grandkids have become rainbow chasers, too, and they invariably call out, "Nana's here!" when one appears either inside or stretches across the entire sky.
In an instant, the sun's radiance crawls inside these crystals or meteorological phenomenon and sends out rainbows of colors. Dozens of tiny little rainbows dance along the walls, the rug, the doors, the kitchen table or across the universe… and if there are grandkids in the room or the great outdoors, they chase these rainbows. The beauty of it all is that these rainbows are both silent and fleeting, but always with the promise of returning the next sunny day.
One of my favorite photographs in my cache of photos is the one of my now-10-year-old grandson Ben when he was 2 years old. He and his brother had been chasing rainbows around our home, and when he and his blanket rested for a moment, they became the recipient of perfect magic…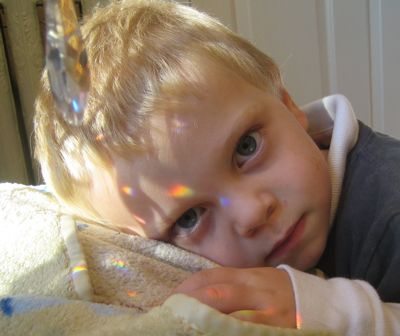 Now, I know that capturing a rainbow is just as ambitious as capturing a nymph or a fairy or a leprechaun… but we always try. And I know that chasing rainbows is very hard work. But the magic, the laughter, the memories never grow old for our grandkids.
Or for us.
Go chase a rainbow today!