Seasoned Grandma Tip #8: Stop and Smell the Flowers ~
Kids notice things in their worlds that are loud, funny, unique, colorful and anything else that jumps out. It's the nature of this world view, this innocence, this interest in everything that makes kids so much fun to be with.
Take flowers.
Flowers stretch and bloom and sway with the wind and dance and gather in clumps or stand alone, I believe, to entertain… and kids are their perfect audience.
Last week, while driving about 20 minutes to our destination with my 3-year old granddaughter Victoria, she decided that she wanted to find "red flowers." Now, Victoria is a very precise kind of girl, so "almost red, but more pink" (her words!) was not going to make it. I was thinking, thinking, thinking of possible locations of blooming red flowers on a chilly New England day in late April when, lo and behold, some late-staying red tulips popped into view.
Victoria was delighted, and fortunately, the location of these beauties was doable for me to stop and smell the tulips. 
I began to tell her the story of tulips and saw her beautiful eyes grow wide with wonder.
I love flowers. I love the history and myths and legends and language and meanings of flowers. I have been talking about flowers with my grandkids since forever. Not teaching about flowers. Talking about flowers. Children absorb what they need to absorb and the rest dances in their minds and imaginations to bloom another time.
Victoria loved that the tulip was once known as the Turkes Cap because it resembles a hat. When we arrived home later that morning, we found a picture of a turk's cap. Of course, Victoria noted, "an upside down turk's cap!"
I told Victoria that tulip colors mean different things. She was especially happy that Red tulips mean true love. I didn't go into detail of other colors, but just so you know, Purple represent royalty; Yellow, cheerfulness and sunshine; White, forgiveness; Pink, fine things and exuberance for life. Pretty cool.

I told Victoria that a place named Holland took the tulip into its very heart a very long time ago and now that place is called "the flower shop of the world." Of course, we found photos of Holland and her beautiful Tulips…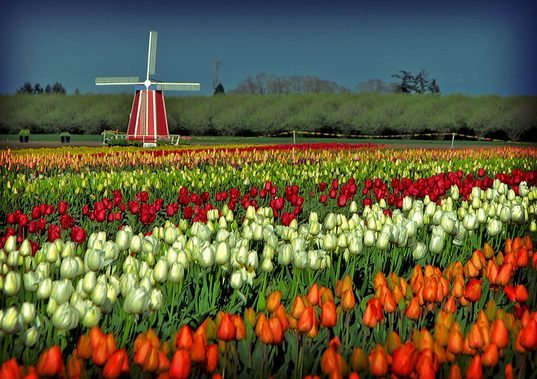 … and "we MUST take a trip there someday", Victoria announced!
There also exists a lovely poem by 19th century British poet Elizabeth Barrett Browning – A Flower in a Letter, where the Tulip appears in these words:
And tulips, children love to stretch
Their fingers down, to feel in each
Its beauty's secret nearer.
I will save these words for another Tulip adventure with my beautiful flower-mate, Victoria!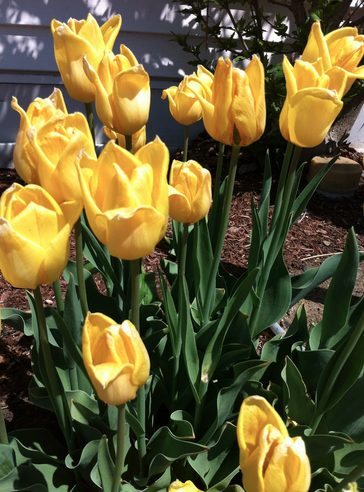 And for you today, my dear readers, these late-blooming yellow Tulips from my own garden are for cheerfulness and sunshine, from me to you!