KitchenAid has introduced the Artisan Mini and I'm in LOVE with it! I mean, total baking love with it.
Let me start here first, I'm the baker in my house. I love making cookies and cakes and muffins and breads for my kids. When it comes to grilling or cooking, that's usually my husband's "job" because he's really good at it and he is a total foodie!
For me, it's all about the sweetness. That's "my" forte! I actually make chocolate chip cookies 3-4 times a week for the boys because they love a sweet treat in their lunch. There's something about actually making them (OK, not totally from scratch, but I do add in eggs, butter and extra chips!) for the boys that makes me happy and makes me feel good. I feel very domestic when I make something for the boys that they absolutely love and appreciate.
When Best Buy reached out to me to try out KitchenAid's NEW Artisan Mini, I JUMPED at the opportunity because I (literally) use our KitchenAid Stand Mixer all the time at home. And believe me, I LOVE it because it's amazing and gets the job done, but I was completely intrigued by the "MINI" side the of new one.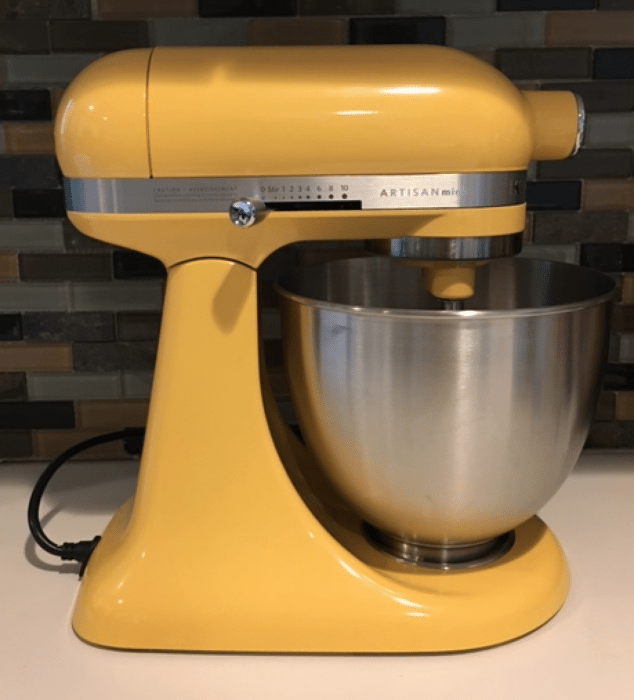 A few questions crossed my mind immediately before reviewing (as in getting to touch, feel and see) the Artisan Mini:
Is it much lighter? Easier for me to pick up and move?

Will it be a better option on the counter for our family?

Can I still make the same amount of cookies in the Mini? Will the smaller size really make a big difference for me?

As soon as I received it, all my questions were answered favorably for me!
The NEW Artisan Mini Stand Mixer is 
20% smaller and 25% lighter
, making it the ideal culinary tool for smaller spaces and kitchens. Our kitchen isn't gigantic, so I always have to be very strategic with where I place items. I actually store my regular KitchenAid Mixer in a cabinet, so whenever I make anything, I have to physically move it  — and it's heavy! It's been the best way for me to have it on our kitchen without it taking up a ton of counter space. The new Artisan Mini is now a smaller mixer that will take up less counter space and is lighter in weight so I can easily move it around my kitchen. An extra bonus for me? It has the same iconic design and power as KitchenAid's other tilt-head stand mixers.
I was thrilled to find out that though mini in size, the NEW Mini Stand Mixer can make up to 5 dozen cookies in it's 3.5 quart stainless steel bowl. The Artisan Mini Stand Mixer also features 10 mixing speeds and comes with a coated flat beater, dough hook and 6-wire whip!
I know I love to bake with it, but it's also important to note that you can make everything from fresh pasta to burgers, veggie noodles and more!
And as always, I love easy clean up in the McClelland house, so I was very happy to see that it's a
dishwasher-safe bowl, flat beater and dough hook
! Can't beat (pun intended!) that when it comes to easy!
There's a color for everyone, too! KitchenAid offers 10 colors, you can go bold or stay neutral – whatever feasts your fancy! We have a gorgeous Orange Sorbet color that really pops in our kitchen! It's definitely fun to see when you walk in! I'm telling you, it's such a fabulous option! I'm thrilled with mine and have already recommended it to my parents and sister!
The Artisan Mini Mixer runs perfect for the McClelland family of 7! As always, if you have any questions about it, drop me an email or leave a comment below!
Happy mixing!
Disclosure: This is a sponsored post with Best Buy. All opinions are 100% my own.