*This review is being done by my son Ben who is 10 years old! Nintendo sent him the game to review.

We're a Nintendo family.
Always have been, always will be.
As a matter of fact, I was a BIG Nintendo fan growing up! I distinctly remember having Olympic Power Pad battles with my sister and brothers when we were younger. And – of course – Mario Brothers! I think everyone in my neighborhood came over to play that game with us!
It's been really cool seeing my own children turn into Nintendo fans throughout the years… I mean, REALLY big Nintendo fans. You name the system, we have it.
Nintendo reached out to me to see about reviewing a new game, but the twist was… they wanted a kid reviewer!
The second I found out it was a Nintendo 3DS game, I knew my son Ben would be perfect at it! He is a HUGE Nintendo 3DS lover and is my son that loves to play new games the second they come out! He loves being able to share with his friends that "hot" new games that that all need to get ASAP!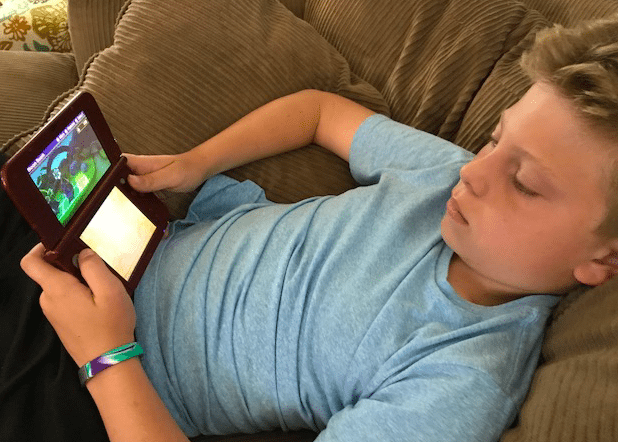 I let Ben play EVER OASIS and do his review… everything is below! If you have any questions about the game, feel free to reach out to me. Just so all the parents out there reading this know… the rating age for this game is: 10+, fantasy violence.
Ready for Ben (drum roll… !)?
Here he is…
If you are a Nintendo 3DS fan, you should check out the new game Ever Oasis.  I have been playing it for a week now and I love it. My 3 brothers keep trying to take the game from me (because they want to play it), but I keep hiding it on them so they can't find it. It's that good!
Here are 6 Reasons Why I Like It and Why You Should Check It Out:
The first thing I liked about Ever Oasis were the graphics. They are colorful, fun and cool to play within. I especially like that I get to explore a desert. It's cool because you get to fight people and get resources there.
I like that I can play the game whenever and wherever I go. I was at my grandma's house last night and I brought it with me so my cousins could check it out. I love that I can travel with it because in the summer we're always going to different places.
I like that you have to complete quests and adventures in the game. You get to go in dungeons which is super cool. On my adventures I can make money and get new travelers to come with me to the Oasis. You can expand your population which I think is really cool. The bigger you make your Oasis you get more and more protection. When you are out of the Oasis you get Rainbow Protection. That's the rainbow that follows you.
As you start the game you just start to learn what to do. It was very easy to pick up and understand. I usually have to have my older brother William start a game with me, but I was able to do it on my own this time. 
You can grow your Oasis easily by finishing up the quests and adventures and you can build Bloom Booths which are shops. The travelers buy stuff at the shops and that's how you buy more Bloom Booths. I just found out that when you build a Bloom Booth you can also build Deco Plants. These can help you boost sales of certain Bloom Booths. I think this is helpful to know for other kids.
I love you can explore, discover new things and make friendships on Ever Oasis. The water spirit Esna is nice and fun to have on the game. The goal is to have a big Oasis, so it's really fun to try to make it happen. I promise you will really love this game. I'm learning new things every time I play! I can't wait for my friends to get it and we can compare what we are doing with each other.
Thank you Nintendo!