The Best Way to Have the Santa "Talk"
Disclosure: Sponsored partnership with Scholastic
The magic of Santa has lived in my heart throughout my entire life. I remember actually getting nervous at various time throughout my childhood because I didn't want Santa to see me fighting with my little sister for fear he would leave me coal! And every Christmas morning we would get a surprise call from Santa HIMSELF asking us if we were happy with all of the goodies he left behind for us. Oh, yes… the magic of Santa! It's an incredible and extraordinary thing to have within you.
When I was around 12 years old, I asked my mother that dreaded question, "Mom… is Santa real?"
I had been having kids at school tell me that he wasn't and it confused me. I started questioning the racing around the world in one night on a sleigh. And I started to realize that my older brothers were "in" on something that I wasn't in on (yet).
My mother – God bless her because it's not a fun question to get asked – answered me in a honest, beautiful and wonderful way. She told me that believing in the magic of Santa is part of the magic of the holiday… and she let me in on the age old secret of Santa magic. I have to admit, I was sad when I "found" out because I really thought it was wonderful to believe in the man himself, but it answered so many questions for me. The cool thing was that I was – at the time – now in on the true magic for my little sister, too.
Fast forward 25+ years… here I am a mom of 5, with 2 of my oldest sons knowing the truth about the magic of Santa. I've always told them that if they don't pretend believe, presents will not come. I think that it has "scared" them a bit, but they're also wonderful big brothers and would never, ever "ruin" it for the 3 younger ones. I've been grappling with how to share the news with my next 2 sons who have already been questioning me relentlessly over the last 2 weeks.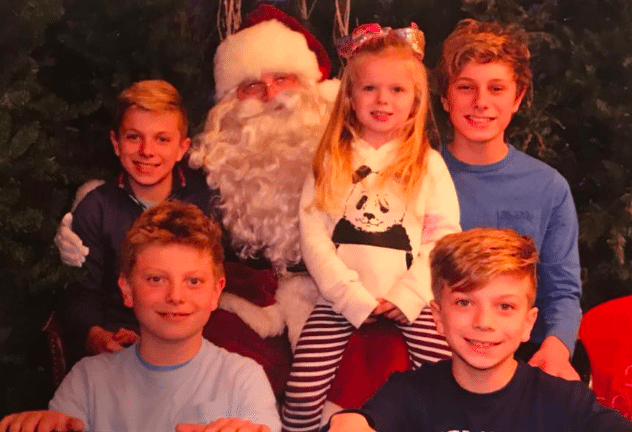 And then I found out about the book: Love, Santa by Martha Brockenbrough, illustrated by by Lee White that came out on September 26th, 2017. This book is meant for parents and kids, in telling the truth about Santa.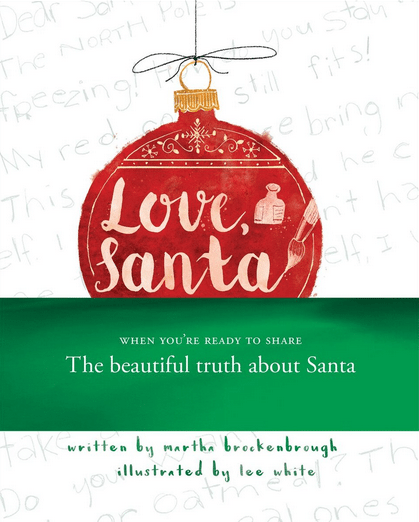 I was immediately captivated by the illustrations in Love, Santa. They are whimsical and beautiful and magical and extraordinary. They truly bring you into the story and make you feel home and at ease and comfortable. It really is pretty remarkable.
So what is it about Love, Santa that makes it such a great book for families?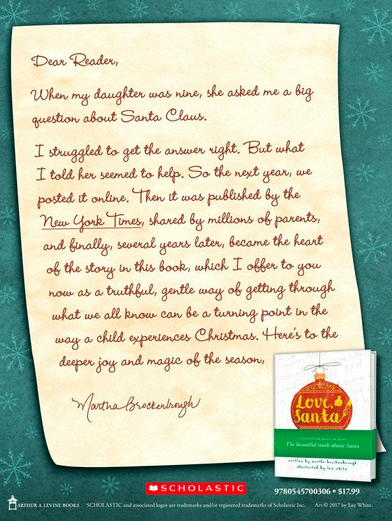 In a series of letters, a young girl writes to Santa to ask about the North Pole, Mrs. Claus, and of course, Christmas goodies. Year after year, Santa writes back, and a heartwarming relationship develops, until one year, the girl writes to her mother instead: Mom, are you Santa? Her mother responds to say that no, she is not Santa. Because Santa is bigger than any one person — we bring him out through kindness to one another and the power of imagination. This transformative tale spins a universal childhood experience into a story about love, giving, and the spirit of Christmas.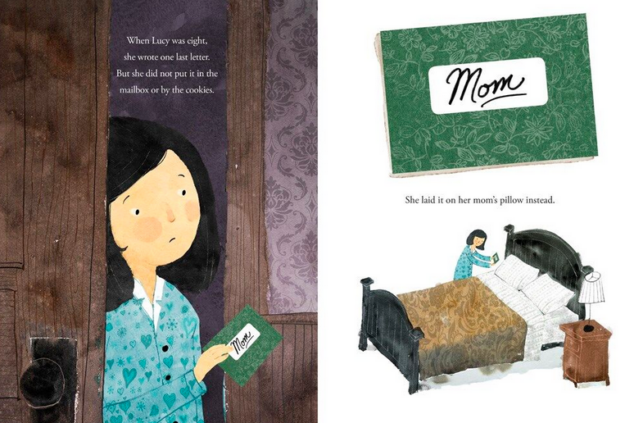 What I adore about this book is that Martha makes it so easy to read with your child with the notes and letters. The letters come out of "envelopes" in the book and really make it fun and engaging for a child to read. Love, Santa really helps parents explain the meaning of Santa and this is what I adore about it. The topic in this book is an important subject, so I love and appreciate that Martha really makes it intimate and beautiful for you to enjoy with your children. She really gives you a truthful and gentle way of getting through the turning point of how a child celebrates Christmas.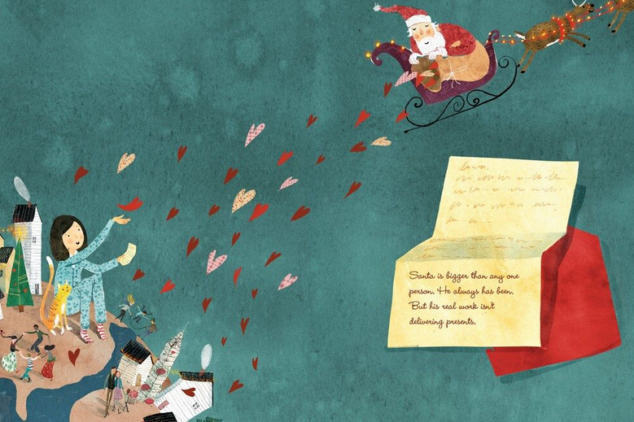 I really loved reading this book and I do think it's a great book to read to your children who are asking the questions that you're not ready to answer.
Follow Hashtag #LoveSantaBook