In partnership with Tide
When it comes to laundry, I do quite a lot of loads! With 7 people in our family, you can probably only imagine how much laundry I do on a daily basis (shhh… about 3 loads a day!).
(My culprits!)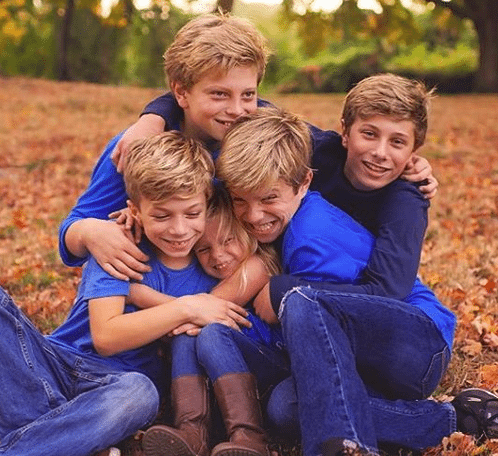 It's something that I've just become familiar with and I always joke with family and friends (when they see the constant laundry baskets full) that it's my version of laundry normal. I don't know any different, so for me… it's all about the washing machine every single day of my life. Believe it or not, I actually don't mind doing laundry. People always think I'm lying when I say that, but it's true. After living in NYC for 8 years and only having quarter-slot washing machine that I needed to share available to me, having my own washing machine and dryer (even 12 years later!) is still a gigantic perk to me! So when it comes to laundry… I'm the Laundry Queen – I love it!
Ever since I can remember, a staple of my laundry routine has been plastic laundry bins stationed in the hallway upstairs. If you have dirty laundry, in it goes!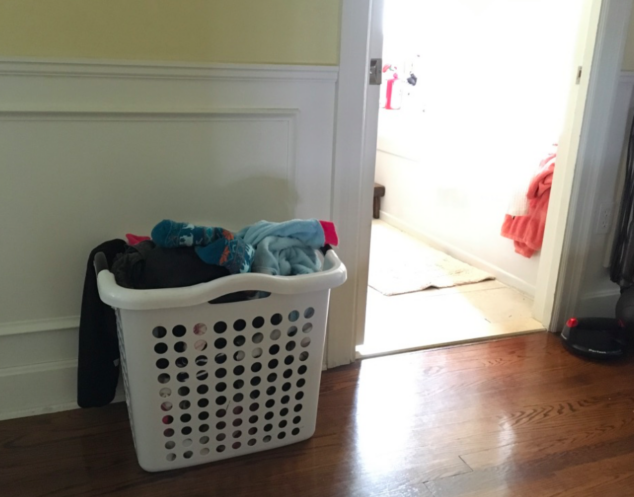 My goal is to have empty bins at the top of the stairs when I head to bed at night, but that's not always the case. I figure if I see the laundry piling up in the bins, I'm more apt to grab a load and just do it!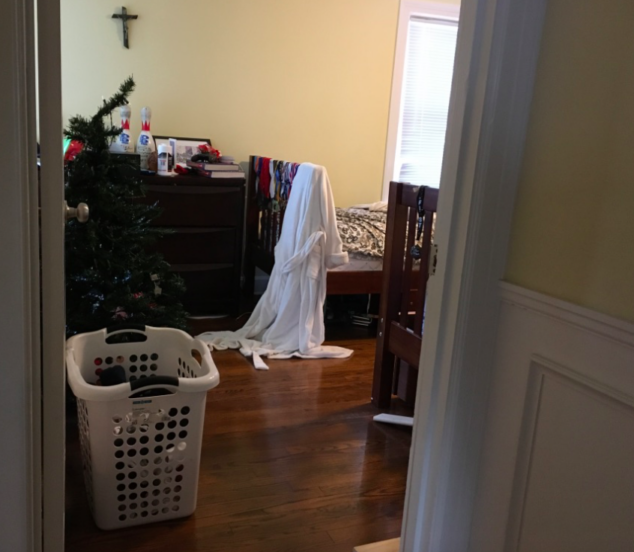 Since I work from home a majority of the time, it does make it a little easier to get everything done throughout the day. In our new house (we moved this summer) our washing machine and dryer are in the basement. In our last house the washer and dryer were right off the kitchen on the 1st floor, so it was more convenient, but now… I've got to travel "all the way" downstairs! It's been good in the sense that laundry is out of sight, so I never have to worry about people walking in and seeing a load running! In our new house I have a routine down… as soon as I get to our laundry room in the basement I separate everything out into piles — colors, whites, delicates and towels. This is how my mom did laundry when I was growing up, so I've learned by example!
(Victoria's clothing, delicates!)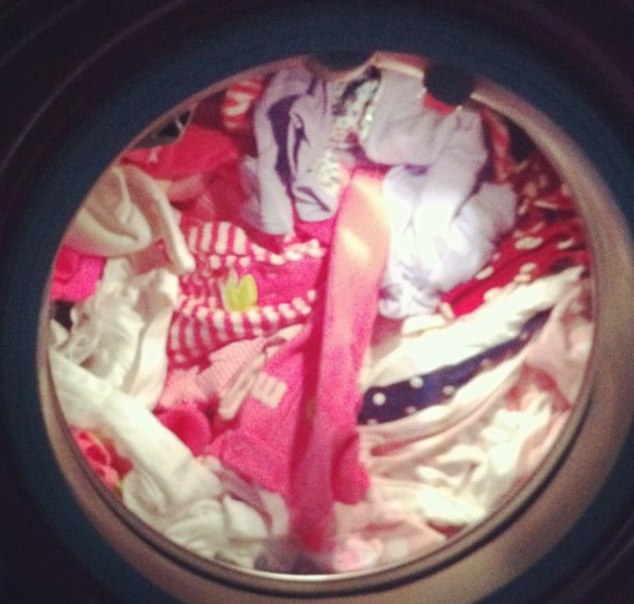 Another thing I learned from my mom was to use Tide, and it has been part of my laundry routine since even before the plastic bins. She only used Tide for our laundry, and now I do the same – it's my only go-to, nothing else! Since partnering with Tide throughout the years, I've gotten to know the brand better and better and I'll tell you, I love their commitment and passion for making sure their product works and that it's also safe for families to have in their homes. I love that they make sure that every consumer is happy, safe and clean!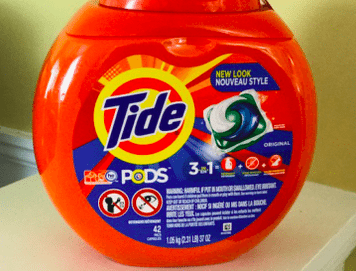 With a toddler at home, I'm extremely aware and conscious of everything I bring into my home when it comes to safety. Since my daughter has 4 older teen and tween brothers, I'm even more aware because she's the only "little" one at home. It's important to make sure you and everyone in your family are storing detergent properly – out of sight, out of reach, and in its original packaging! Laundry safety should be taken just as seriously as any other home safety measures and should be a part of your routine.
I appreciate that Tide takes safety seriously and encourages people to be safer in the laundry room. If you use Tide PODS, you'll see that it's packaged in child-resistant closures, which provide a stronger layer of protection. To open the Child-Guard™ tub, you have to squeeze both sides of the lid and twist at the same time to open the packaging.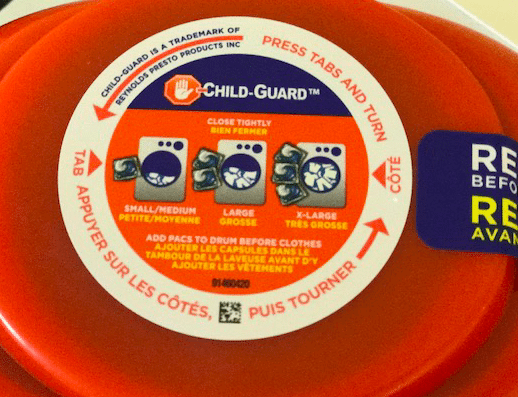 It's exactly what you think, like a medicine bottle – hard to open, but easy to close. The Child-Guard™ tub is just the next step in P&G's ongoing safety efforts that have led to a 39% reduction in the rate of accidents related to P&G's liquid laundry pacs.
I appreciate everything that Tide does to ensure the safety of families. Laundry is something that every family has to take care of, not everyone might do as much laundry as me… but still, it's part of a family routine. Regardless of how much you do on a daily or weekly basis, please make sure safety is a top priority for you and your family and part of your routine!
And now… I'm off to do another laundry load!