Spreading JOY for the Next 12 Days!
There's nothing like spreading JOY, especially during the holidays!
As soon as December 1st hits it's all about the holidays for me! The tree goes up! Lights go up outside! Santa visit is booked! Presents start to get wrapped! Holiday cards are mailed! You name it… we're doing it!
I was thrilled when Dunkin Donuts asked me to partner with them this season to bring on some extra holiday cheer! I jumped at the chance because this is (literally) the perfect way to spread some JOY and get extra excited about the holidays!
Now through December 24th I will be sharing on Twitter and Instagram how I'm spreading JOY to me and my family throughout the month! Hopefully you will be inspired and get excited to spread some extra JOY in your life, too! The holidays are all about giving and sharing and being merry… I love that Dunkin Donuts is right there, part of the joyful memories, too!
Yesterday I kicked off on Twitter about one thing in particular that brought LOTS of JOY to my family this past weekend… SNOW!! LET IT SNOW AND IT DID!! Beautiful, big, white flakes covered the ground this weekend and it was a sight to see! As soon as the flakes started to fall, I ran outside (with my Dunkin Hot Cocoa) for a photo!
Talk about EXCITEMENT!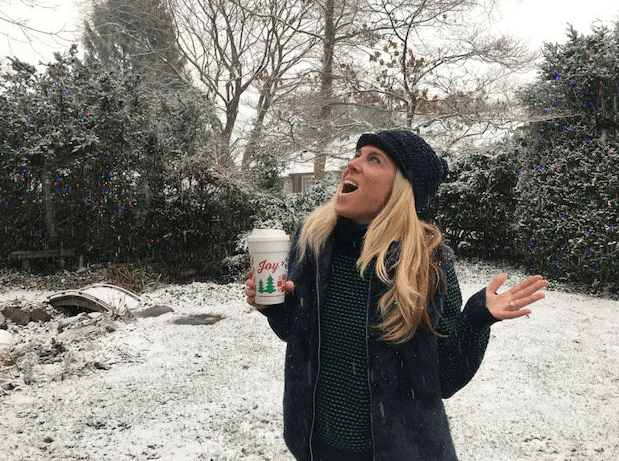 The first snowflakes of the season!
I love that I captured this JOY!
How does the snow make you feel!!?? It's always so beautiful when it's on the ground, covering the world in a white blanket! Just love the joy that it brings my kids!
Join me as I share more JOY throughout the next 11 days!!
Disclosure: Partnership with Dunkin Donuts. All opinions are 100% my own.