3 Spring Fashion Styles: Classic, Flirty and Fun! All these styles are from BJ's Wholesale Club!!
I'm talking spring fashion today, even with snow still on the ground here in Rhode Island! I'm ready for winter to be over, so I'm bringing in some spring styles that make me happy! Believe me – it can be as simple as adding some new pieces into your wardrobe to get you into total-spring-mode.
Yesterday, I took a trip to my local BJ's Wholesale Club in Seekonk, Massachusetts to pick up some items for our house – detergent, paper towels, snacks for the weekend and some fresh fruit. Since you can get just about anything at BJ's, I headed over to their apparel department to check out some of the spring fashions. They offer such an incredible selection of fashionable apparel for men, women and children at unbeatable prices, so I was like a kid in a candy store shopping away! Everything screamed SPRING to me, which I adored! I'm done with hats and coats and gloves and boots! Thank you BJ's for bringing on the pastel colors, spring prints, lightweight tops, spring dresses and adorable skirts and blouses!
I thought I'd have some fun and find 3 distinct styles for the spring. Since I have a bunch of different spring events coming up – work events, girlfriend dinners, date nights and school fundraisers – I wanted to give myself some spring options. I wanted to find something classic, something flirty and something fun! BJ's has me covered!!
Ready for my classic look?
I'm all about a classic cardigan. It's tasteful and appropriate for almost any occasion. What I love about a simple cardigan is the versatility… I can wear my cardigan as is or unbuttoned as an extra layer over blouses and dresses. It's a simple look that I just adore. I chose navy because I knew it would be an essential for me. This cardigan at BJ's from Suspense is just perfection! BJ's had a variety of colors as well, so I definitely want to go back and scoop up some additional ones. These are perfect spring layers!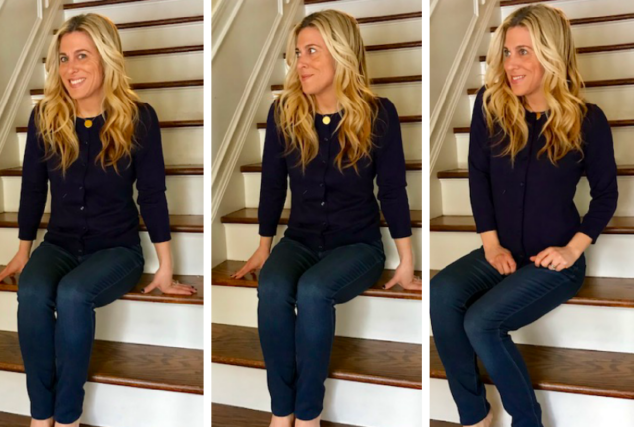 Ready for my flirty look?
I thought I'd bring the spring outside in the snow! I'll tell you, it warmed me right up!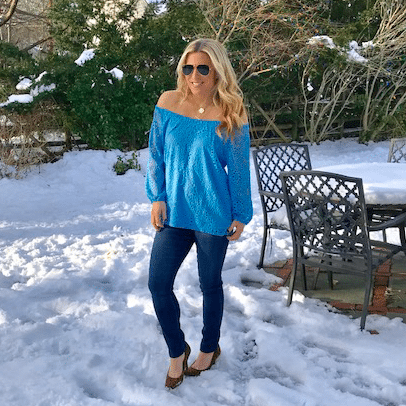 This look is for my husband and our date nights! I try to have a date night with my husband once a month, but it's not always easy with 5 kids! When we finally do get a chance to head out, I love to look my very best for him! With spring in motion, I love that I can wear tops that are flirty and a little sexy. I love off-the-shoulder tops because they're perfect for dressing up a pair of jeans. This off-the-shoulder at BJ's from Leo & Nicole is comfy, stylish and fit perfectly. I have a little fashion confession to make, too – I'm going to head back to BJ's and buy this exact top in purple, navy and cream, too. I'm obsessed with it!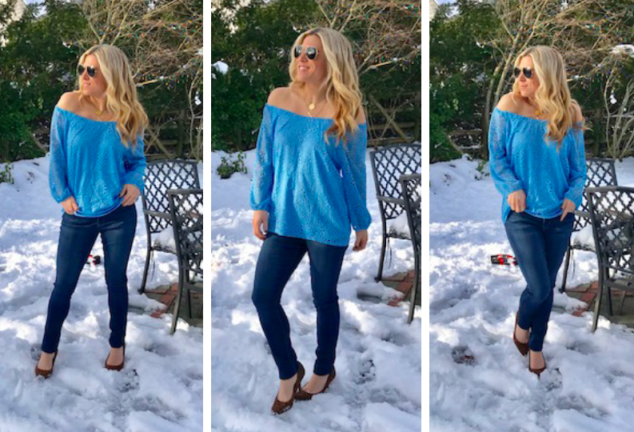 Ready for my fun look?
And yes, I still wanted to rock my look in the snow! I'm saying "Bye, Bye!" to winter while welcoming spring!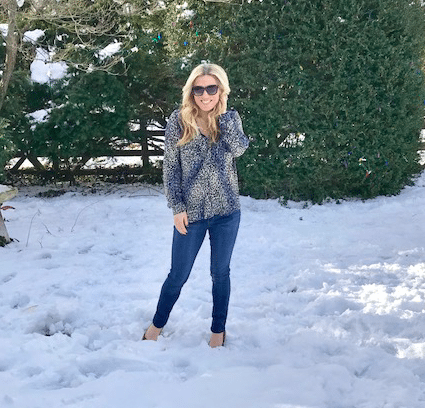 This is for my girlfriend dinners this spring. All of my girlfriends are fashionistas! Whenever we go out, we all bring it out on the fashion front. The second I saw this blouse at BJ's from FYLO with the fun leopard print, I knew I needed it! I absolutely LOVE how fabulous, wild and bold this blouse is for just about anything. I could even wear this under blazers to a work event, too. BUT! For my girlfriend dinners this spring, this is coming out to make s splash! I'm thinking skinny jeans and my highest heels!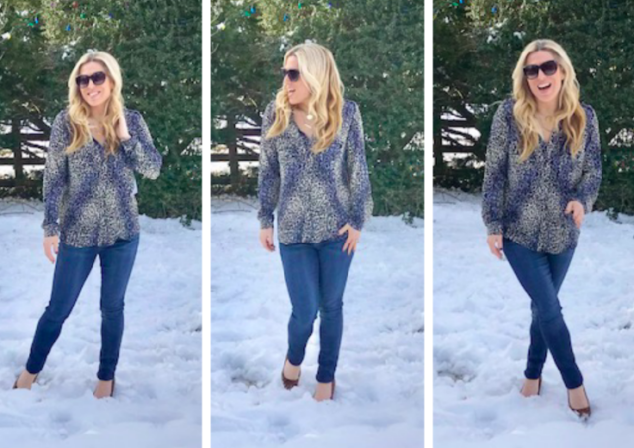 AND!!
EVERYONE!!
Those jeans!?
I scored them at BJ's, too! They had piles and piles of jean options that I scoured for 30 minutes. You know I'm a jean girl, so it was so much fun for me. I decided on these Nine West Gramercy Skinny jeans. The style is… well, my favorite – let me share this – 1) the coziest 2) best fitting 3) softest jeans ever! I want to go back and get 5 more pairs! You will love these to pieces!
As you call tell, BJ's Wholesale Club has it all, and it really is a one-stop shop destination. You can get everything you need for your home AND for your closet! BJ's Members can save money and time by getting all their apparel needs, from everyday basics to on-trend items, in a convenient one-stop shop.
If you're not a member, head here to join!
And if you are a member, refer a friend here! If you refer a friend, you both get a $25 BJ's Wholesale Club gift card!
Disclosure: This is a paid partnership with BJ's Wholesale Club. All opinions are my own.