Disclosure: This was a Disney Press Trip. All Travel was covered.
How Gugu Mbatha-Raw Embraced Being Mom in "A Wrinkle in Time"
I first had the opportunity to interview Gugu Mbatha-Raw when I attended the "Beauty and the Beast" press event last year. She was kind, gracious and (I have to say it) just gorgeous.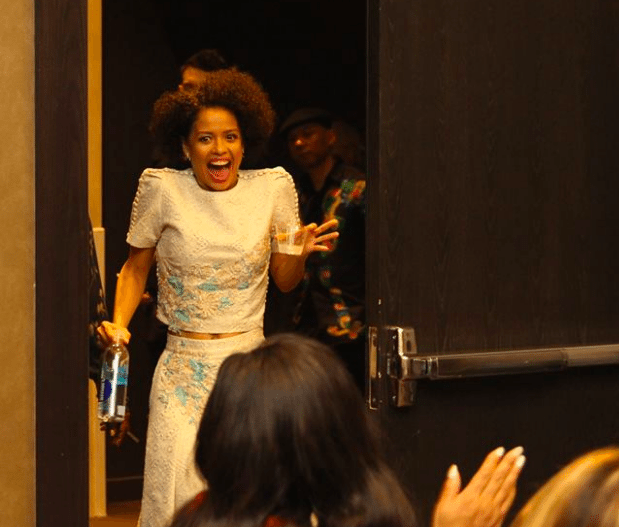 Photo Credit: Louise Bishop
I was thrilled when I saw that we would have the chance to interview her for her role in A Wrinkle in Time as Dr. Kate Murry (playing an astrophysicist), also known as Meg's mom. As I've mentioned in my previous posts about A Wrinkle in Time, I'm a big fan of the book. I had a clear vision of Dr. Murry in my head from the book, so I was very anxious and excited to see how she would be portrayed and played on the big screen and not in the pages of my favorite book. Gugu just nailed it as Dr. Murry. She was a character you felt for and connected with. She was a character that displayed love and warmth and compassion.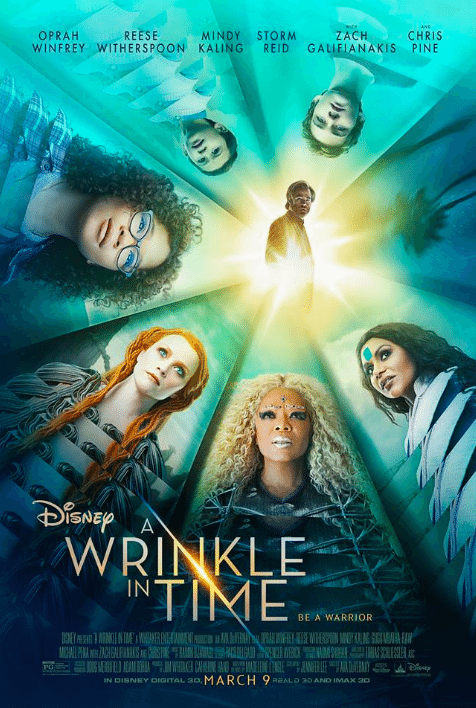 What was interesting for me to learn from Gugu (because I didn't know this from my Beauty and the Beast trip) is that she's not a mother, because she plays one so naturally in A Wrinkle in Time.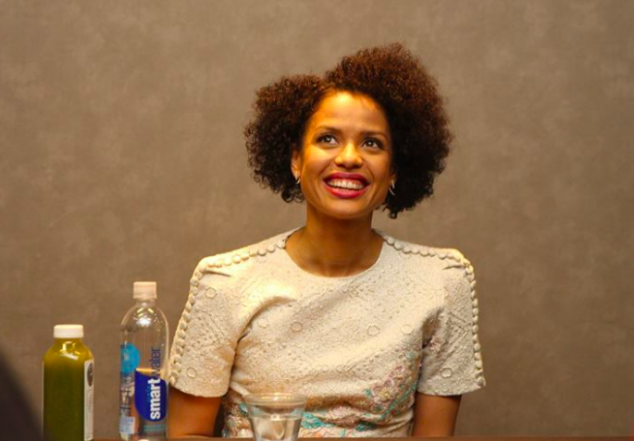 Photo Credit: Louise Bishop
"I've never played a mom before. I don't have kids. You know when Ava first approached me to play the mom in this I was kind of like, 'Oh are you sure? I don't know if I can pull this off.' And then I saw a picture of Storm and I was like, 'Oh my gosh, look at that, look at her!' You know I saw myself in her. And you know it was really not lost on me that growing up I loved the NeverEnding Story and the Wizard of Oz and all of those incredible fantastical adventures. But you know I didn't have anybody who looked like myself and Storm as the heroine in those kind of movies when I was young. So yeah, there was sort of a special sort of cultural significance for me to be ushering in the next generation in that way. I don't get to go to all the fantastical lands that Storm and Derek get to go to in the story, so I really felt like my job was to ground their domestic reality and create that warm, solid family unit that everyone was so desperate to return to."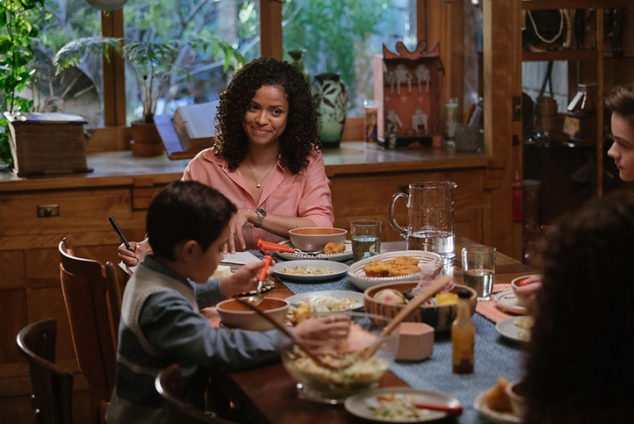 I loved hearing her say all of this because it was obvious that she took this role on for a variety of different reasons. You could see her love and passion for this film and her connection with making sure that she gave her role justice. When you see the movie, you will see exactly what she means in terms of giving a "domestic reality" for Storm and Charles Wallace. The movie is such an adventure, but to have that warmth to return home to at the end, it's all you're wishing for for the characters.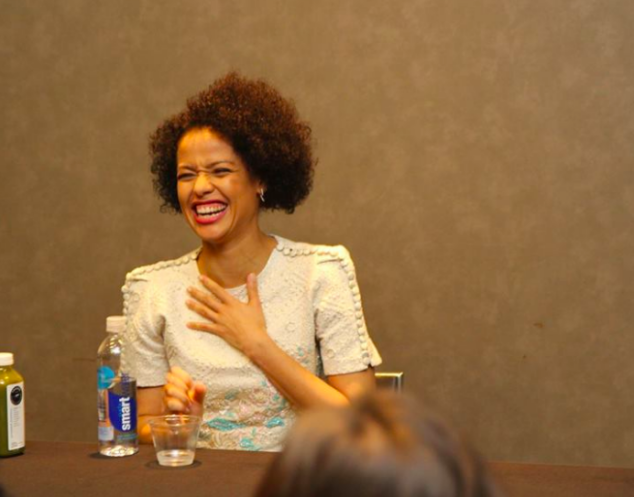 Photo Credit: Louise Bishop
The love and respect that all of these actresses have for Ava DuVernay is just incredible. They all knew that this movie was going to make an impact in many ways and it's wonderful to see them all acknowledging this shift and this important change.
"I really wanted to be a part of this game changing moment in the industry. I could feel that this, the way that she [Ava] was going to cast this film, the fact that it's historically significant that she's even directing this film as a woman of color. And for me I wanted to be a part of that girl gang. I wanted to be celebrating what this means culturally. So yeah, I wanted to be a part of the gang."
Since this movie is truly filled with powerful and impactful women, it was wonderful to hear from all of the actresses what they wanted little girls to leave this movie feeling. I loved listening to each woman – Oprah, Reese, Mindy, Storm, Ava, Rowam and Gugu give their insights and feelings on this important point.
"I think some of the themes are actually very similar for me and what I'm drawn to… the idea of finding your voice. I think the idea that who you are is enough is something that I really respond to in this story, especially Storm's character growing up being bullied at school, being uncomfortable in her own skin, not sure where she fits. Those are definitely themes are in many stories that I'm attracted to. And I think the idea of being authentic to who you are that you don't have to find validation from your career or from you know the music industry, from any external forces. I think that you have all the potential inside of you. And that's something I think I would love young people to feel and learn and understand."
As a mom, this is exactly what you want to hear about a film and its message. As a mom, this is exactly the kind of message you want your child(ren) to embrace and love and learn and share. I know that Gugu isn't a mom, but to hear her speak and to see how important this message is for her to make sure is shared, it's a very maternal message.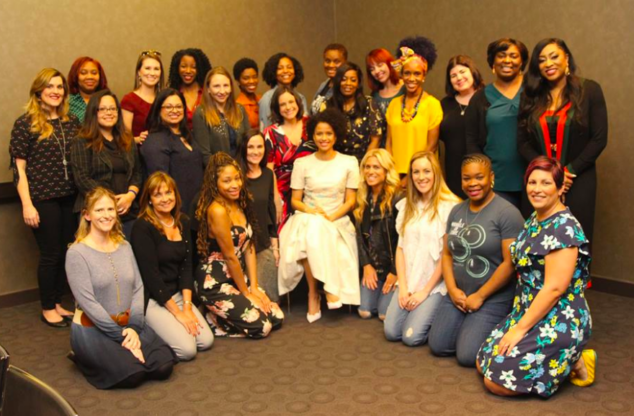 Photo Credit: Louise Bishop
So loved being part of this interview with Gugu How Gugu Mbatha-Raw Embraced Being Mom in "A Wrinkle in Time"
I loved it when one of my friends asked the question of what Gugu would tell the 12-year old Gugu. She smiled at the question and pondered it for a moment.
"I guess just to keep being you. I was quite an exuberant 8 to 12 year old. I'm trying to really picture myself at that age. But yeah, that it's okay to work hard. I think I was quite nerdy at school and you know I used to get teased for constantly putting my hand up and being a teacher's pet or a nerd or a geek or all of those things that are not cool. And it didn't stop me. I think maybe I would like some reassurance that being a nerd is cool and actually nerds are the most interesting people outside of high school!"
Amen to that advice! I loved hearing her share that tidbit about herself!
As we were wrapping up our interview, it was really fun listening to Gugu share about how she actually got into her character because she does play a mom, but she also plays an astrophysicist! I mean, I wouldn't even know where to begin with that and in really trying to get into the role.
"Oh my God, I have to confess it was a nightmare!"
I loved her honesty!
"We did have this wonderful consultant on the movie, Dr. Stephon Alexander, who wrote the book, The Jazz of Physics and he was there to sort of talk us through in layperson's terms what we were talking about. We had dinner with him and could ask him lots of questions. We also got a trip to the Jet Propulsion Laboratory and got to meet real astrophysicists and rocket scientists and people planning trips to Mars. That was really fascinating. And then it was just really grounding it in the relationship and talking with Ava. I think she was very keen that you know even though it's Mrs. Murry in the book, we have Dr. Kate Murry. You know she's not just defined by her marriage to her husband, she's a doctor in her own right as well as a mother, as well as a wife. And emphasizing that the dynamic between them was very much a meeting of minds as well as hearts. They're intellectual equals. It's an academic household where learning is encouraged and celebrated. And it was really Ava that took the lead in sort of that dynamic. It's funny, you learn these things for a role and then it sort of evaporates out of your brain afterwards. But it's great to have the chance to sort of step into someone else's shoes in a completely different world."
And I thank her for letting us step into her world in A Wrinkle in Time! Gugu was just amazing in it!
Make sure you see the film!! It opens TOMORROW – March 9th, 2018 – nationwide!! I already have friends planning to go!! I love it!!
Website and Mobile site: disney.com/wrinkleintime
Like on Facebook: https://www.facebook.com/WrinkleInTimeMovie/
Follow on Twitter: https://twitter.com/WrinkleinTime
Instagram: https://www.instagram.com/wrinkleintime/
Hashtag: #WrinkleinTime
Disclosure: This was a Disney press trip. All travel expenses were covered.