My husband is from Pittsburgh, which is where his entire family still lives. We usually make it out to Pittsburgh twice throughout the year – once in November and once in April. Now that the kids are getting bigger, they want to go out and do things! Gone are the days where we could just cozy up on their couch and watch them play with their cousins. They really want to get out and experience Pittsburgh, so we're all about Things To Do in Pittsburgh.
They love that their Dad is from Pittsburgh and really want to see some sights and check out what the City has to offer. Since we don't have much time to actually spend in Pittsburgh, we're usually only in for 3 or so days – we make sure we're getting as much out of the City as we can when we're there!
Things To Do in Pittsburgh
I'm always amazed at how much there is to do in Pittsburgh! It's like a hidden gem, which reminds me a lot of Providence, RI. People don't realize how much there is to do, so it's always fun for me to go out and experience new things. It's the same for my husband in Pittsburgh. He loves showing the kids fun spots that he loved to go to as a kid!
I'm going to share 5 things with you that you can definitely get done in ONE day!
TOP Things To Do in Pittsburgh
1) Duquesne Incline – Take a step back in time on a century-old cable car and see the best views of downtown Pittsburgh while riding one of the few remaining inclines in the country. Opened on May 20, 1877, the Duquesne Incline was rescued and restored by a group of local residents in 1963 and still delights residents and visitors with its original, elegant, wooden cable cars!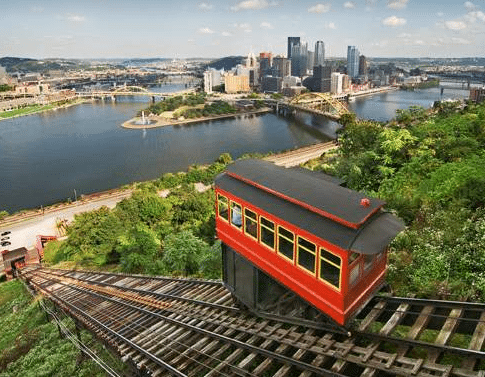 We love taking the kids here because it's such a cool thing for them to ride and experience! You see so much of Pittsburgh! I'm always afraid someone is going to be scared, but nobody ever is! They absolutely love it!
2) Carnegie Science Center's Highmark SportsWorks – The whole fun of SportsWorks us to inspire learning and curiosity by uniting the experience of sports for every age level with the laws of science that control sports. Highmark SportsWorks® offers nearly 30 interactive experiences in three thematic areas: LifeWorks, Physics of Sports, and Sports Challenge.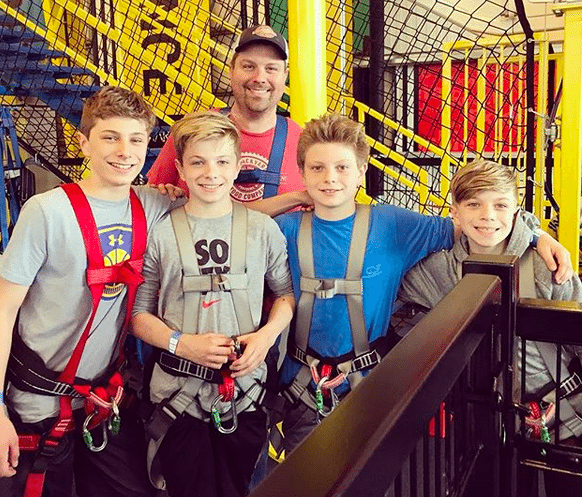 My kids could have literally stayed here ALL DAY LONG! They were obsessed with everything it had to offer and then some! It was the coolest day ever for them!! I'm going to write a full write-up JUST on this center because I think it's an awesome place for kids to visit! Here we are enjoying the Ropes Challenge!
3) Andy Warhol Museum – Located in Pittsburgh, Pennsylvania, the place of Andy Warhol's birth, The Andy Warhol Museum holds the largest collection of Warhol's artworks and archival materials. We are one of the most comprehensive single-artist museums in the world and the largest in North America.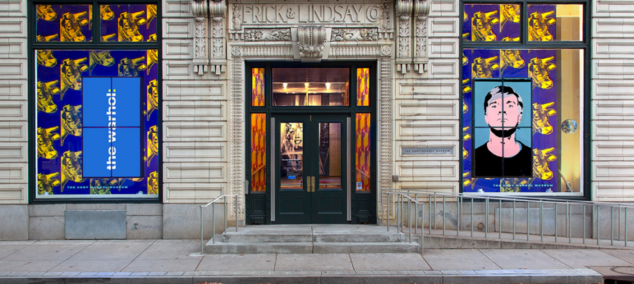 I remember my husband first taking me here when we were dating! It was so cool to see! There is a room of just floating helium balloons! Your kids will definitely enjoy walking around checking out the bold artwork. The gift shop is so cool, too!
4) Heinz Field – Heinz Field is a stadium located in the North Shore neighborhood of Pittsburgh. It primarily serves as the home to the Pittsburgh Steelers of the National Football League (NFL) and the Pittsburgh Panthers of the National Collegiate Athletic Association (NCAA).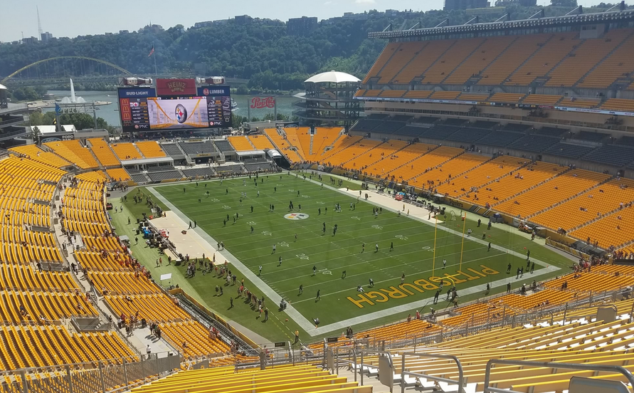 OK, so we didn't actually get to SEE the stadium, but I have 4 kids who are obsessed with the Steelers so we walked around the stadium 3 times checking out every single aspect! And of course – grabbed a photo! It's just a cool thing to see and be around, especially if you're a Steelers fan! Photo opp!
5) Primanti Brothers – My kids call this place, "The place where they put fries on the sandwiches!" This is one of the staples of Pittsburgh and we LOVE eating here when we're "back" home.
You can't go wrong for a quick lunch or a yummy dinner here!
Hope you like this list!
LOVE FOR YOU TO PIN THIS: