Celebrating National Swimsuit Day with Lands' End!
Are you ready to kick this party off? I know I am!
Memorial Day Weekend is normally the unofficial kick-off to the summer, so it's time to make sure everyone is ready for a fabulous day at the beach or pool. To get this party started, Lands' End is declaring May 22, 2018 as National Swimsuit Day! That's right — May 22nd is a fully dedicated swimsuit shopping day filled with advice and great offers from Lands' End to help women discover and receive the best fitting swimsuits guaranteed to be the best on the beach or in the pool.
To celebrate National Swimsuit Day, Lands' End is announcing INCREDIBLE and EXTRAORDINARY swimwear offers. All day today (May 22, 2018) all regular priced swimwear for women, men and kids, as well as swim tees, beach towels, totes and water shoes will be 50% off. Yes. You read that correctly! 50% OFF! To make sure everyone is ready for the start of Memorial Day Weekend, Lands' End is also offering FREE expedited shipping for Friday delivery. I mean, it's just amazing. NOW is the time and come on over and CELEBRATE with this amazing offer!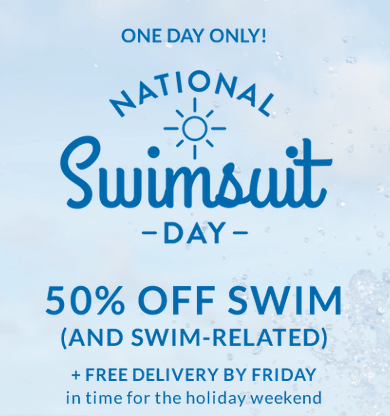 As you all can imagine – with 5 kids – my summer is filled to the brim with beach trips, ocean play and pool parties! We're such a swimming family, so it only makes sense for me to be IN on the action, too. I'm not the kind of mom to just sit and watch, I like to play and be part of it all, too!
This summer is a little different for me, too… I turn 40 years old tomorrow (May 23rd), so this summer one of my fitness goals was to *try* to wear a bikini again! I know I'm not 20 years old, but I have been working out and really trying hard to get myself fit and healthy for the summer. I want a bikini that is appropriate, that fits well and is also stylish! Lands' End was right there for me when I went shopping for a bikini. I can't even tell you how many different options there were, there were tons! I was amazed at all the prints and styles and cuts and colors. What I really loved was that after I clicked on the bikini section on the site, I then headed over to the "Swim Solutions" category which led me to the bikinis that would work for me and what I was looking for exactly. I was thrilled to find the Women's Underwire Bralette Bikini Top and the Women's Tassel Low Waist Hipster Bikini Bottoms in the Black/Diamond/Geo/Mix print. I feel comfortable. I feel beautiful. I feel confident. My 40th birthday summer is going to be a big one for me and I love that (thanks to Lands' End) I'm checking this off my bucket list… wear bikini proudly!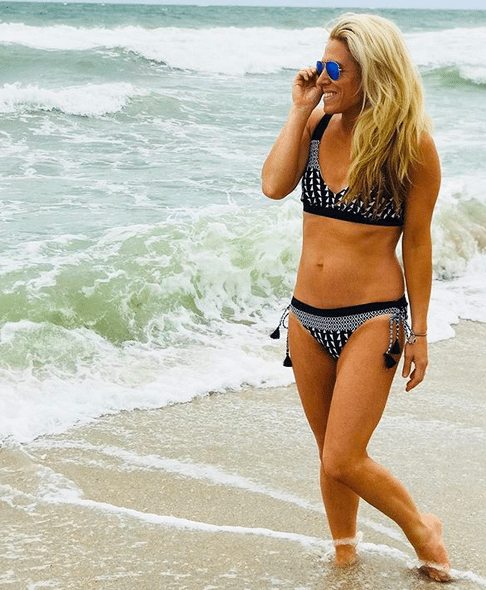 And my kids are ALL Lands' End kids, too! Every single year I buy them a new Lands' End suit!It's funny – for years and years I would buy my 4 sons ALL matching suits, but a few years ago they asked me if they could all be different. So… as tough as it was for me to see that change, I started to let them all pick out their own suit, with their our style. I always love seeing what they're going to get!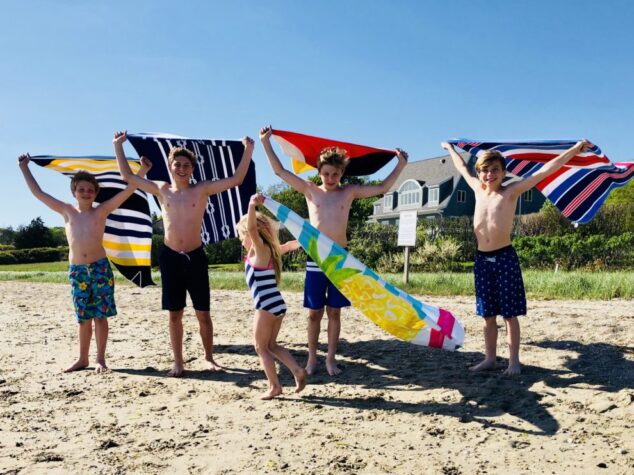 Summer of 2018 for the McClelland boys is all about classic styles and fun prints! We went with Boys Smart Swim Trunks in Deep Sea and Cobalt which block 98% of UV rays (and 2 of them match – which I love), Boys Printed Swim Trunks in Royal Cobalt Jungle and Boys Colorblock Stripe Swim Trunks in Deep Sea Stripe. I love how fun these styles are and the quality is just untouchable! These suits never fade throughout the summer in the sum, chlorine or saltwater! This is exactly what I'm looking for in a suit… high quality to keep up with my boys!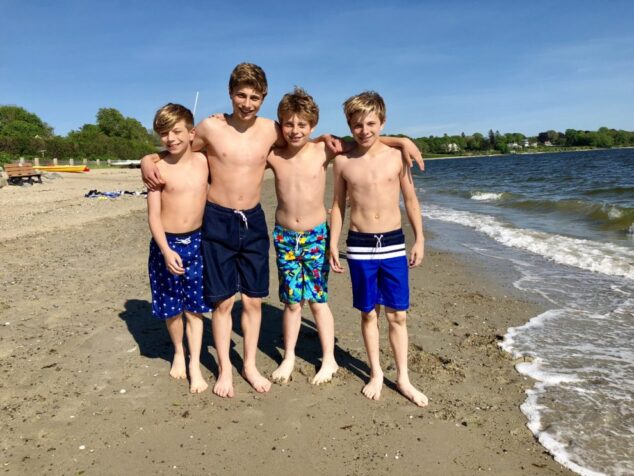 And my little Victoria! She's all into swimming right now! She wants to try and make the swim team this summer, which is killing me because it's the cutest thing ever! She is so determined, so she wants a one-piece because that to her is a "big girl" swim team suit! Victoria picked out on her own the Girls One Piece Swimsuit in Royal Indigo/White. It's fabulous because it's front-lined for modesty and made from UV-blocking, UPF 50 rated fabric.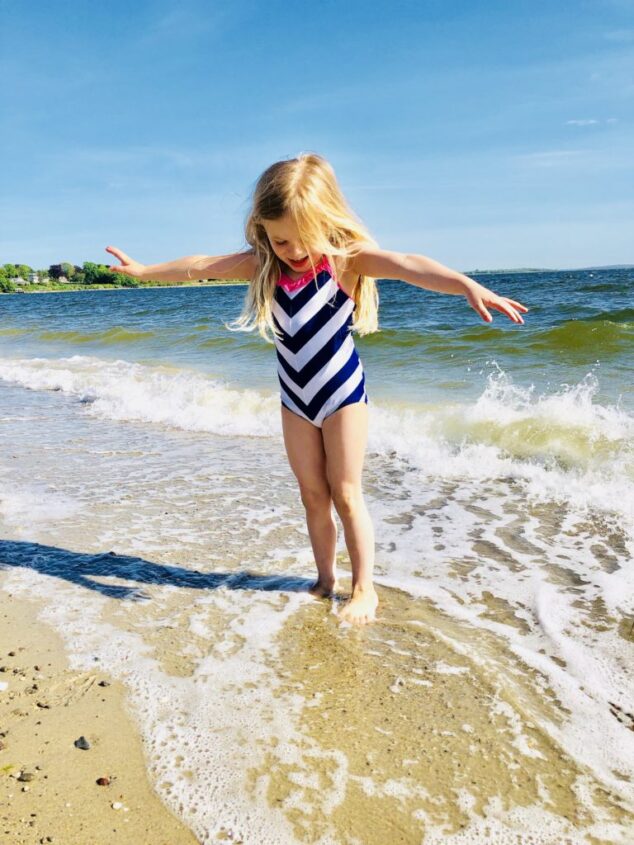 Thank you to Lands' End for having the most appropriate bathing suits for kids, I appreciate that so much as a parent!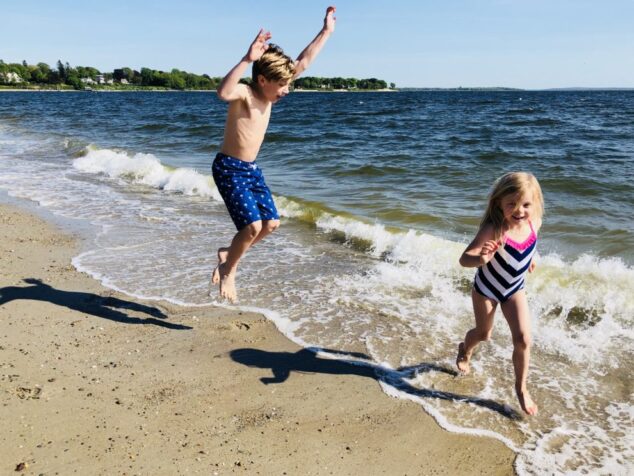 And to add to the excitement of the day even more… National Swimsuit Day Twitter Event will be on May 22, 2018 from 1-7PM!! To help women find the perfect-fitting swimsuits, Lands' End is hosting a 6-hour Twitter Swimsuit Fit Guide Event complete with advice from Lands' End swim fit experts helping women identify the best swimsuits for every shape and size as well as chances to win $100 gift cards to purchase their dream swimsuits from Lands' End. Make sure you join on in!! I'll be co-hosting the 6-7PM hour!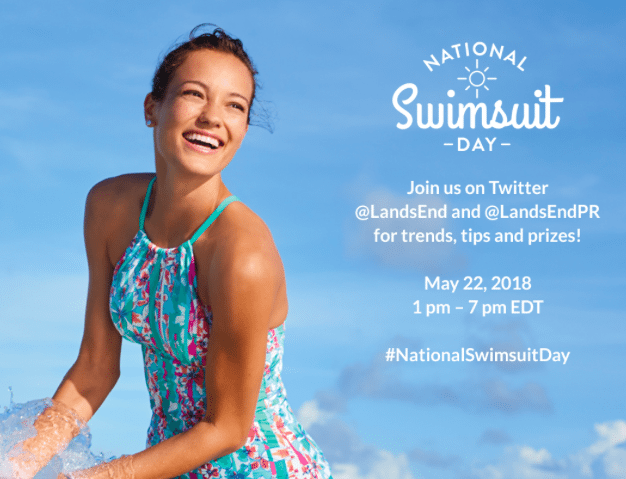 INFO:
Date: May 22, 2018
Time: 1-7pm EST
Hashtag: #NationalSwimsuitDay
Follow: @LandsEndPR and @LandsEnd
Thank you so much to Lands' End for this amazing offer to celebrate on National Swimsuit Day!!
I hope everyone I know heads out and buys a swimsuit!
Disclosure: This is a sponsored post with Lands' End. All opinions are 100% my own.