Victoria's my last.
I always laugh when I tell people this because I always feel that I'm just cinching myself a surprise pregnancy… which is definitely not in the plans, so for all intents and purposes – Victoria is my last.
I don't know how to fully describe the last baby, especially when you know this child is it, there's nobody else coming along. With every milestone that Victoria hits, there's a piece of my heart that aches. It's 100% bittersweet for me, always.
When she first smiled at me, I knew that there wouldn't be another baby to do that for the first time.
When she walked for the first time, I knew that there wouldn't be another baby to watch and clap for when he/she did!
When she said "Mama" for the first time, it was like liquid gold because I knew there wouldn't be another to teach.
When she stopped drinking bottles, it felt good – but it also was final. There wouldn't be any other bottles to prep.
When she started growing out of clothes, there was no need to hold onto them because I knew there wouldn't be a little sister.
When we took down her crib and put up her big girl bed, there was a piece of me that was sad. Cribs had been in our house for 13 years straight, and it was strange not seeing one.
And little by little as she grew out of things – diapers, high chairs, baby toys – it was a milestone for us, but it was a final milestone. I had never known that feeling with the boys because there was always another one coming, another one to look forward to.
With Victoria… it's just different. She's it. She's the last one. She's the baby.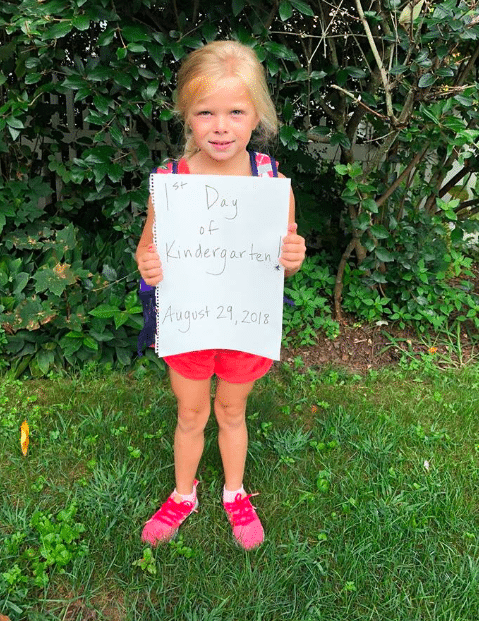 I'm going to be honest with you, I didn't think Kindergarten was going to be tough for me. I hate to admit this, but I really thought it would be easy and that I'd be fine. Me cry? Come on – I've done this 4 times already! I've been prepping her all summer for the big day, driving by her school… introducing her to new friends… talking about her teacher. It's been a summer of prepping Victoria, but I guess when I look back – it was really a summer of prepping myself.
Victoria is my social butterfly. She loves to meet people and make new friends. She loves to be with people and she loves to play. When I woke her up this morning, it was cute because she was so excited for the day! She saw me and gave me a great big hug! She decided she didn't want to wear the outfit we had originally selected (so my Victoria!), so we spent some time trying to find the "next best thing." It's supposed to be 105 degrees here today, so I wanted her in something lightweight. The morning was going great and I was excited to get her to school so she could kick it off.
When we got to school, Victoria suddenly started to shut down a little.
I noticed it immediately.
She started to see other girls that she knew, but they weren't in her class. Listen… as an adult woman I hate going into situations where I don't know anyone, so for my 5 year old daughter – I got it. I quickly tried to swoop in and smooth things over, trying to introduce her to a little girl here and then a little girl there, but it wasn't working.
Thank GOD for my sunglasses, the tears were bubbling.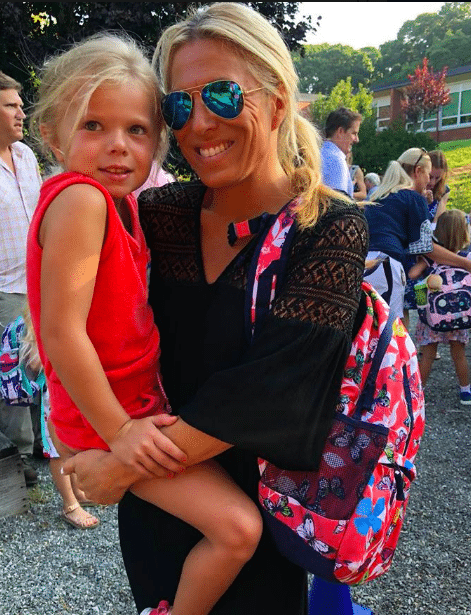 As her teacher started to walk the kids in, I could tell Victoria was holding back tears. The kind of tears where if you blink, they just don't stop. Honestly – it killed me. It really did, my heart was actually hurting. I walked over to her and grabbed her hand and said, "It's going to be great! You're going to meet so many new girls and boys!" And I tried my hardest as a mom to fake it as best as I could. I pretended to be overly excited for her and happy for her, when all I wanted to do was grab her in my arms and head home.
I knew I couldn't. I knew she needed to do this and I couldn't be there with her.
As she walked into school with her class, I waited to see if she was going to turn around and wave again. She didn't. Se kept walking in her line. I'm actually glad she didn't turn around because I was worried she would've seen how concerned I was for her.
I know someday I will tell her this story and she will laugh.
I know that someday I will be dropping her off at college and wishing I was back to August 29, 2018 again.
I know that someday she will go through this with her child.
But today?
Today that little 5 year old girl, who is the apple of my eye and the baby of our family, had a tough day going off and it just slayed me. I wasn't prepared for it, which I think is why it's been so tough on me.
Here's to hoping today is great!
Here's to hoping she's laughing and playing and meeting new kids right now!
Cue the tears because I'll tell you what, they've been dropping all day for me.