Dunkin' Donuts' Dunkin' Run Menu
OK, here's the truth – I run on Dunkin' every single day.
Every single morning I make myself a cup of Dunkin' coffee OR I buy myself one on the way to wherever I'm running! I basically cannot make it through my day without some sort of Dunkin' run.
And my family is the same way, too!
Which brings me to my exciting news.. on July 30, Dunkin' Donuts launched their Dunkin' Run Menu. Oh, yes… are you ready for this!!?? They are introducing a big new menu of choices to make running on Dunkin' even easier and even better(music to a buys mom's ears!). The Dunkin' Run Menu lineup consists of everyone's favorite snacks available for $2 each. You read that correctly – $2 each, more music to a mom's ears! This menu was created to pair perfectly with Dunkin' Donuts' signature beverages and provide guests with craveable new choices for on-the-go treats ideal for mornings, afternoons or evenings! I lovethat Dunkin' recognizes that you need a Dunkin' RUN all day long, not just in the morning! I swear my afternoon Dunkin' run is just as important as my morning because it helps give me energy for the rest of the day!
So what does the new Dunkin' Run Menu include?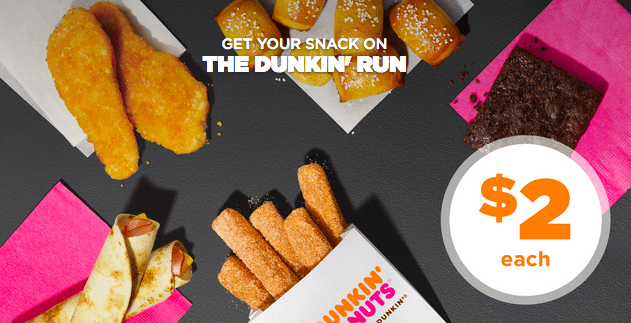 These fabulous bites:
– Donut Fries: Introduced nationwide earlier this summer, Donut Fries feature five individual pieces of delicious, buttery croissant-style donut dough tossed in cinnamon sugar and served warm with just the right amount of crisp.
– Ham & Cheese Roll-ups: Two orders of delicious ham and cheese rolled up in flour tortillas.
– Pretzel Bites & Mustard: Five tasty bite-sized pretzels topped with salt and served warm with spicy brown mustard.
– Waffle Breaded Chicken Tenders: Two succulent chicken tenders coated with sweet waffle batter.
– Fudge Brownie: An indulgent and chocolaty gluten-free fudge brownie individually wrapped for guests.
Honestly. I could eat Donut Fries every single day of my life! HOW AMAZING DOES THAT SOUND!?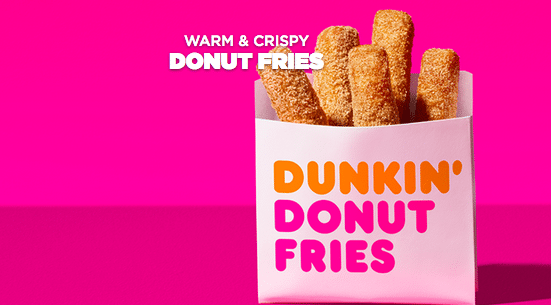 And (HOLLA!) Fudge Brownie. I mean, all the chocolate I can get… the better! Just imagine a quick Fudge Brownie pick-me-up midday. It's exactly what I (and you) need!
According to Dunkin' Donuts' U.S. Chief Marketing Officer Tony Weisman, "We know that the 'Dunkin' Run' is a daily part of many of our guests' lives as they keep themselves and their friends running, so we're excited to launch a new menu offering fresh ways to satisfy any craving any time of day. We also recognize the importance of providing alternative choices for people with dietary restrictions or who choose a gluten-free diet, which is why we're pleased our new menu offers guests a gluten-free Fudge Brownie, which is so chewy and delicious we think everyone will love it."
It's just awesomeness and a great idea to bring to Dunkin'!
It's in stores NOW, so make sure you RUN OVER!
To learn more about Dunkin' Donuts, visit www.DunkinDonuts.com, or subscribe to the Dunkin' Donuts blog to receive notifications at https://news.dunkindonuts.com/blog.
Disclosure: Sponsored post with Dunkin' Donuts'