What You Need to Do Friday to Be Ready for Monday
Today's Friday, so that means I'm prepping for Monday. This summer I started taking time on my Friday to really stop and prep for my upcoming Monday. Earlier this year I started getting very stressed every Monday morning. I was trying to get the week kicked off on the right foot for my family, for my husband and for our lives… but by the time I sat down to get my work self ready for the week – I was ALL over the place. I hated that feeling of being overwhelmed, especially on a Monday! The last thing I wanted to do was start the week off on the wrong foot! It DOESN'T MAKE for a "inspired" week ahead!
I decided to do something about it because I knew the SUMMER was even more of a stressful time for me with all the kids home and trying to work from home, too!
I started prepping for my Monday on Friday.
WHAT? Yup.
As much as I would love my Fridays to be an easy day with not much work to do, I started making my Fridays all about wrapping up the week and getting myself centered and ready for the next one. It doesn't take a ton of time to do, I've gotten myself into a good and easy routine… and I'll tell you what – it's FANTASTIC when Monday morning rolls around.
I wanted to give you an example of what I'm talking about:
1. I start looking through my emails and 'red flagging' anything that I haven't gotten to yet. Before I forget and allow it to go into cyber-land, I flag it before that happens. It's great because then I know that there are emails to get back to when Monday kicks off! Let's face it – nobody likes an email pitch on a Friday afternoon in the summer!
2.I start looking at content that I need to create for next week. I always have a loose editorial calendar of themes and ideas that I want to attack during the week, but I make sure everything is written down and brain-dumped before I end my Friday. Video ideas. Blog ideas. Photo ideas. You name it!
3. I love to pitch every single day, it's my happy thing to do! I love to jot down 2-3 brands that I really would like to connect with on Monday.
4. Anyone that I want to connect with in terms of business lunch, coffee meet-ups, potential business… I write it all down.
5. I always organize my office up before Monday, too! There's something about a clean office that makes me feel like I can take on the world!
6. I also make sure my planner is up to date and has everything down! If that's not updated, I'm a goner!
For extra help for you to get you started, I'm including a FREE printable below! Try this worksheet out and jot down anything and everything you need to do to get ready fro Monday – TODAY! It will make your Monday HAPPY, I promise!
PRINT THIS OUT: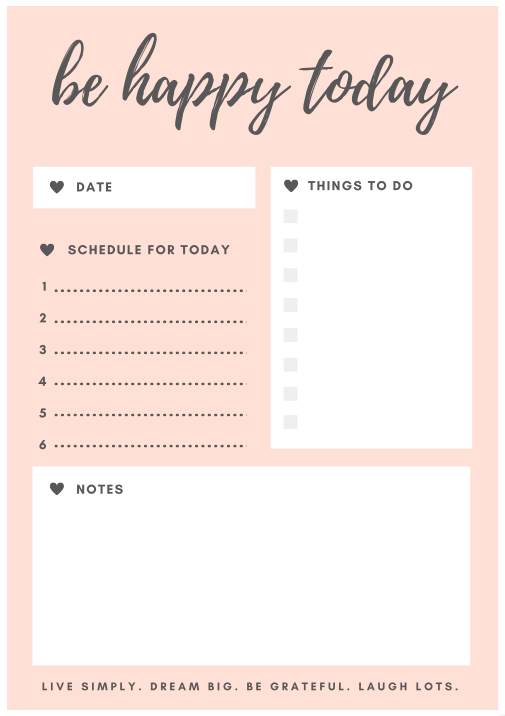 DOWNLOAD HERE for a cleaner version.
Make sure you are part of our Permission to Hustle group where every single day we share and inspire and motivate!
Join here.