I'm all about creating a Business Trip Packing List. Half the time I never know what to bring on business trips1 I never want to pack too much, but I also don't want to not bring enough! As you know – I co-hosted with my bestie Vera Sweeney – our Permission to Hustle Retreat 3 weeks ago! We had 40 incredible women with us for 5 days at sea with Carnival Cruise… we spent the entire time learning, sharing, talking, exploring and relaxing. It was truly a phenomenal way to work – it was definitely business + fun! We had a fun Business Trip Packing List that we made sure everyone had on board!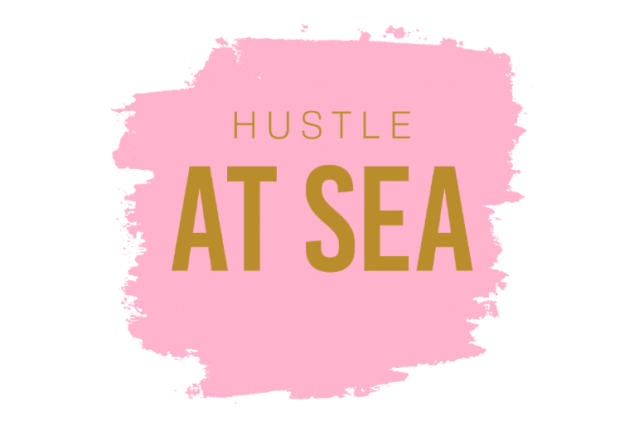 It was a life-changing retreat for me because I realized that this is something I want to do in my life. i want to bring women together. I want to create events that will inspire and motivate women to hustle. I want to be someone who helps women go after their dreams! It really changed my life and my outlook on where I want to go and what I want to be!
We wanted to give each women a fabulous time and as we were doing this, we put together an amazing gift bag for everyone! Each item included was an item we were so excited to share with the ladies! We wanted to give you a peek at what was inside of our gift bags this year. We've actually had women asking us if they could purchase a gift bag!! That's how amazing they were!!
Business Trip Packing List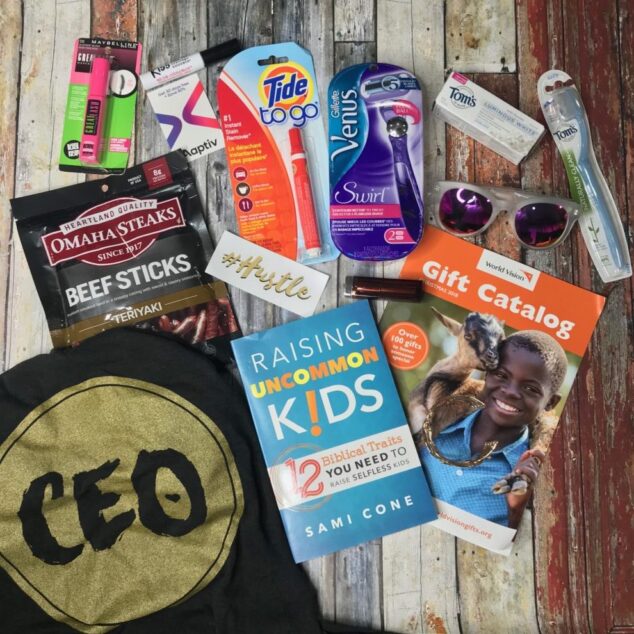 I'm going to go through each item you see here because I really want you to take a look at what we offered and head over to these destinations online and check them out for yourself, too!
Foster Grant Sunglasses – We all were gifted some AWESOME sunnies from Foster Grant! They were chic and trendy and fabulous! We love them! Not to mention – price points are fantastic!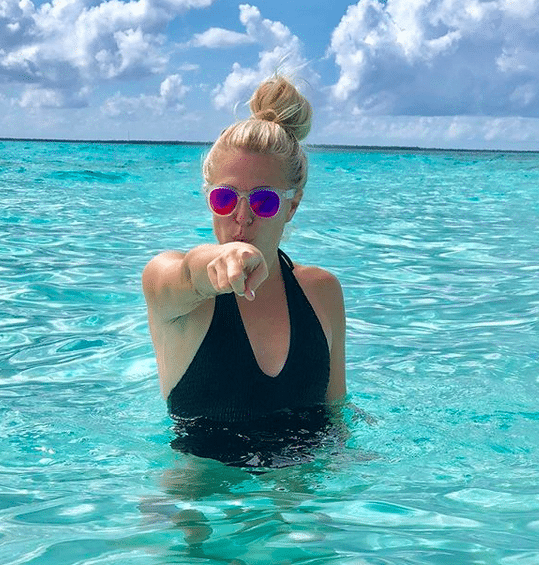 Maybelline – Lashes are a girl's best friend! Everyone was gifted Great Lash Mascara from Maybelline. We wore our lashes out on the ship for all to see!! 🙂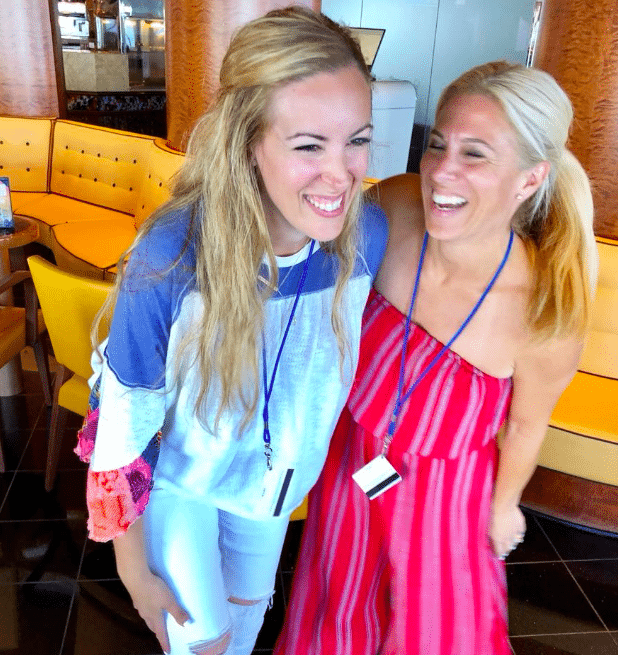 Omaha Steaks – These were a HUGE HIT on the ship!! Whenever we needed a quick pick-me-up snack, Omaha Steaks was there for everyone! They offered smoked steak bites for the group, it was the perfect energy boost.
Venus Gillette Swirl Razor – You need smooth legs on a Caribbean cruise! Venus Gillette has our legs covered! It was awesome to have them in the gift bags for everyone! FlexiBall technology has been designed to contour better* to tricky areas, like knees and ankles.
Tide To Go Pens – Tide is always coming to my rescue! ALWAYS! They were kind enough to pop a Tide Pen into everyone's gift bag!! We were thrilled because everyone had a secret weapon in their fashion bag in case there were any stains happening!
CEO Shirts – Boom!! For the GIRLBoss in your life, these CEO shirts are everything! We had these made for all the ladies and we couldn't have been happier!! If you want one, email us: ([email protected])
What else is on our Business Trip Packing List?
Cargo Lipstick – We wanted to give everyone a little pick me up in the beauty department! This Cargo Lipstick is EVERYTHING! They sent the perfect shades and everyone loved it!
Lands' End Tote – Totes are an essential on a business trip! We loved these because they can fit so many items right inside! I toted mine around EVERYWHERE!! Look at how adorable!!
Santo Wrap – Talk about the fashion hit of the retreat!! Say hello to the SANTO WRAP!! These were EVERYTING!! I'm wearing mine here!! This is such a fashion essential for beach travel!! So easy to pop on and go!! And you can wear with tees and tanks and shorts and jeans, too!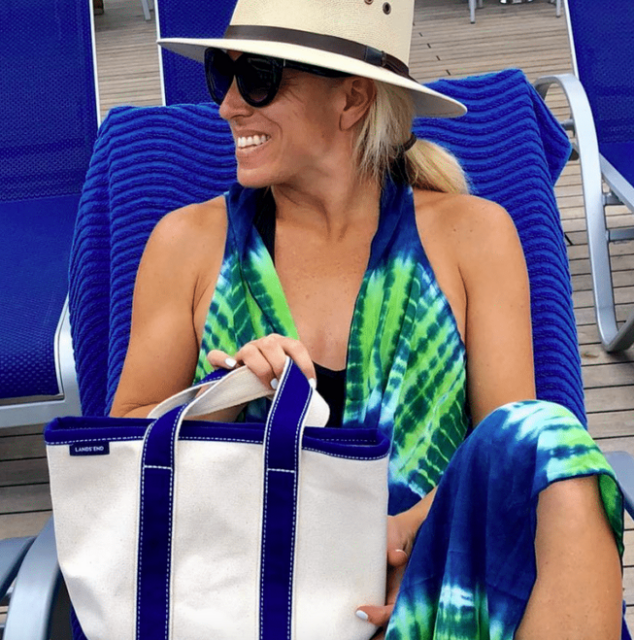 Tom's of Maine – Everyone needed some travel sized toothpaste and toothbrushes! Love that we were able to gift everyone these travel essentials!!
Aaptiv's – You know we love some fitness results. We were so touched that the brand offered the ladies a discount on their services. Workout from the comforts of your home!
Neuro SLEEP – If you're not familiar with this, it combines the benefits of melatonin with 5-HTP (5-hydroxytryptophan), magnesium and L-theanine, plus the superfruit extracts pomegranate, acai and blueberry. When you're on a business trip you need to make sure you stay healthy and awake! This was great to offer everyone!
Rocksbox – Classic and elegant earrings are always a hit for people!! Everyone was gifted with a beautiful pair! This is a perfect pair to wear with clothes that are dressy and clothes that are more laid back!! These earrings were one of my faves
Kiss Your Cravings Goodbye – Anything to take my mind away from junk food, and focus instead on hydration. Amazing for business trips!
Book Time on our Business Trip Packing List
Our friend Sami Cone gifted all the ladies with the book – Raising Uncommon Kids…
she also sent information regarding
World Vision
. Millions of children face dangers including exploitation, gang violence, sexual assault, and trafficking. Help protect childhood, prevent exploitation, and renew hope.
Learn how you can get involved
.
And our dear from Kelly Pugliano gave samples to the ladies from her company –
RoostCrate
– She gifted pencil cases filled with inspiration! Roost Crate offers curated, custom and subscription gift boxes. Every gift box is filled with beautiful items made by outstanding makers and artisans. You can learn more about this amazing gift service
here
.
We will be doing another Permission to Hustle Retreat!! We would love for you to be on it!! Head over to our Permission to Hustle Facebook group and sign up!