30 Day Minimalism Challenge – I've been hearing more and more of my friends declaring that they want to live list a minimalist! They're sick of stuff. They're sick of their house being so cluttered and unorganized. And they're sick of feeling overwhelmed in their own house! Believe me – I get it.
30 Day Minimalism Challenge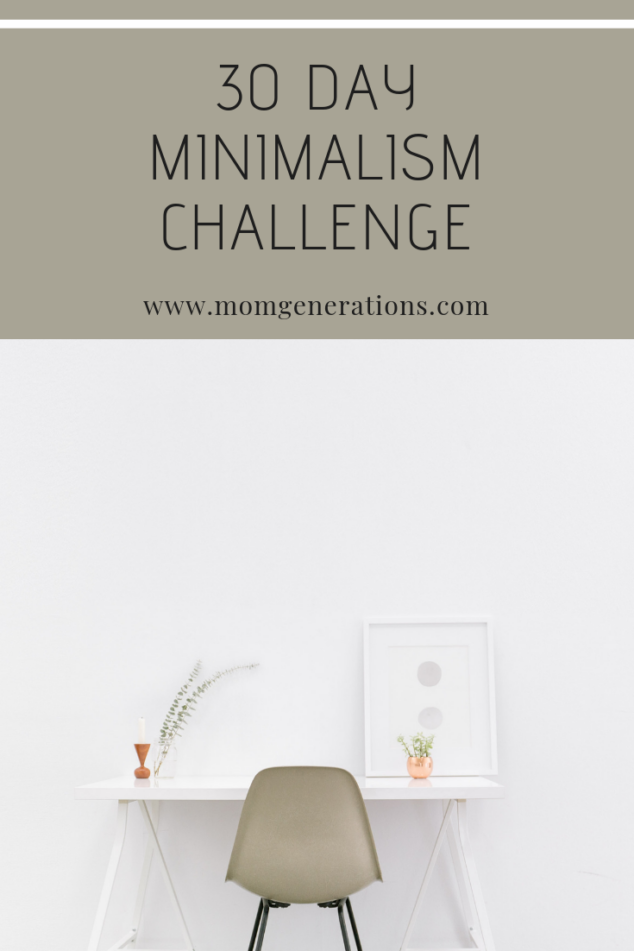 As much as I would love to toss out everything single item in my home that keeps it cluttered, I know it's not possible because I have 7 people living in my house! I'm *kinda* used to the fact that my house will always be cluttered and crazy because it's always jam-packed with people and things! But… and this is a big but for me, I do feel that there's a happy balance between living like a true minimalist and trying to come as close to that as possible. I think it is possible to find that perfect medium. If you're not just if you can do this – I'm putting out there a 30 Day Minimalism Challenge for you to take.
30 Day Minimalism Challenge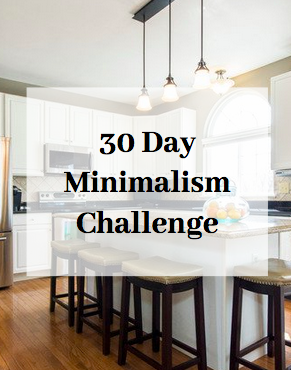 I created a 30 Day Challenge to help bring you closer to living like a minimalist. I wanted to create doable challenges. I wanted to come up with 30 things that people could actually do on their own and in their own home. The secret is taking one action-item a day and doing just that. I'm going to take this along with everyone else because I do think this is a great way to get yourself on the path to living organized and minimal.
Are you ready for the Challenge ?
I made 2 versions – one in gray and one in yellow! I wanted you to have some options!
30 Day Minimalism Challenge Printable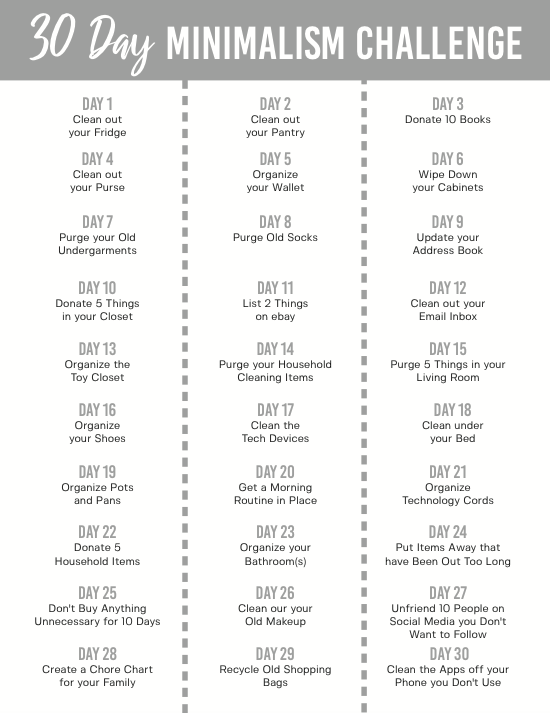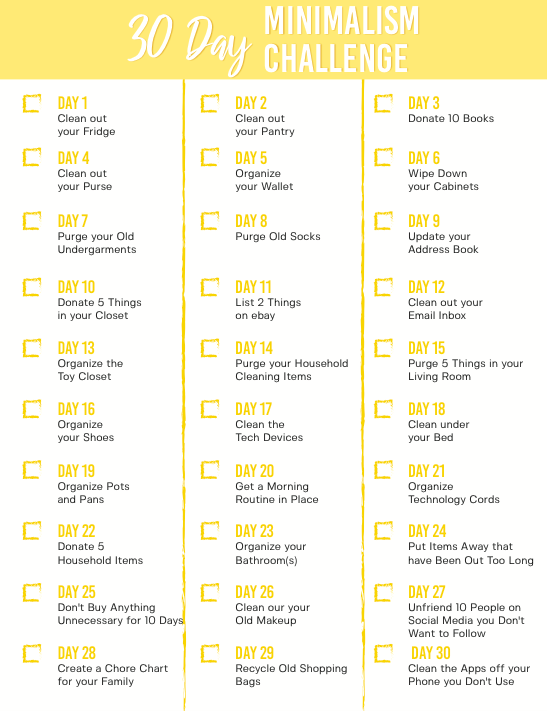 PRINTABLE VERSION OF THE 30 Day Minimalist Challenge CLICK HERE.
I hope this 30 Day Minimalism Challenge does 5 things for you at the end of 30 Days:
1) I hope you feel more organized in your home.
2) I hope you see that you can get rid of stuff without feeling bad or overwhelmed.
3) I hope you are able to bring your family into it and get them inspired.
4) I hope this is the spark you need to keep this kind of lifestyle going.
5) I hope you continue to do this challenge every 4 months for yourself and your family.
Have some fun with this, you don't need to change your entire life. You just need to stay focused and see what small changes you can make that could potentially go a long way. Be open to the newness of it and be open to knowing that this could potentially help change your life. I'm always aware of the little things I can do that might go a very long way.
Thank you for being part of the journey! I'm all about having some fun with this – it's such a cool and different thing to try and do with your family, too! Let me know how it goes for you! Thanks so much for being part of this and reading along!!
ENJOY EVERYONE!!
Check out Golden Coil for a customized journal to keep track of everything!
XO,
Audrey